Scenario Planning for the Futures of Work
Scenario Planning for the Futures of Work
The COVID-19 pandemic has changed our workplaces dramatically. So why is it that most literature published on the subject has been reactive, focusing on short-term predictions rather than long-term solutions? Seeking to leapfrog the trappings of many "post-COVID" design discussions (which are often hamstrung by near-sightedness), Cuningham's Work Studio set out to develop a long-term, comprehensive outlook for the design of work.
Questions raised during this process included: "Should we simply return to the office, or do we have an opportunity to reset the idea of workplace?" and "How can we design a meaningful and equitable work experience beyond the physical space?"
To study these questions, Cuningham's Work Studio leadership group — which includes architects, interior designers, and sustainability and strategic experts — engaged in a scenario planning exercise. Scenario planning is a disciplined method for imagining possible futures and then generating flexible, long-term plans based on those possible futures. Through this exercise we identified critical uncertainties and variables in the world, as well as the driving forces that will create change over time. From there, we developed plausible scenarios in which we might operate and discuss various paths forward.
Arising out of these discussions was the concept of two axes based on current societal and environmental trends — Cooperating/Competing and Regenerating/Depleting (see graphic below). The Cooperating/Competing axis looks at the likelihood of our institutions and society working together for the common good, while the Regenerating/Depleting axis asks whether we will work to restore our environment and resources or continue to exhaust them. By crossing these two vectors, we created a matrix of four unique scenarios to explore.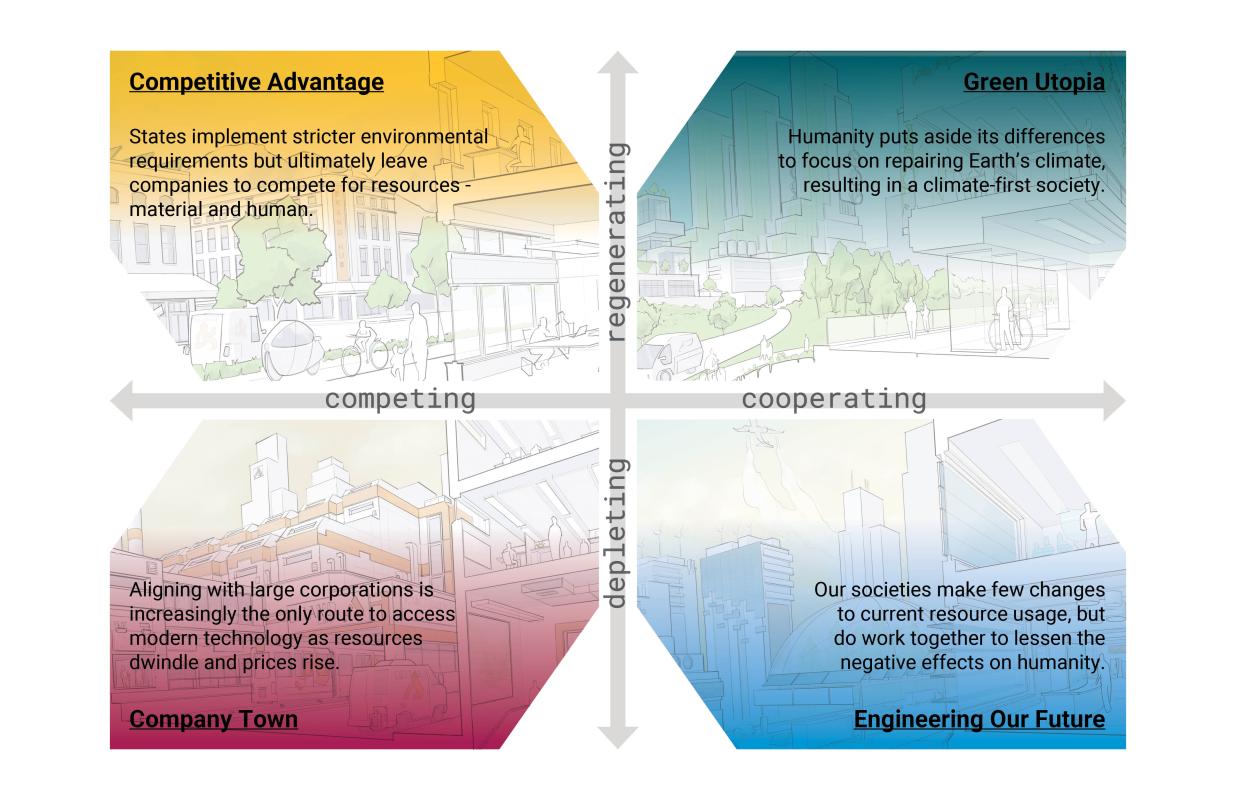 As humans, it is easy and comfortable to operate in the quadrant that most closely aligns as a preferred future based on our personal values and metrics for success. However, by openly exploring the three other more "colorful" scenarios, we can broaden our thinking. This exercise was not about identifying the future that we want to occur, but rather, understanding the possibilities and opportunities that alternative futures might present. We can extend that to identifying the impact of events on workplace design, which we will use to inform our research in the coming year. Click through the graphic below for a taste of these futures, which we've titled Green Utopia, Engineering Our Future, Competitive Advantage, and Company Town.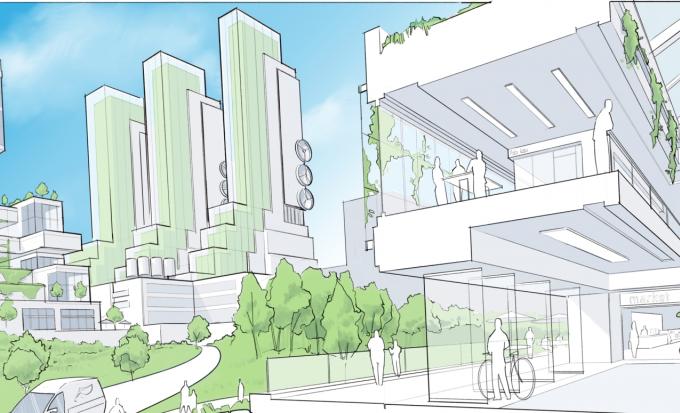 Green Utopia
Read the story of Sage, an operations manager for an urban farming company, for a glimpse of what we think the workplace in a "Cooperating + Regenerating" future may be.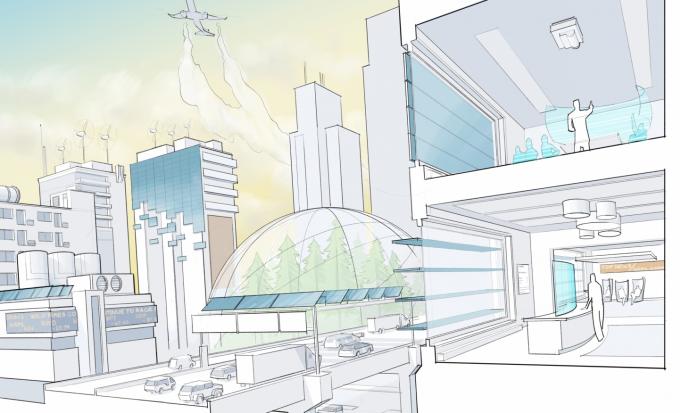 Engineering Our Future
Read the story of Ryan, an employee for a drone-based weather modification company, for a glimpse of what we think daily life in a "Cooperating + Depleting" scenario may be.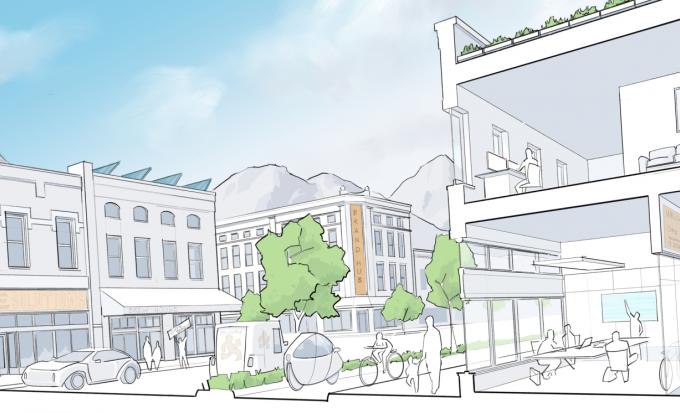 Competitive Advantage
Read the story of Noah, a remote contract worker who lives in a mountain town, for a glimpse of what we think daily life in a "Competing + Regenerating" future may be.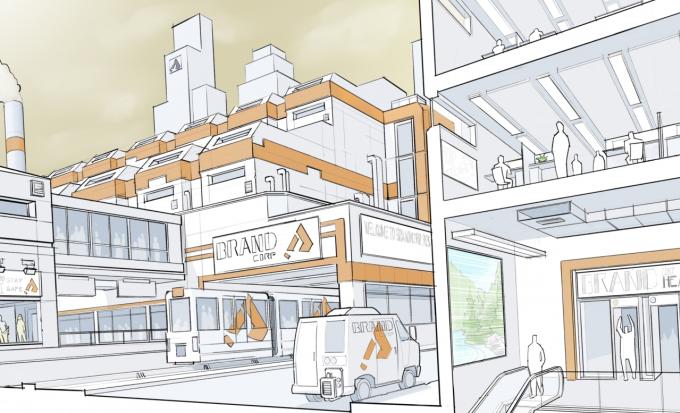 Company Town
Read the story of Audrey, assistant company attorney, for a glimpse of what we think daily life in a "Competing + Depleting" future may be.
OUR CONCLUSIONS
After describing these potential futures, we then asked ourselves: "What would our designs look like in each of these worlds?" From this question, we identified common responses and highlighted trends. Below are our four main takeaways.
1. Circular Economy and Regenerative Design Principles

We expect to see increased emphasis on demountable and reusable design, cradle-to-cradle materials sourcing, and buildings that respond to and enhance the local context and ecology. This will only become more critical as stricter environmental standards are enacted worldwide in the coming decades.
Additionally, as virgin materials grow both increasingly valuable and scarce, adaptive reuse of distressed assets in existing structures will become progressively more viable (necessary, even). We may see a shift where the value of a design is derived from its innovative and sensitive use of existing fabric, maintaining and strengthening connections to the surrounding community. The most effective, valuable projects will maximize the utilization of real estate and materials by integrating multiple uses and users. New construction projects will have to anticipate the potential of adaptive reuse and recovery of used materials in the future.
SUSTAINABILITY: What are your enterprise sustainability commitments?

Does your enterprise have a Climate Action Plan for business resilience?

Are you measuring your business activities on Environment, Social & Governance (ESG) criteria?

Has your leadership declared its 2030 commitments to reduce emissions?

Do you have initiatives that engage your stakeholders and communities as partners?

Are you quantifying the material flows and utilization of assets throughout your property portfolio?
2. The Human Experience
Workplace designs will strive to provide a sense of company culture and belonging that goes beyond physical space.  Thoughtful designs will promote equity across platforms, such that all employees feel an equal part of a company, no matter where, when, or how they choose to work. We expect companies' talent pools to expand beyond geographic boundaries and thus recruiting and retention will become even more important than it is today. The traditional office can become a space focused on collaboration, client interaction, hosting events, and engagement with brand and culture.
TECHNOLOGY: Is your enterprise IT platform being re-engineered to support a distributed work model?

Does your IT platform allow for mobility both within and outside your office?

Do you have software that allows for seamless collaboration between physical and virtual spaces?

Do your data retention practices and requirements allow for access to information from any location at any time?

Do you have e

quity between virtual and physical presence?

Do you have the ability to choose the best medium for the task at hand?
3. Adaptability, Flexibility, and Resilience 
Working from 'anywhere' is still somewhere…
As companies continue to recognize the benefits of flexible work arrangements, designing for "third spaces" between office and home will be as important as designing the office. We expect third spaces will expand beyond co-working hubs, coffee shops, and community centers, evolving to fit a more geographically distributed workforce, reduced physical real estate assets, and a wider embrace of Circular Economy principles. In some form or another, companies will go to where their employees are.

Traditional models of work prioritize long-term company loyalty, as well as stability of location and compensation. As work location becomes more distributed, work will be brought to wherever the best talent resides, not vice versa. In a distributed work model, a company's brand and cultural values will serve as the glue that holds the networked organization together. 
WORKFORCE: What is your workforce talent strategy

?

Are you measuring your business activities on Diversity, Equity & Inclusion (DEI) criteria?

What work locations will best provide access to this talent pool of employees and contractors?

Will flexible work practices allow talent to work from anywhere in a hybrid workplace model?

Work in office (company premises)

Work from home

Work from third places (via service providers)

How are your brand values expressed in creating an employee work experience?
4. Health, Safety, and Wellness
As the workforce returns to the office in the upcoming months, healthy office management and associated data-tracking and communication will be paramount for conducting a smooth, safe, and equitable transition. Social distancing and enhanced cleaning protocols will be top of mind in the near term, but our focus will shift to more robust support of employees' mental and physical health, and providing easy access to associated benefits and amenities. This means building certification programs based on occupant health and wellness like WELL and Fitwel will become increasingly important to productivity, recruiting, and talent retention.
Longer-term, we will see a greater emphasis on tracking data related to employee wellness, and it will be important to understand the best ways to monitor, store, and display sensitive building data. By monitoring information like ambient temperature, air quality, and sunlight exposure acquired by sensors within our built environment, our buildings can adapt in real time to ever-changing environmental conditions. By working directly with our clients' facilities teams and vendors of these systems, we can help our clients navigate an ever-shifting technological landscape.
SUPPORT: Does your organization actively support your talent's health and wellbeing?

Does your workplace strategy align with your health and wellness program?

Do your workplace practices and protocols address employees' heightened concerns about their own personal safety?

Are you incorporating evidenced-based, design factors such as biophilia to enhance physical, emotional and mental health?
No matter what the future holds, it is our charge to help our clients be prepared. As the global pandemic wanes and we are asked about what comes next, we must be ready to respond. To that end, we will continue to study these trends as the year goes on. We look forward to sharing what we discover!
A special thanks to the team members behind this effort: Director of Strategy Gary Miciunas, Executive Director of Work Nina Broadhurst, Interior Designer Natalie Eppley, Project Designer Pete Mikelson, Project Designer Christopher Wheeler, Interior Design Dan Dolan, and Designer Megan Nowak.
To discuss these and other scenarios, please contact Gary Miciunas, Director of Strategy at [email protected], or Nina Broadhurst, Executive Director of Work at [email protected].