Tacoma, Washington
Emerald Queen Casino
Emerald Queen Casino, an 820,000-square-foot, $370 million full-service gaming facility owned by the Puyallup Tribe of Indians, combines Las Vegas glamour with culturally-informed design.
Located on a highly-visible site along Interstate 5 near downtown Tacoma, Washington, Emerald Queen Casino and the attached Emerald Queen Hotel reclaims lost space above a restrictive city grid by strategically placing the gaming floor and amenities four levels above the ground. Spanning over two city streets and supported structurally by two parking garages, this approach creates a breathtaking building that is visible from the highway and provides panoramic views to both downtown and the culturally-significant Mt. Rainier and Puget Sound. This innovative solution to fitting a large gaming facility gracefully within an urban fabric also sets a ground-breaking precedent for tribes pursuing developments closer to cities to increase their return on investment.
Client: Puyallup Tribe of Indians
Market: Entertainment, Hospitality
Size: 520,000 Square Feet
Scope: New Construction
Services: Architecture, Interior Design
Delivery Method: Construction Manager as Adviser
Key Project Contacts: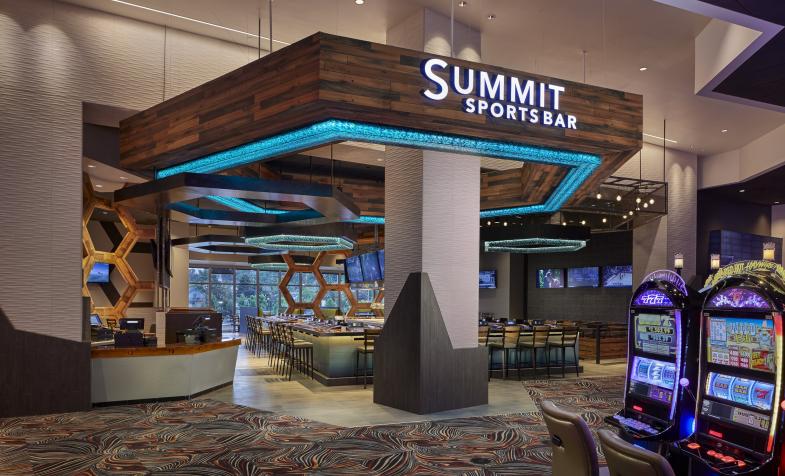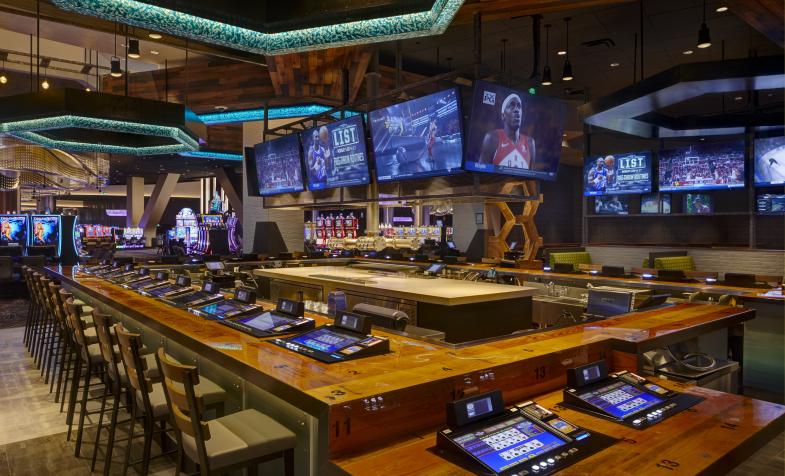 Traditional story poles, contemporary art, and the native language are woven into the design and welcome visitors into the space. With gaming on the fourth floor, the design team needed a dynamic way to direct visitors up four stories. The solution: a bold, black and white basket weave inspired exterior skin with red planes and organic textures that gives life to the interior, drawing visitors upwards to explore the vibrant, powerful, modern, and resilient tribal cultural references.
The casino also distinguishes itself by incorporating large windows and daylighting into the gaming floor, maintaining guests' connection with nature and providing sweeping views of the surrounding area. The local mountains and waterways are important cultural landmarks for the Tribe, and interior elements subtly weave-in and draw influence from these natural elements. Inspired by riverbeds, the casino's meandering pathways create a churning geography that flows through the space. The aubergine walls and reflective champagne columns recall backlit forests and open spaces.
Hanging crystals and lighting features instill the movement of the clouds and are mirrored in the columns. Cedar trunks, cedar strips, and a rich moss palette are used in the intimate high-limit areas.
The new casino features approximately 100,000 square feet of slots and table games, a 2,000-seat event center, five food and beverage venues, and two parking garages with 1,370 stalls — all with direct access to the gaming floor.