Milwaukee, Wisconsin
Potawatomi Hotel & Casino
The $80 million expansion to Potawatomi Hotel & Casino in Milwaukee, Wisconsin adds a new spa, additional meeting space, and 119 new rooms and suites to the building's original, 19-story hotel tower. With 500 total rooms, Potawatomi Hotel & Casino is now the second largest hotel in the city.
Also designed by Cuningham, the existing 3½-star tower features 381 rooms, a casual-dining restaurant, a lobby bar/lounge and meeting space. The iconic 19-story tower stands out against the city's skyline, integrating both traditional Milwaukee architecture and modern design. The hotel also reflects the area's culture and geography and offers subtle nods to the storied history of the Forest County Potawatomi Tribe.
The materials and color of the hotel's base pay homage to the industrial buildings located throughout Milwaukee's Menomonee Valley. To reflect the modern entertainment offered inside, the hotel tower rises from its masonry base clad in a combination of green-tinted transparent and opaque glass — an effect that mimics the look of Lake Michigan's shimmery waves on a sunny day. The top floor features a "floating," prow-like roofline which houses several suites. Additionally, a modern glass enclosed "flame" at the top of the hotel's tower references the Forest County Potawatomi's role as "Keepers of the Fire."
Client: Forest County Potawatomi Community
Market: Entertainment, Hospitality
Size: 370,000 Square Feet
Scope: New Construction
Services: Architecture, Interior Design
Delivery Method: Construction Manager as Adviser
Key Project Contacts: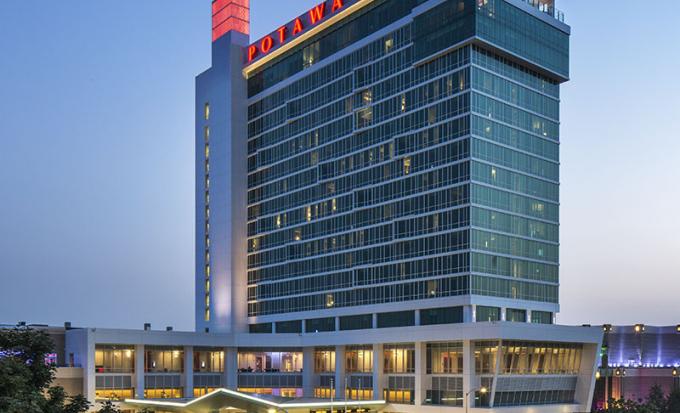 This has become an iconic gem of Milwaukee's skyline, and the eloquent addition completes Potawatomi's vision to be the premier regional destination resort. The new rooms, suites and spa add to the guest experience. The added rooms and amenities provide a wonderful attraction.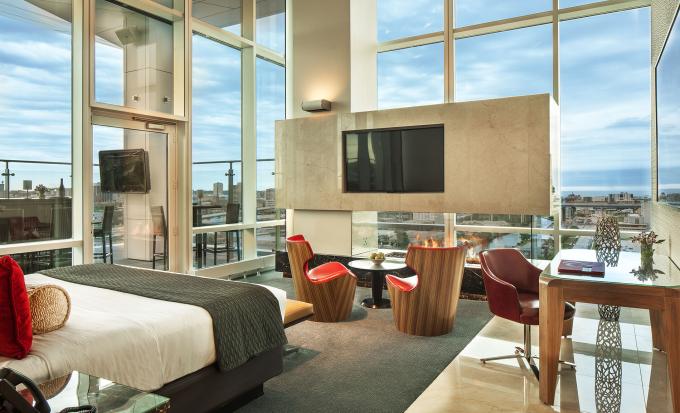 Awards
18th Annual City of Milwaukee Mayor's Design Award
ENR Midwest Best Projects of 2015 – Award of Merit
NEWH Las Vegas 11th Annual HOSPY Award – Best LEED CI Projec
The Daily Reporter (Wisconsin) Top Projects