Potawatomi Hotel & Casino's Hotel Attains LEED® Gold Certification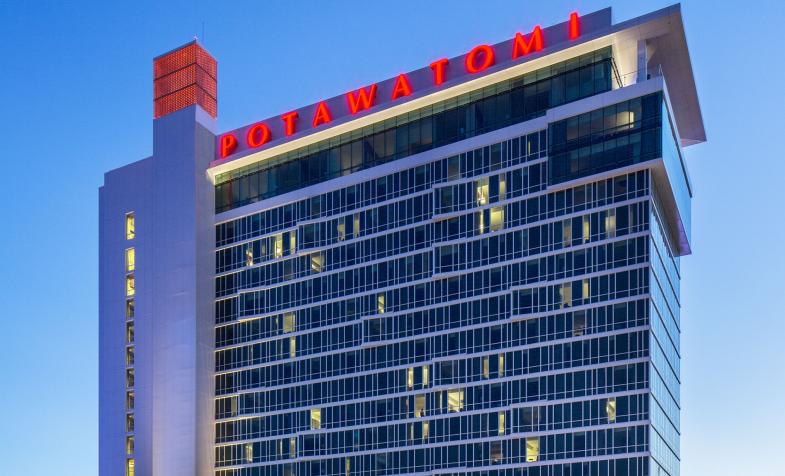 Potawatomi Hotel & Casino's Hotel Attains LEED® Gold Certification
This Earth Day, we are proud to announce that the Cuningham Group-designed new hotel tower at Potawatomi Hotel & Casino in Milwaukee has attained LEED® Gold Certification. Below is the announcement from our client.
POTAWATOMI HOTEL & CASINO'S HOTEL ATTAINS
LEED® GOLD CERTIFICATION
MILWAUKEE (April 22, 2015) – Potawatomi Hotel & Casino announced today its hotel has attained LEED® Gold certification, making it the first casino hotel in Wisconsin to attain the green building honor.
The LEED (Leadership in Energy and Environmental Design) rating system was developed by the U.S. Green Building Council, which ranks buildings on how well they save energy and water, reduce greenhouse gas emissions, improve indoor environmental quality and their overall environmental impact.
From the time ground was broken, priority was placed on sustainability efforts. Through numerous green initiatives, the property's goal was to become one of the premier sustainable developments in Milwaukee.
"While obtaining LEED Gold certification is a significant achievement, the effort to obtain this certification was not about recognition. Our goal was to advance sustainable business practices, which has been a long-standing tradition of the Forest County Potawatomi and a key focus at the casino for years.

Mike Goodrich, Potawatomi Hotel & Casino General Manager.

 
With the help of the property's design firm Cuningham Group Architecture, Inc., its general contractor Gilbane Construction Co., and engineering firm exp US Service, Inc., many steps were taken to ensure the property would achieve LEED® designation.
Energy
Energy consumption is managed through innovative technology and conservation techniques guests experience as soon as they enter their rooms. When a hotel room key card is entered, the room's thermostat senses activity and adjusts the room temperature accordingly.
LED lighting throughout the property has controls in place to limit usage as needed.
Sensors gauge how much natural lighting is coming through the hotel's large windows during the day, keeping energy consumption down.
Water
By incorporating native landscaping techniques, we have significantly reduced water consumption.
Inside the hotel, all rooms feature low-flow water fixtures.
Onsite storm water management system in place.
Hotel Design 
Building products were made from locally-produced or recycled materials whenever possible.
Wood products from local Native-owned forests were used throughout the property.
The hotel, which opened in the summer of 2014, features 381 rooms, the property's newest restaurant, Locavore; a lobby bar and lounge; a coffee bar featuring Stone Creek Coffee; more than 12,000 square feet in new meeting space and refined furniture and fixtures throughout.
Potawatomi Hotel & Casino is committed to green initiatives. Through strategic innovation and design, the property will continue to be a leading sustainable development in the community.
About Potawatomi Hotel & Casino 
Set in the heart of Milwaukee, Potawatomi Hotel & Casino is Wisconsin's premier entertainment destination, offering guests the best in gaming, dining and entertainment. The property features a luxurious 381-room hotel, the intimate 500-seat Northern Lights Theater and more than 60,000 square feet of event space. To discover more, visit www.paysbig.com.