Phoenix, Arizona
Farmers & Stockmens Bank Transformation
The transformation of William Pereira's 1951 Farmers & Stockmens Bank into Cuningham's Phoenix office space provides this registered historical landmark an opportunity to continue to inspire.
The existing shell of the building was respected, while the interior renovations express and enhance the building's original structure and architectural character. A frameless glass conference room added to the existing mezzanine overlooks a light-filled, two-story open plan of workstations and collaboration spaces. The original cylindrical stone bank vault anchors the glass enclosure at the north corner and where it functions as a video conference room, with the multi-ton stainless steel vault door still in service.
Project goals included communicating a sense of openness, hospitality and collaboration while eliminating visual barriers and employing a minimal palette of colors and materials. The result is a contemporary take on the Mid-Century Modern aesthetic.
Sustainability Features
In updating the building, interior solar-control devices and tubular daylight devices were added to collect and direct the ample daylight entering the space. Tunable light fixtures now allow users to adjust color temperature throughout the day to help reinforce the circadian rhythm of occupants. The renovation also incorporated biophilic elements, including a green wall that helps to improve air quality and provides stress-reducing qualities. Recognizing the value of a healthy work environment, 90 percent of the surface finishes are consistent with the Living Building Challenge's Red List. For daylight control, the building already had a significant glazing with a roof overhang to mitigate direct exposure. Further control is provided by roller shades with integrated light louvers to redirect daylight.
Finally, improvements were made to mechanical and electrical systems, including: upgrading existing roof top units with economizers; new duct work for seven destratification fans in the main studio distribute air; plug-load management; and a building management dashboard for lighting, mechanical and plug loads.
Client: Cuningham
Studio: Work
Market: Workplace
Size: 6,000 Square Feet
Scope: Renovation
Services: Architecture, Interior Design
Key Project Contacts: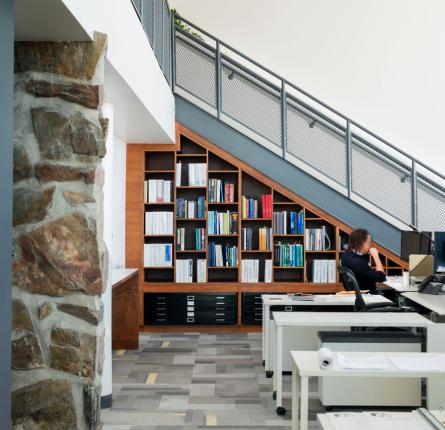 Awards
American Society of Interior Designers (ASID), Arizona North Chapter
2018 Design Excellence, First Place, Business Office Over 5,000 SF
American Society of Interior Designers (ASID), Arizona North Chapter
2018 Design Excellence, First Place, Historic Space - Residential or Commercial
International Interior Design Association (IIDA), Southwest Chapter
2018 PRIDE Awards, Design Excellence, Commercial Office Under 10,000 SF