Minneapolis, Minnesota
St. Anthony Main Office Renovation
Located in the historic St. Anthony Main office complex along the Mississippi River, the renovation of the top two floors of Cuningham's Minneapolis office honors the building's unique structure by making simple, yet bold design moves that also elevate the firm's brand. The design accommodates for future growth and expansion while also responding to density and space equity issues by addressing the changing work styles of the nearly 150 Cuningham employees located in Minneapolis.
To showcase the vast views of the Mississippi River and downtown skyline, the design team moved the "spine" of the space from the building's center to its side, along an expanse of windows. This shift allowed designers to create an open feature staircase, which is wide enough for quick conversations. Open table space and flexible seating arrangements along the windows also allow for meetings, quiet work space, and informal gathering spots.
Client: Cuningham
Studio: Work
Market: Corporate
Size: 18,100 Square Feet
Scope: Renovation
Services: Architecture, Interior Design
Key Project Contacts: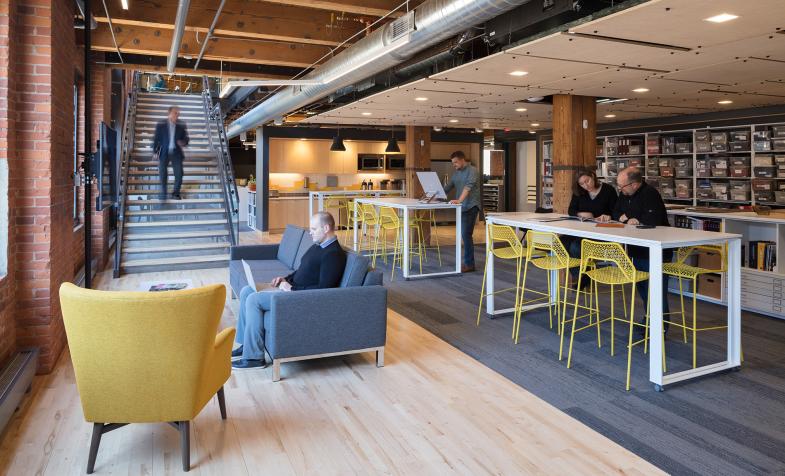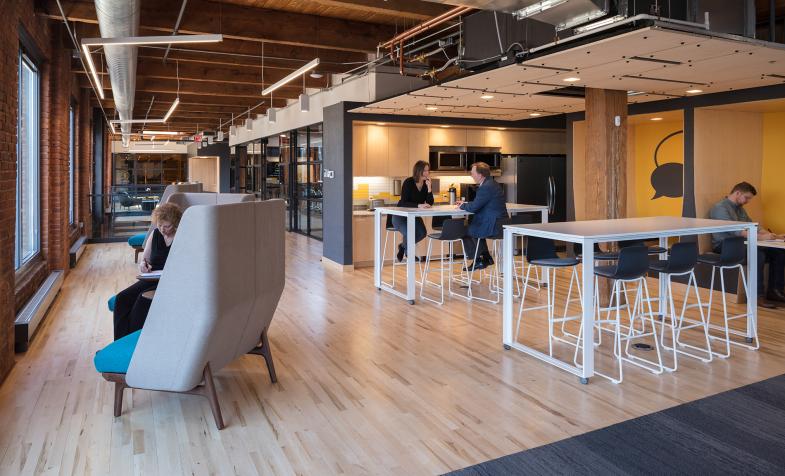 A focus was kept on the existing building structure, leveraging the exposed timber and brick, which are a strong part of the office's palette. The new environment is also client-focused, as it allows outsiders to get acquainted with the firm in ways that matter to them, whether it's at the entry or back of house.
Cuningham followed the WELL Building Standard™ (WELL), which closely aligns with the firm's long-standing commitment to the health and wellbeing of its employees. WELL is a building standard which focuses exclusively on the wellness of the people in buildings. It takes a holistic approach to health in the built environment by addressing behavior, operations and design. WELL design features include ergonomic work stations, acoustic comfort, thermal comfort, integrative design and adaptable spaces.
Other design features include: flexible and shared workspaces, strong attention to daylighting, finish materials and furnishings, a collaboration lab, and materials library.
"As an interior designer and an employee, I'm excited and proud that Cuningham chose to pursue WELL. By committing to the WELL standard, they put a stake in the ground that people come first."