Verona, Wisconsin
Epic Deep Space Auditorium
Deep Space is a five story, state-of the art venue situated 74 feet beneath the surface of Epic's rural Wisconsin campus. While mammoth in scale, the 11,400-seat venue is perfectly situated into a hillside and covered by an eight-acre green roof that preserves views of the landscape from the other campus buildings. Deep Space has earned the title of the world's largest sub-surface auditorium.
Audience Experience
In order to accommodate for Epics' large — and growing — monthly staff meetings, as well as the attendees at its annual user conference, the auditorium needed to seat thousands while still providing an intimate experience for every audience member. To create a positive audience experience inside the auditorium, Cuningham designed an expansive bowl-shaped auditorium with clear and unobstructed views from each of the 11,400 seats. A gradual slope promotes a sense of community and enhance learning.
Additionally, state-of-the-art technology was installed throughout the auditorium, and close attention was paid to the size of LED screens and their resolutions and screen placement, so that the audience can easily see presentations from every angle, even those audience members sitting in the last row 270 feet away. Cuningham also worked with a group to conduct motion studies, resulting in the addition of 42 escalators that can empty the auditorium and bring everybody to their next meeting in 14 minutes flat.
Clay Modeling to Digital Integration
Deep Space's cave-like façade is inspired by Wisconsin's unique topography, geology and exposed rock outcroppings. Designers went beyond conventional computer design tools to design this unique structure. Since the architectural vision for Deep Space's facade included unique rolling roof forms and cave-inspired rock-like masses, the design team continued its creative and organic design approach by building a larger clay model. A sculptor was brought on to sculpt the rock work, which was then 3-D scanned into digital form. The same process was conducted on the roof, which features eight acres of vegetative growth.
The model was especially helpful when determining how to integrate complex systems such as the overall structural support, stairs in the rock formations and a custom steel curtain wall behind the façade. Glass panels on the curtain wall were strategically situated in the cave-like openings to bring in natural light into the lobby.
Client: Epic
Studio: Work
Market: Workplace
Size: 923,000 Square Feet
Scope: New Construction
Services: Architecture, Interior Design, Landscape Architecture
Delivery Method: Negotiated Contract
Key Project Contacts: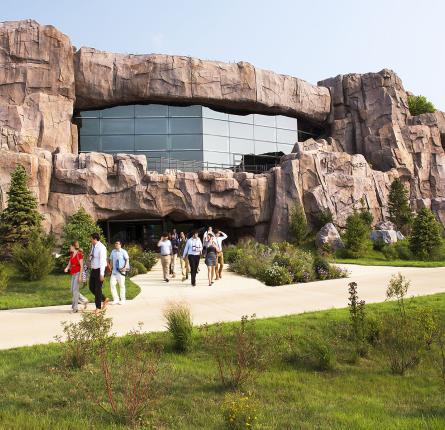 Awards
BUILD Wisconsin Awards, Commercial Projects – New Construction
American Institute of Architects/Technology in Architecture Practice Innovation Award, Honorable Mention in Stellar Design Category
"Innovation seems to be moving from physical to digital iteratively. This project seems to make the best case for innovative use of technology to achieve the result, without their iterative process, it would have been very difficult to realize the project's success."
AIA Technology in Architecture Practice Innovation