Minneapolis, Minnesota
Rafter Apartments
Northeast Minneapolis is known for many things — great restaurants, historic buildings, a thriving art scene. For the neighborhood's residents, it's also known for a group of wild turkeys that call the area home. As Northeast Minneapolis' unofficial mascot, these birds represent the area's eclectic, proud heritage — characteristics embodied in a new high-rise apartment complex located in the heart of the neighborhood. Given the name Rafter (the term for a group of turkeys) the new building stands as a love letter to the culture and quirks of its historic neighborhood — fowl included.
Industrial Inspiration
Historically, Northeast Minneapolis was a working-class neighborhood, defined by its numerous factories and warehouses. Today, an industrial aesthetic remains, and residents embrace the area's 'grit.' By using a simple, honest material palette, designers made sure Rafter would blend into the neighborhood's distinct historical context.
The building's brick base connects it to the surrounding streetscape, while the tower's blend of white concrete recalls the nearby General Mills elevators, a Northeast Minneapolis icon. Textured charcoal concrete on the façade is reminiscent of modern ceramic arts, while hints of wood, exposed concrete, and metal occur throughout the building — further establishing a connection to Northeast's industrial past.
Rafter's interior spaces maintain this connection through the elevated use of common construction materials, including concrete, plywood, and steel. The high contrast of light and dark finishes amplify the gallery-like feel of the spaces. Carefully crafted elements create distinct moments throughout the building, including the cast-in-place reception desk featuring over one ton of pigmented concrete, a welded steel-plate desk surface, and a live-edge walnut surround that was created from a tree removed from an urban Minneapolis neighborhood.
Putting the "Art" in Apartment
Northeast Minneapolis is home to one of the largest artist communities in the country and embracing that community was fundamental to the project. Through a rigorous process, the project team sought out local artists. In the end, twenty-three local artists and craftspeople contributed nearly one hundred pieces to the project, including a large outdoor mural, twenty-one custom murals in the interior of the building, three sculptural furniture pieces, and hand-blown glass light fixtures. The team also established an Artist-in- Residence program with the help of the Northeast Minneapolis Artist Association. Two local artists were chosen to live at Rafter for a year in exchange for producing art for the project.
Client: Mortenson Development, Inc.
Studio: Live
Market: Residential
Size: 470,600 Square Feet
Scope: New Construction
Services: Architecture, Interior Design
Delivery Method: Design-Build
Key Project Contacts: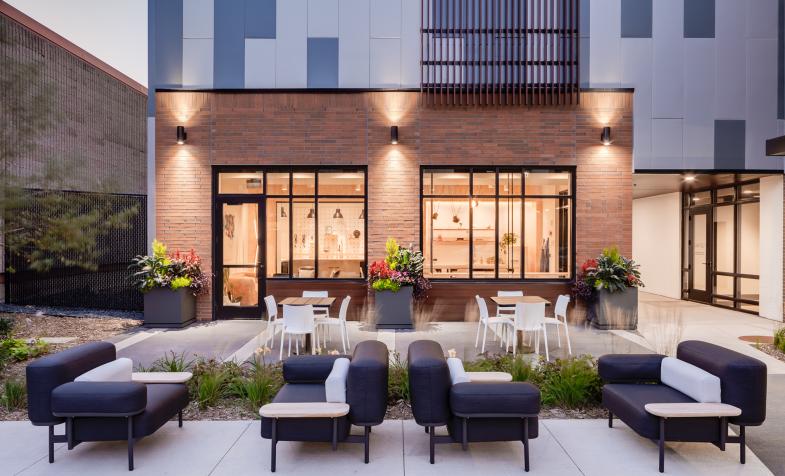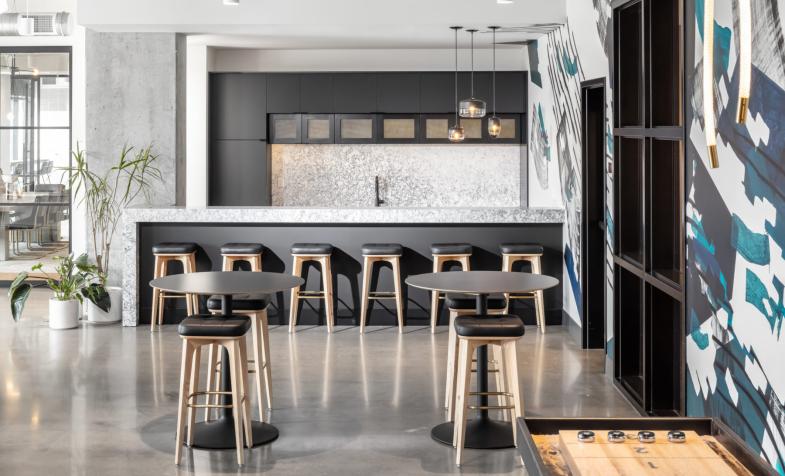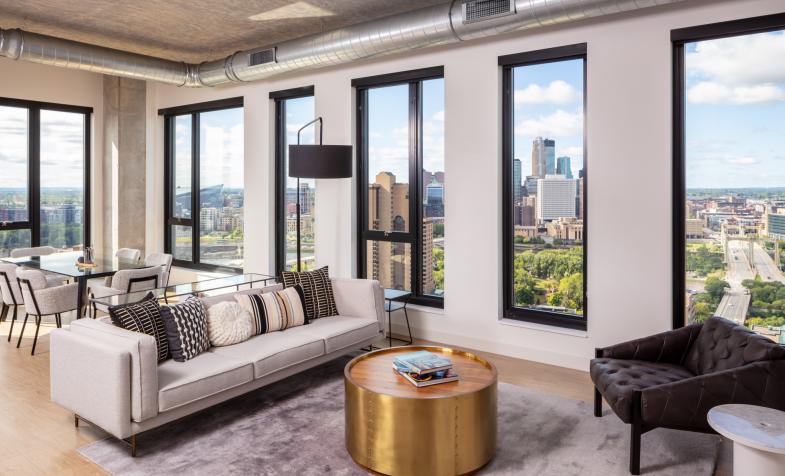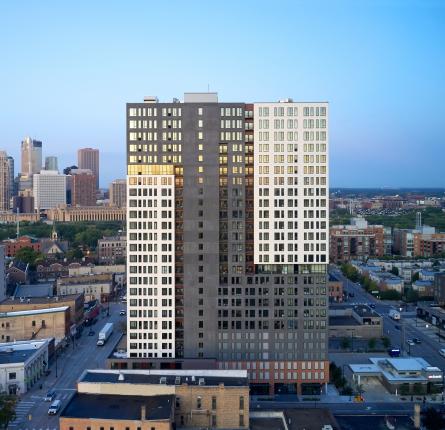 Awards
NAIOP Minnesota, Award of Excellence
Minnesota Real Estate Journal, Real Estate Awards - Urban Multifamily
Design Build Institute of America-Upper Midwest Region, Honorable Mention
Finance & Commerce, Top Project
"Rafter has been imbued with touches of art and culture that reflect Northeast's heritage as an artist community. The luxury building features photography, murals and paintings by Northeast Minneapolis artists throughout, and even includes a ground-floor 'maker space' where residents can pursue their favorite crafts."