Woody Creek, Colorado
Aspen Community School
Aspen Community School, a small, experimental school in a log building on a rural site in the Woody Creek Valley, received BEST Grant funding to repair its existing structures and better support its educational goals through new classroom and gymnasium buildings.
Located on a high mesa with expansive mountain views in all directions, the new buildings deliver high performance educational environments with significantly improved thermal comfort and connections to the outdoors for students. The two new buildings earned LEED® Gold Certification, with consideration for the energy use reduction goals of the 2030 Challenge. Materials and systems for the project were specified with consideration for health, durability, recyclability, renewability, locality, and environmentally conscious manufacturing. In addition, high efficiency HVAC, plumbing, and electrical, lighting and control systems serve the new buildings, including heat recovery units for energy savings and LED light fixtures for energy efficiency and long life.
Additional grant funding of over $120,000 was secured from the Community Office of Resource Efficiency (CORE) to purchase solar panels, as well as pay for system upgrades to achieve greater energy savings. 
Designed in collaboration with Studio B Architects.
Client: Compass… For Lifelong Discovery
Studio: Grow
Market: Education
Size: 18,815 Square Feet (new)/8,000 Square Feet (renovations and additions)
Scope: New Construction, Renovation, Addition
Services: Architecture, Interior Design, Master Planning
Delivery Method: Construction Manager at Risk
Key Project Contacts: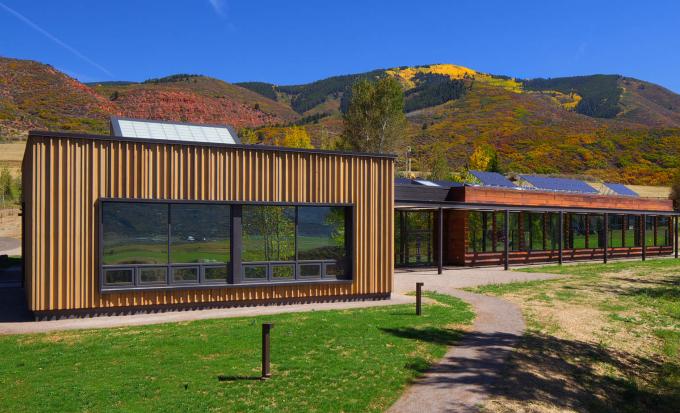 Awards
American Institute of Architects, Colorado, Award of Excellence, Commercial/Institutional
American Institute of Architects, Colorado West, Award of Excellence, Commercial/Institutional
American Institute of Architects, Citation Award for Unbuilt Architecture
Association for Learning Environments, Rocky Mountain Chapter, Peak Design Award and People's Choice Award