Minneapolis, Minnesota
O'Shaughnessy Distillery
Traditional Irish design elements meet upscale artisanal craft at O'Shaughnessy Distillery, a "grain-to-glass" distillery in Minneapolis, Minnesota.
One of the first new distilleries in the United States that focuses exclusively on craft Irish-style whiskey, the design of O'Shaughnessy Distillery creates a lasting family legacy brand from the ground up. By combining all of the manufacturing and business operations of the distillery with retail, indoor and outdoor dining, and a viewing path above it all to offer tours, O'Shaughnessy Distillery is a unique and exciting destination that allows guests to feel their passion for spirits, gain knowledge of the distilling process, and leave with a memorable customer experience.
Guests can take a tour and learn more about the distilling process, purchase exceptional whiskey, and enjoy both indoor and outdoor dining areas. O'Shaughnessy Distillery is now a place for people of all generations to gather and celebrate craft Irish whiskey and the triple-pot distilling process.
Client: O'Shaughnessy Distilling
Studio: Play
Market: Hospitality
Size: 27,800 Square Feet
Scope: Addition, Renovation
Services: Architecture, Interior Design, Landscape Architecture
Delivery Method: Construction Manager at Risk
Key Project Contacts: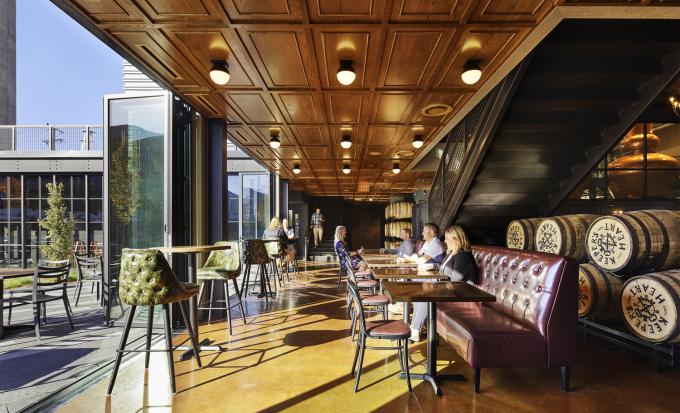 Reflecting Heritage
An adaptive reuse project, the distillery is located on the site of a historic but abandoned brick potato manufacturing facility. After a full restoration and expansion, O'Shaughnessy Distillery now plays off features of the original potato factory, bringing the client's Irish heritage into the space. The design also emulates the distinct notes of Irish whiskey: spice, sweetness, and wood. Warm wood paneling with metal accent bands is interrupted by large expanses of glass that complements the proportions of the existing building, giving warmth and views to the energy within the building.