Minneapolis, Minnesota
Minnehaha Academy Upper Campus
When a gas explosion destroyed the historic heart of Minnehaha Academy, one of Minnesota's oldest private schools, Minnehaha grieved both a loss of life, as well as the loss of two beautiful, historic red-brick structures integral to the school's community fabric for over 100 years. Cuningham, alongside Mortenson Construction, helped Minnehaha turn tragedy into opportunity — pushing the limits of the typical design process by delivering a progressive take on the school's original, 105-year-old buildings in just under 20 months.
 
Contrary to the original buildings, which had limited daylight and few windows, classrooms and common areas are now filled with floor-to-ceiling windows, giving students views to the Mississippi and the surrounding river gorge. Connecting the two remaining buildings, this new heart of the school features an interior landscaped courtyard, student commons, a prayer chapel, library, fireside lounge, a variety of learning spaces, and deep, visible connections to the school's rich history.
Centered in Community
Organized into two three-story academic wings centered around a commons area where students pass through multiple times a day, the new Upper Campus helps Minnehaha strengthen its tight-knit connections between learners, teachers, administration. At the middle of the commons are two olive trees that symbolize the way Minnehaha's community came together to grieve and heal following the blast. The trees are placed under an angular skylight with beams signed by both current students and alumni — further emphasizing that this space is the literal and emotional core of the school.
History Integration
Minnehaha Academy is one of Minnesota's oldest private school. As such, many elements of the school's rich history are incorporated into the remodel: 
Bricks salvaged from the 1922 building form a floor-to-ceiling art instillation.
A donor wall is crafted from handmade bricks from the 1912 building.
Treads from the old staircase create the floor around the memorial trees.
Old lockers are displayed in the C building.
A monument is made out of the historic signage and cornerstones.
A new fireplace lounge reimagines the fireplace in the old chapel building.
Felled trees from the building's construction site are used to create furniture and a door to the prayer room (with all woodwork done by an alum).
Client: Minnehaha Academy
Market: Education
Size: 168,000 Square Feet
Scope: Addition
Services: Architecture, Interior Design, Landscape Architecture, Master Planning
Delivery Method: Design-Build
Key Project Contacts: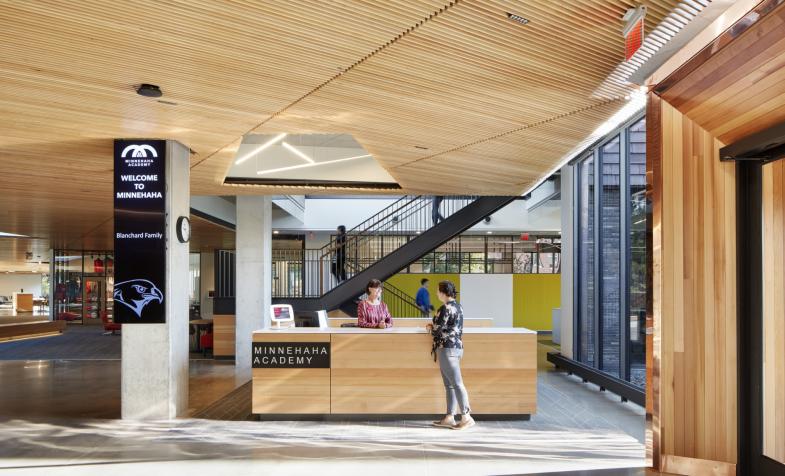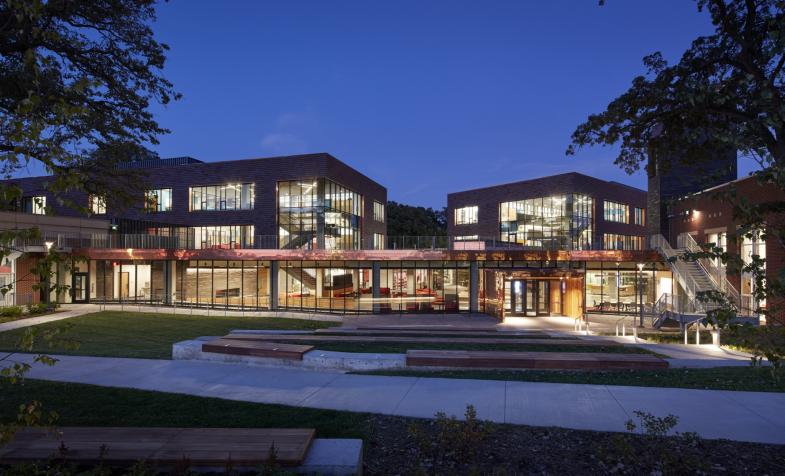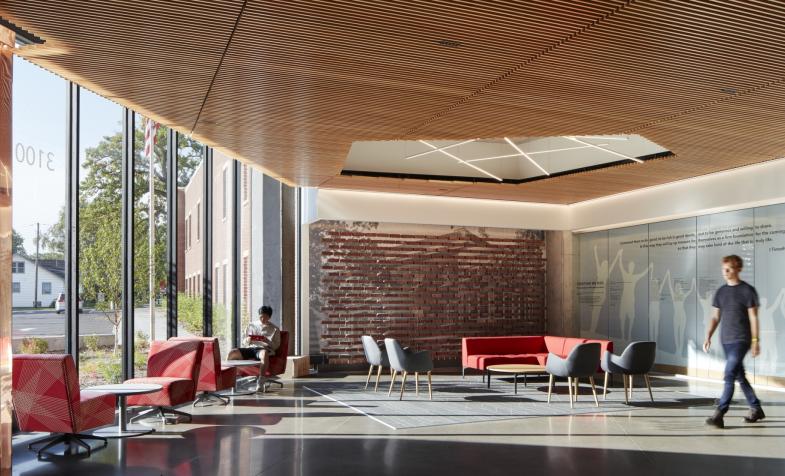 Simple and Honest
To maintain a natural feel, the design-construction team kept the material selection simple and honest, with a primary palette that reflects the school's Scandinavian heritage: concrete, wood and daylight. The clean design aesthetic is further extended to the building's exterior, where brick shingle tile clads the upper two stories — a modern interpretation of the original buildings' iconic red brick.
The finish palette adds pops of color only where appropriate for definition and wayfinding, while softer carpeting, fabric-wrapped panels and upholstered furniture work to soften the line between the two.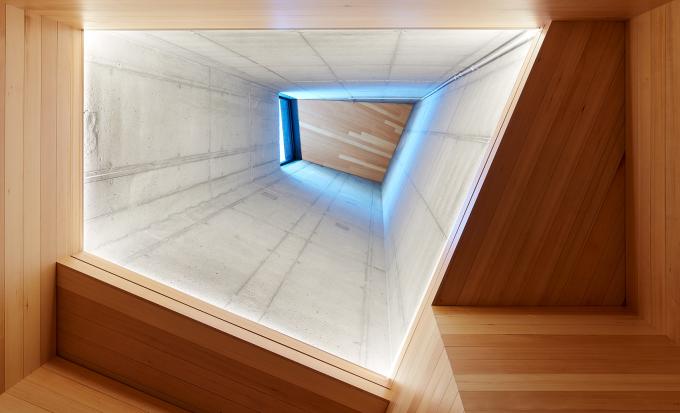 Awards
AIA Minnesota - Honor Award
American Society of Landscape Architecture MN Chapter - Merit Award
Design-Build Institute of America - Upper Midwest Region - Project of the Year
Association for Learning Environments - LEsolutions Project of Distinction
Finance & Commerce - Top Project