Mesa, Arizona
Banner Desert Medical Center, New Tower Expansion
The vertical expansion to Banner Desert Medical Center in Mesa, Arizona adds five additional floors, increasing bed capacity and housing Banner Health's relocated and expanded women and infant services program.
Constructed on top of the existing two-story north wing of Banner Children's Tower, which was built in 2009, the new tower expands the existing footprint to accommodate 36 patients rooms instead of the 24 patients rooms that were master planned per floor.
Adding and renovating roughly 190,000 square feet of new construction, the expansion includes OB triage, 14 labor and delivery rooms, three C-section operating rooms, 36 ante-partum/post-partum rooms, and 108 med/surg patient rooms, The Big Outside and Child Life Services relocation.
The expanded capacity and newly focused strategy on women and infant care further positions Banner Desert Medical Center as a hospital of choice.
Client: Banner Health
Studio: Heal
Market: Healthcare
Size: 190,000 Square Feet
Scope: New Construction, Renovation, Addition
Services: Architecture, Interior Design
Delivery Method: Construction Manager at Risk
Key Project Contacts: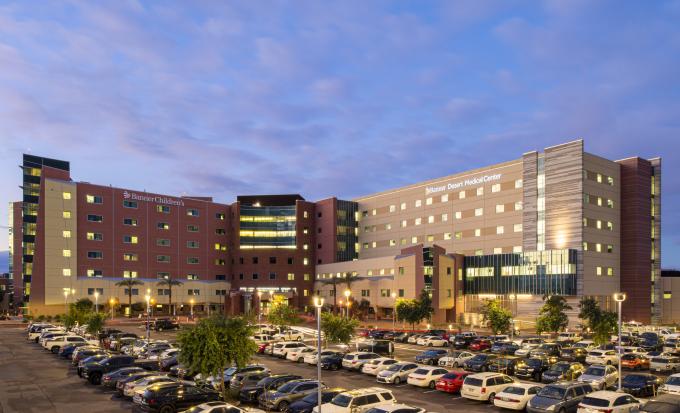 Increasing Safety, Speed, and Consistency with Prefabrication
Early in the design process, the decision was made to prefabricate several key project elements. This design approach was based on safety, speed, and consistency of the end product due to labor shortages during the pandemic. The design team worked closely with the general contractor DPR Construction and trade partners to design and prefabricate the exterior skin, patient toilet rooms, headwalls, and overhead racks. The structure of the building uses sideplate connections rather than traditional welding, which sped up the construction process and was safer to use over an active and operational hospital.