Virtual Big Room Delivers at Banner Desert Medical Center
Virtual Big Room Delivers at Banner Desert Medical Center
This blog was written by Amanda Sawit and originally appeared on DPR Construction's website. 
 
Team chemistry and early collaboration prove key to successfully designing a complex hospital expansion in a virtual co-location environment
Vertical expansion projects, particularly those on active healthcare campuses, can be full of challenges. That was the case at Banner Desert Medical Center (BDMC) in Mesa, AZ, which is adding a new patient tower dedicated to women and infant services. The virtually co-located design and construction team of Cuningham, AEI, PK Associates, Dibble, and DPR Construction came together with Banner Health to address the complexities of site, while maintaining the day-to-day operations of this active facility during construction and renovations in the existing structure.
Design and construction challenges are inherent when working with existing conditions. In the existing hospital, the columns were originally built with a 2-hour fire rating, and to meet code requirements today, eight years later, the columns had to be upgraded to a 3-hour rating.
"It's been really helpful to have DPR virtually co-located with us during the design phase of the project." said Tracy Lauer, who heads up the project's design side with Cuningham. "When challenges arise, the team is able to come together seamlessly to discuss the issues and constructability of the solutions. The team benefitted by having DPR's self-perform drywall teams fireproofing and other trade partners on hand, and just talking through 'OK, what's better?' This is an operational hospital, and we had to figure out if we needed to cut around the columns and either re-fireproof them, or something else."
Lauer added: "They went out and verified that the existing column furring is suitable for a vertical expansion, and when the code consultant required us to confirm the correct type of gyp  board, [DPR's] Mike Lillo went out there, ripped a piece of drywall off the wall and said, 'Yep, this is what you need.'"
Although that's just one example, it reflects the collaborative spirit that everyone—from the designer, to trade partners, to the contractor, to the client—has adopted. That level of "organic chemistry," as some on the team have described it, came in handy when the project, which started in February 2020, shifted design and preconstruction to a virtual environment due to pandemic stay-at-home orders issued just one month later.
"Building relationships with people via Zoom is tough," said Brittany Burbes, who serves as DPR's project executive. "Luckily, we have that good relationship and connection between people. But that doesn't make the mountain any less hard to climb. All our cluster meetings were virtual, and we did our entire design virtually. What helped was that Cuningham let us have a voice in the room."
Designing with the End User in Mind
The primary objective of the expansion was to increase bed capacity on campus, with a focus on women and infant services. Once completed, the new tower will include a newly expanded new labor and delivery, obstetrics and gynecology triage, and antepartum and postpartum rooms.
"In the hospital environment that's extremely challenging, and in this instance the floor below what we're building on is the pediatric surgery department," said Mark Tiscornia, principal and executive director of Cuningham's Heal team. "So, it's a very complex, sensitive department and environment that needs to be maintained for patient satisfaction and care."
The original master plan called for the women's triage space to be at a dedicated entry on the ground floor. But in working through the design, the team concluded that it was better to move triage to the third floor, so that expecting mothers would be immediately adjacent to the labor and delivery department. The existing lobby was converted to reflect Banner's mission of focusing on both mother and child. Additionally, based on the need to have additional inpatient beds on campus as soon as possible, the team worked together to design the conversion of shelled in the existing children's hospital so that an additional 24 beds would be available within a year.
The shared personal experiences of the project team played a role in their approach to bringing the project to life; half of the project team is made up of mothers.
"We've experienced this service line before; we've had to go to triage. We've been in the labor, delivery and recovery room. We've been in postpartum. Maybe a few of us have been in antepartum before. So, we have that experience that is unique to this project specifically," said Lauer.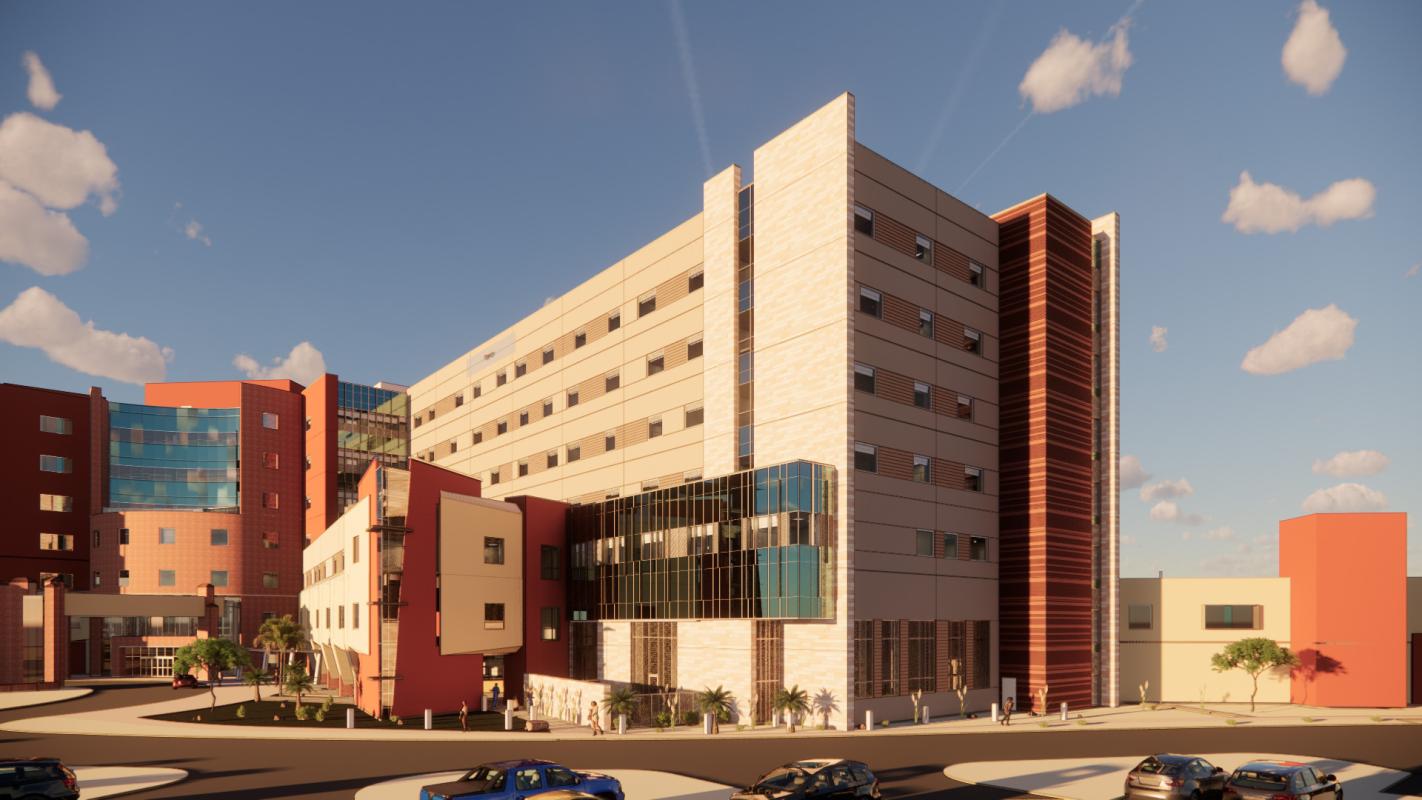 Virtual Big Room Advantages
Pandemic-related disruptions aside, the team had originally planned for a big room and collaboration was built into the workflow from the start. What resulted was diligent tracking of needs, communicating those needs between various stakeholders, and working together to determine how to prioritize those needs to accelerate the design.
"A lot of times we'll design in a vacuum, where we draw what meets code and design, but isn't necessarily the best way to build it," said Jeremy Barrette, project manager with AEI, which serves as the project's MEP engineer. "The construction team really brings that expertise. And everybody had feedback upfront. So, as we we're designing and drawing on paper, we knew that everyone was generally in agreement."
"Having trade partners on board really helps us eliminate RFIs, figure out what's missing, and determine how to build the building from the beginning" said Burbes. "Getting the right eyes on the plans from the start is something that the collaborative environment brings that maybe doesn't always happen in preconstruction."
Design is an iterative process, but as the project team has proven, it can be more efficient when all stakeholders are aligned. The upfront early collaboration between Cuningham, AEI, DPR and trade partners enabled a faster turnaround time for getting information to Banner; in some cases, questions one day would reap new layout options and pricing models just a few days later.
"It helps to have an engaged client," said Barrette. "Banner understands, gets involved and is part of those conversations. And if there was something that we were thinking about that they needed more information to decide, they certainly spoke up."
"Early integration with the major trade partners has resulted in upholding the project budget and timeline through the COVID challenges and mandated work from home orders," said Nancy Medrano, who leads the Banner Health side of the project team. "The teams budgeted, designed and permitted the new expansion in a virtual environment and hit all the project milestones. This team is on target and focused on reaching our goals for completion."
While chemistry may be heaven-sent, the team sees mutual buy-in as the biggest factor contributing to the project's success so far. As the project continues through construction (groundbreaking was in March), they'll have a firm foundation to draw from.