The Value of Student Engagement
The Value of Student Engagement
It's no secret that I love designing schools. I find it exciting to be part of a process that shapes spaces for learners, teachers, and their communities. One of my favorite parts of this process is working with students to imagine and design their spaces.
Collaborating with students as a part of the design team leads to the most successful and dynamic learning environments. Not only that, but it can help energize and propel the design process forward. Cuningham's goal is that when students walk into their new learning space, they feel a sense of ownership, excitement, and immediate connection because they helped shape the way it looks, functions, and feels.
Why Engage Students
When designing schools, one of the fundamental questions that we seek to understand is "what will students do in the space?" So who better to ask than the students themselves?
There are many ways to include them in the design process, and these opportunities should be tailored to meaningfully involve students of all ages. Some of the key opportunities for student engagement are at development of project visioning, interior design concepts, furniture, and environmental graphics. Because these design phases occur at different stages in the project timeline, Cuningham can hear from the students throughout the entire process. Ongoing student engagement like this helps to build on previous work done together, and it helps students develop a deeper understanding and connection to the project.
It is important to note that teachers and staff are an invaluable asset in promoting and coordinating student involvement, and we often work with students and teachers simultaneously in our design workshops.
Student Designers at Sartell
Sartell High School is a recent Cuningham project that benefitted from student engagement. Early in the process students helped shape the project vision and they continued to play an integral role in the development of the project all the way through to construction site visits and the grand opening, where they gave family, friends, and the community tours of their new school.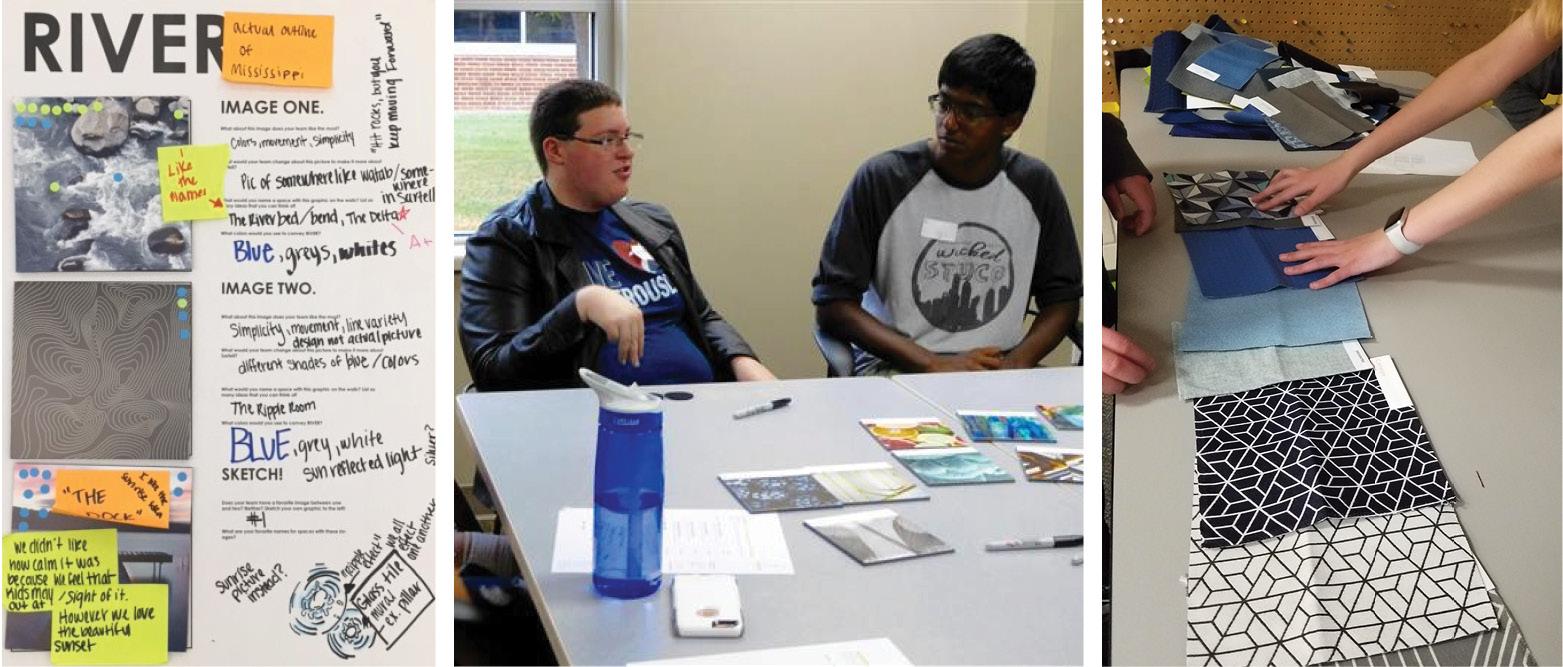 One Sartell student workshop focused on developing the story behind different areas of the building. Students helped craft an inspirational story unique to Sartell, focusing on their local history and surrounding landscape. They selected images that supported this story and came up with descriptions and potential names to identify various spaces throughout their new school. The feedback collected during this workshop impacted interior materials, finishes, and design features of the learning neighborhoods.
A follow-up workshop with Sartell students built on the previously collected feedback and centered on developing large scale wall graphics. The goal of the graphics was to celebrate school pride and infuse character based on the stories that emerged from the previous workshop into each of the three learning neighborhoods. During the workshop, students evaluated many different types of graphics and photographs, discussed pros and cons, and ultimately presented the types of images they wanted on the walls in their new school. Their direction was the foundation for the design of Cuningham's custom graphics installed throughout the building.

Another phase of the design process that students engaged in at Sartell High School was furniture design. A furniture kick-off workshop started by asking students to describe what they wanted their spaces to feel like by gathering words and conceptual images in a collage format. This activity was followed up with selecting images from a large image bank of specific spaces and furniture that embodied what they wanted their school to feel like. The collages completed by students during this workshop laid a foundation for the entire furniture design process, and Cuningham was able to refer back to what they created, ensuring that furniture selections aligned with their vision.

The Influence of Students
Ideas generated during student workshops are always exciting. Students bring a fresh perspective, and their input can add so much life to the design and the process itself.
At Sartell High School, student ideas generated during the graphics and furniture workshops can be seen all over the final design. The large wall graphics reflect students' design concepts along with the names for the learning neighborhoods (Watab, Pines, and Meadow) and the overlook group rooms (River Dock, Treehouse, and Hayloft), giving each area of the building a unique identity tied to the overarching design story. Furniture in the common spaces was selected in collaboration with students and ties back to their collages at the initial furniture workshop.
When students walked into Sartell High School the first day of school, I hope they felt that their voices were heard and they could feel an instant connection to the spaces that they helped design.