Sartell High School Wins AIA Minnesota Honor Award
Sartell High School Wins AIA Minnesota Honor Award
Sartell High School was recently recognized with an American Institute of Architects (AIA) Minnesota Honor Award!
Established by the American Institute of Architects Minnesota in 1954, the Honor Awards recognize outstanding built projects by AIA Minnesota members, or firms that are owned by AIA Minnesota members, that practice professionally in Minnesota.
A jury of three internationally-renowned architects — Philip Chen, FAIA, Annum (formerly Ann Beha) Architects; Chandra Robinson, AIA, NOMA, LEVER Architecture; and Lawrence Speck, FAIA, Page Architects — selected Sartell High School as one of three projects to receive this year's award.
Congratulations to the entire project team on this accomplishment!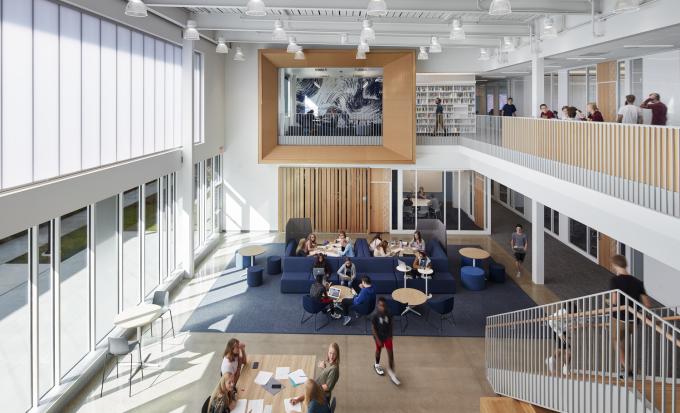 Sartell High School
This crisply contemporary high school in central Minnesota is arranged around a soaring, light-filled student commons with a series of bridges, tiered seating in the form of a learning stair, and a student-run coffee shop and school store. In lieu of a dedicated media center, the design integrates bookshelves and media technology into the common areas for increased use by students. Outside the general learning neighborhoods and specialized learning spaces, students can choose between small and medium-size group rooms, open lounge space, meeting tables, and outdoor seating for studying and socializing.