Mino-bimaadiziwin Apartments Receives Two AIA Merit Awards
Mino-bimaadiziwin Apartments Receives Two AIA Merit Awards
Mino-bimaadiziwin Apartments has received an AIA Minneapolis Merit Award, as well as the 2022 Michael L. Schrock, AIA Merit Award!

Mino-bimaadiziwin, which means "living the good life" in Ojibwe, is a multifamily housing development located in the heart of the Minneapolis Native American Cultural Corridor. Designed with Full Circle Indigenous Planning + Design, LLC and developed by the Red Lake Band of Chippewa Indians, the project provides much-needed affordable housing units for Red Lake members and local Native American residents.
Congratulations to the entire project team on this honor! Learn more about the award and see the other recipients on AIA's website.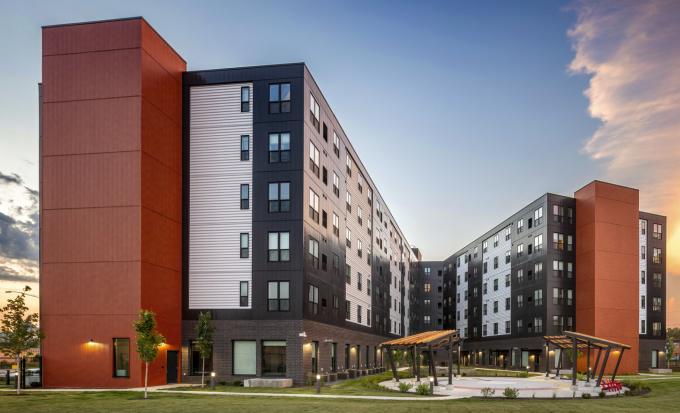 AIA Minneapolis
Given to projects that tell a story of "excellence beyond design," AIA Minneapolis Merit Award recipients emphasize public interest design and embrace the varied forces that shape a building.
The Michael L. Schrock, AIA, Merit Award, which Mino-bimaadiziwin also received, was created to honor Mike Schrock, AIA, who tragically away in 2008. This is an additional honor awarded within the context and structure of the AIA Minneapolis Merit Awards to the winning project that most embodies Michael's 7 Rules of Architecture:
Know where you are from.

Know who you are.

Know why you are.

Respect your benefactors.

Honor the environment.

Architecture must serve those who occupy it.

There is beauty in functional, economical, safe, environmentally responsible, owner-driven architecture.