Meeting Growing Behavioral Health Needs with Comprehensive Facilities
Meeting Growing Behavioral Health Needs with Comprehensive Facilities
A version of this piece previously appeared in Medical Construction and Design
Over the past several years, investments in behavioral health (BH) services have increased, including traditional inpatient treatment and emergency psychiatric services. This is due, in part, to the Affordable Care Act, which expanded the requirement for insurers to cover mental health needs.
Naturally, the unprecedented pandemic has only amplified the critical demand for these services.
Local governments, hospitals and health systems are evaluating their local populations to create strategic, win-win partnerships in order to design BH programs and expand or develop facilities to accommodate a range of needs.
This is creating new opportunities for designers working with the healthcare sector to reimagine and develop ideal future states for BH facilities, in coordination with their treatment plans, with stakeholder input.
The following are three considerations for these facilities.
1. Fulfilling growing needs + maximizing investment
Due to the ever-expanding scope of healthcare, many providers are pursuing their own facilities, or partnering with local agencies and systems, that incorporate a holistic approach to care. This includes emergency care, inpatient and long-term outpatient care specific to BH.
Architects and designers will be key partners as stakeholders find ways to maximize these investments and safely utilize facilities for varying patient populations.
A comprehensive BH facility must be designed for a diverse population and treatment types, remaining flexible enough to accommodate the highest level of patient restriction and cater to the needs of varying comorbidities and ages.
While each department should be designed to provide maximum separation for patients, staff should also be able to share administrative space and services to optimize efficiency and provide effective care.
Ideally, staff will be able to move easily between departments and address concerns as they arise. "Flex zones" that can be physically separated from the rest of the patient care area, as needed, can help accommodate this movement.
As an example, a comprehensive BH center might include inpatient treatment, urgent care, mobile crisis response team emergency services and a central pharmacy that serves the entire inpatient population and public.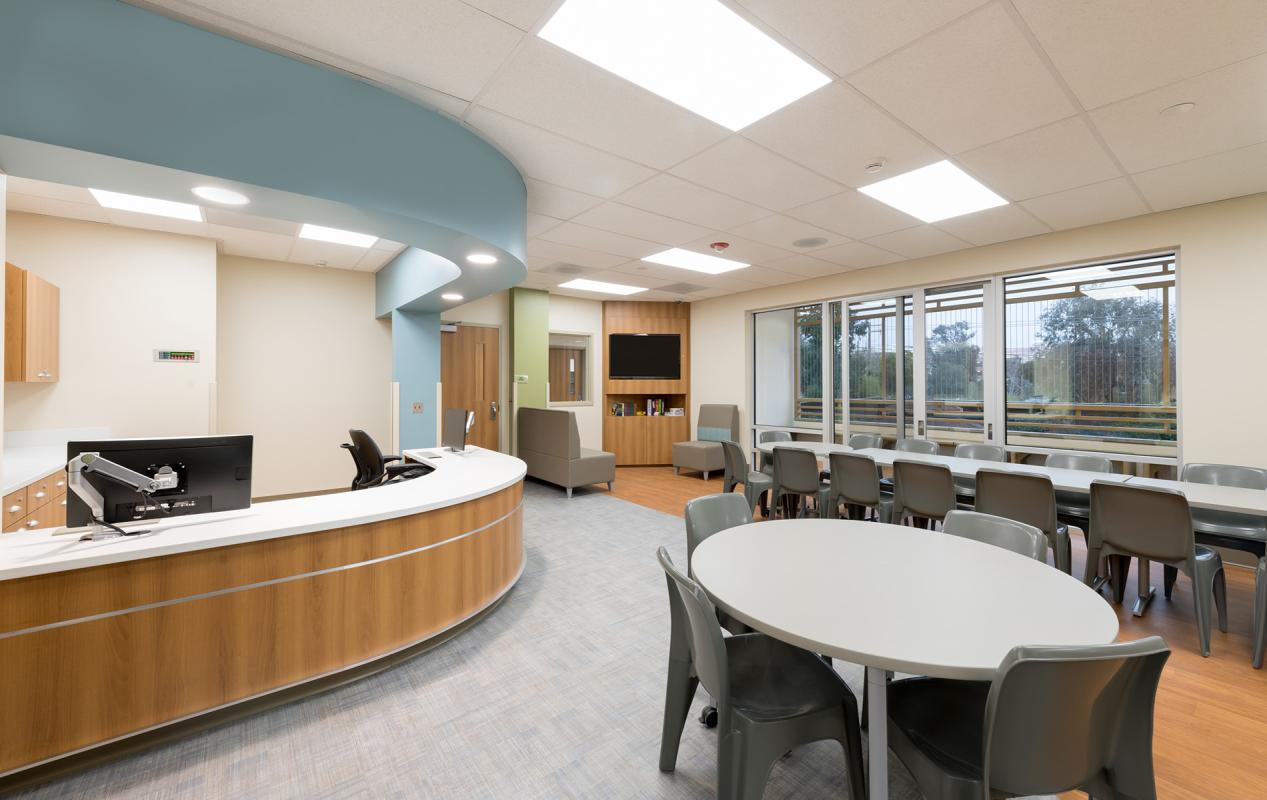 This facility may be equipped with a dedicated emergency patient intake, designed to accommodate a wide variety of needs. The primary function would feature a safe and secure drop-off point for patients in crisis delivered to the facility by ambulance or police, typically in restraint and in need of physical and mental evaluation.
Public intake can then be directed through the urgent care area where staff provide evaluations, injections (as needed) and interviews within a safe and secure environment, prior to clearing patients to the next phase of treatment.
Keeping the ED clear of patients in critical need of psychological care, but not medical care, can reduce strain on staff that is not prepared to care for a patient in crisis. Central to the BH typology is opportunity for staff to quickly move out of harm's way, if a situation beyond their control arises.
2. Creating safe + comfortable environments for varying demographics
The environments patients experience throughout the facility should maximize well-being through healing areas with a variety of programmed spaces and positive distractions.
The design and flow of the building should reduce stress to get people in the doors and feeling comfortable. Comfort is created from the start by providing a homelike environment with warm tones and a variety of spaces and seating options.
Some specific and common features important to include for patient, staff, physician and visitor safety and comfort include:
Exterior views and daylighting
Integration of security measures into the design, such as metal detectors to safeguard physicians, staff and visitors
Highly durable anti-ligature fixtures, tamper-proof fixtures, devices and material
Safe and secure designs for nurse stations with minimal barriers
Staff accommodations and break areas that offer true respite
Balance of limited-access and entry/exit points throughout the facility
High visibility and expansive views throughout the facility
Elimination of long patient hallways and dead ends
High ceilings and expansive spaces in critical patient care areas
Positive distraction and sensory integration
Technology and automation
Projects that treat multiple patient groups (pediatric, adolescent and adult) come with their own set of hurdles. Overcoming these obstacles can result in a dynamic facility with spaces that incorporate a litany of activity and functions, including:
Sensory integration room (pediatrics)
Controlled multisensory environment room
Seclusion restraint rooms
Comfort/quiet rooms
Patient treatment planning
Secure outdoor activity areas
Additionally, strict separation must be maintained at all times, including physically and visually separated intake paths.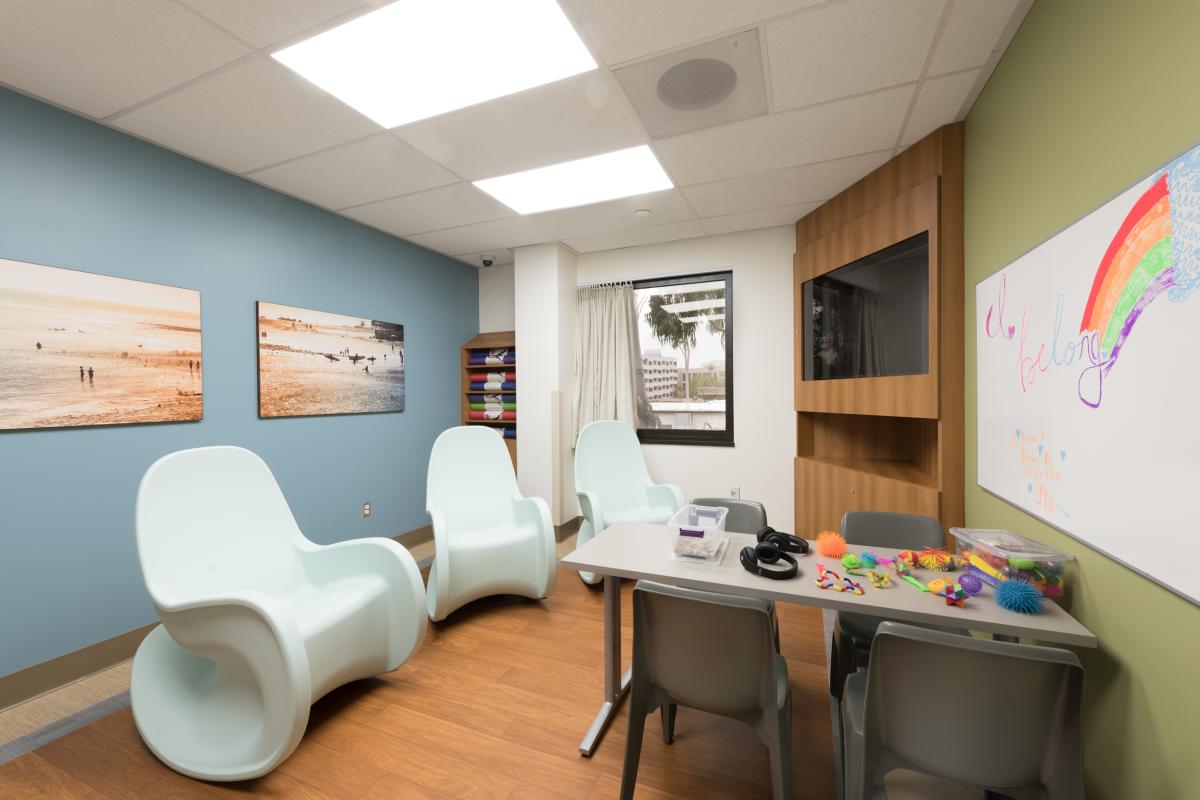 The potential for patient populations to cross over at primary circulation points is where efficiency becomes critical. Warm hand-off rooms, which can double as interview rooms, are provided for patients and staff to wait safely while others are moved to their respective areas.
Design teams must also address where to place security checkpoints. Visitors and patients both move through the public space which, by design, is under supervision by staff and security at all times.
3. Evaluating impact of pandemic on future of design
As healthcare professionals, we are already experienced with infection prevention measures that can be rapidly and effectively integrated into all typologies. As we begin to learn how to live with an evolving virus and the pandemic continues, it will have a lasting impact on the precautions taken at all healthcare facilities throughout the design community.
During the design phase, it's important to balance decisions and concerns with the cost impact analysis against empirical data to effectively deliver the best-case solution. This begs the question: Do we design based on best practices of the past, or do we attempt to predict and design for future pandemics?
In response, designers may look to designing with flexibility and the ideal future state in mind – which will require working closely with stakeholders and staff to create a vision of the facility and treatment programs.
To address staff and administrative concerns about contagious patients getting too far into the building, consider a rapid assessment room immediately off the main lobby entrance, designed departments to act independently of one another and incorporated additional space for physical distancing and the use of plastic shielding. Room sizes may also be standardized to allow for program shifts as patient populations fluctuate.
This may result in the elimination of shared anterooms, additional space requirements, flexible room types, greater partitioning and increased interest in opportunity to break down and section off patient-facing spaces.
Looking ahead, it seems likely designers will see the incorporation of additional technologies, such as occupancy sensors and thermal infrared scanners integrated into the security needs of BH facilities.
As hospitals and healthcare systems strive to exceptionally serve their diverse population and varying BH needs, we will see more dedicated, comprehensive facilities. These locations must be designed for ideal future states and planned in a way that will maximize investment, while creating a safe and effective environment for all.