Integrating Indoor & Outdoor Learning & Designing for a Sustainable Future
Integrating Indoor & Outdoor Learning & Designing for a Sustainable Future
When school and district leaders of North Park School for Innovation began developing plans to renovate and build on to its 1960s-era elementary school, they were committed to their core values of being a place that provides creativity, exploration, creation, and knowledge.    
Located in Fridley, Minnesota, and part of the Columbia Heights Public School District, sustainability and building environmental awareness are central to North Park's curriculum. A major emphasis is placed on the connection between indoor and outdoor learning experiences. The school also serves many underserved communities, so providing equitable opportunities was paramount.
Regenerative Design Solutions
Design and planning discussions first covered stormwater storage. Instead of taking the stormwater underground, Cuningham encouraged them to think differently and developed a plan where surface runoff is directed into the native planting beds throughout the parking lot islands and retention basins.
The prairie grass and infiltrative drainage system in the parking lot not only falls with the sustainability values of the school, but it actively enriches the ecology of the site providing habitat to for pollinators and improved water quality. It was also a smart investment as no added financial costs were made as the team was able to reallocate the money used for more traditional underground stormwater storage.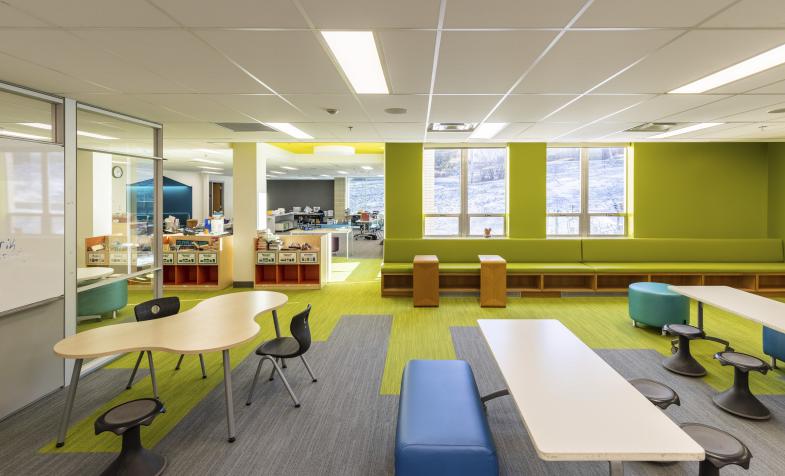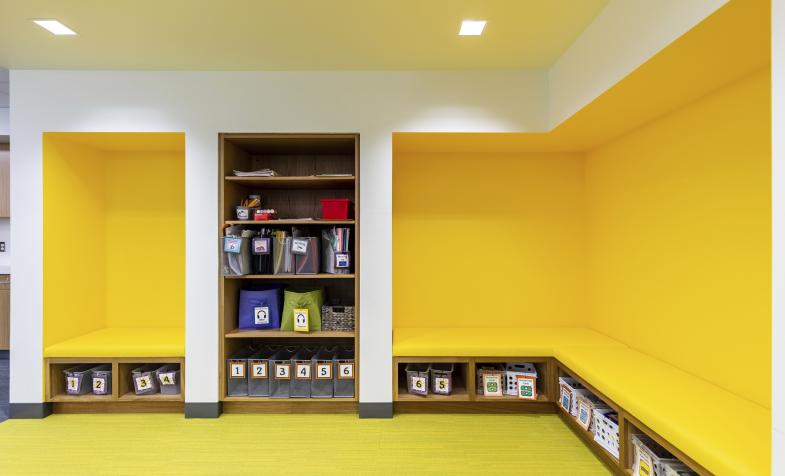 An Inviting Entry is Also a Learning Lab
The school's design adds a new cafeteria, preschool and kindergarten classrooms, learning studios for 3rd and 4th grades, a new playground relocated for greater safety and outdoor learning, and a relocated main entry to help alleviate previous busing and drop-off congestion. The new entry presented an opportunity to incorporate sustainability and outdoor learning opportunities, including transforming the main entry into and edible landscape.
"By integrating edible plants in the planting beds at the new main entry, it creates a visible learning moment for students and visitors arriving to North Park School of Innovation," said Landscape Designer Devon Clark. "Students will be able to explore the plantings and harvest the many native berries and fruits."
The design team also wanted the entry to evoke the school's values of being experiential, fun and creative. During a design meeting, they sketched and shared a "NP" sculpture idea that was then 3D printed and commissioned out of recycled plastic water bottles. The attention-grabbing sculpture is engaging and has become a beloved piece by students.
"It's an artful twist on regenerative materials and is valued by the school – a perfect example of how a doodle in a meeting can be brought to life," Clark said.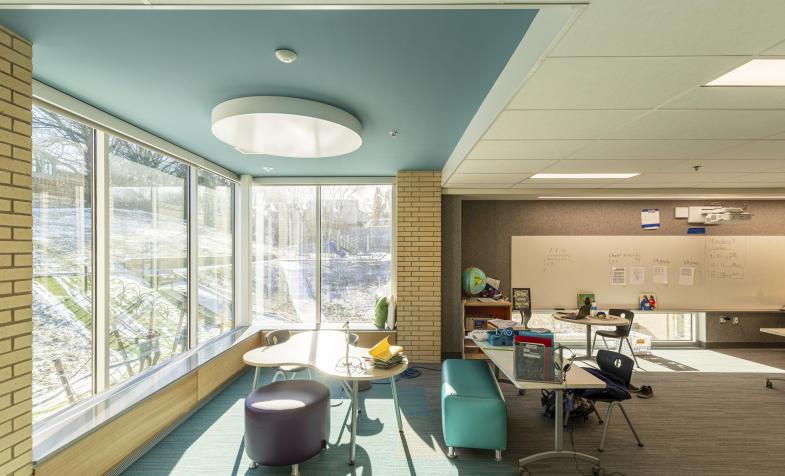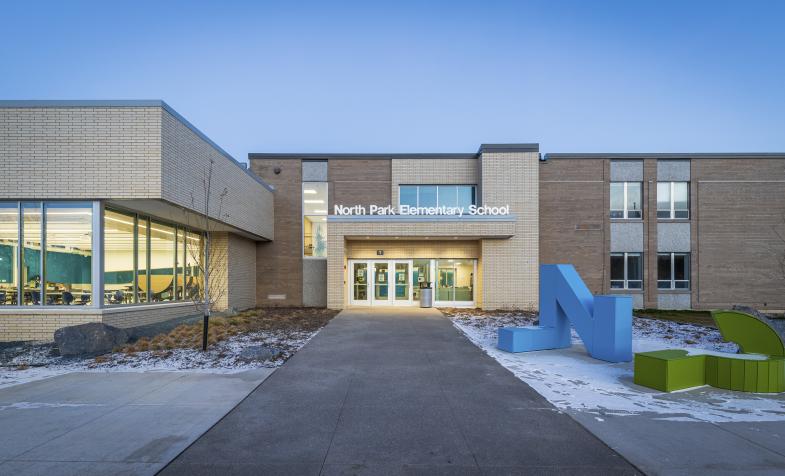 Intertwining Education, Play, and Flexible Learning Neighborhoods
The importance of the indoor and outdoor play is exemplified by the outdoor learning play and creative spaces. Designed along a steep slope, the playground incorporates both play structures and non-programmed free play spaces.
The new learning studios look out onto the play area to connect indoor-outdoor learning. Since younger students tend to spend a lot of time on the floor, low slot windows were incorporated to bring in natural daylight and provide students opportunities greater personal engagement with the adjacent rain gardens on a daily basis.
The new classrooms and learning studios are also designed to provide flexible learning. Furniture was a large part of the design and can be moved to provide small and larger group educational experiences.
"Color is also important in defining zones and celebrating spaces and a fun environment," said Project Architect Jen Garman. "By designing zones with materials and colors, we're creating learning opportunities at various scales, supporting personalized and collaborative learning."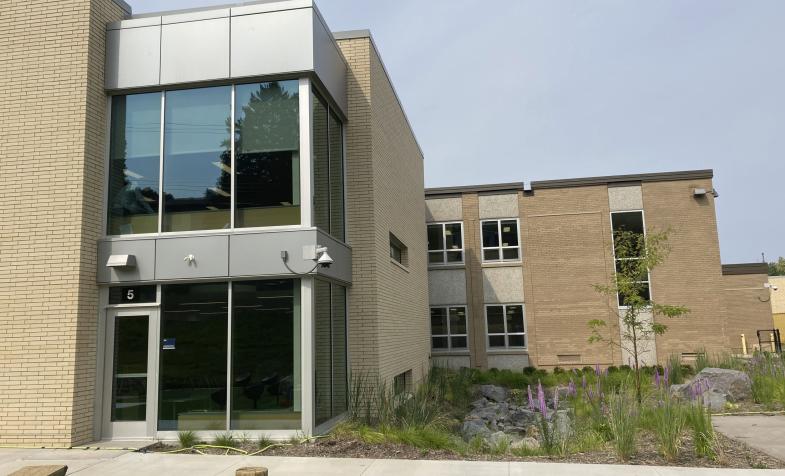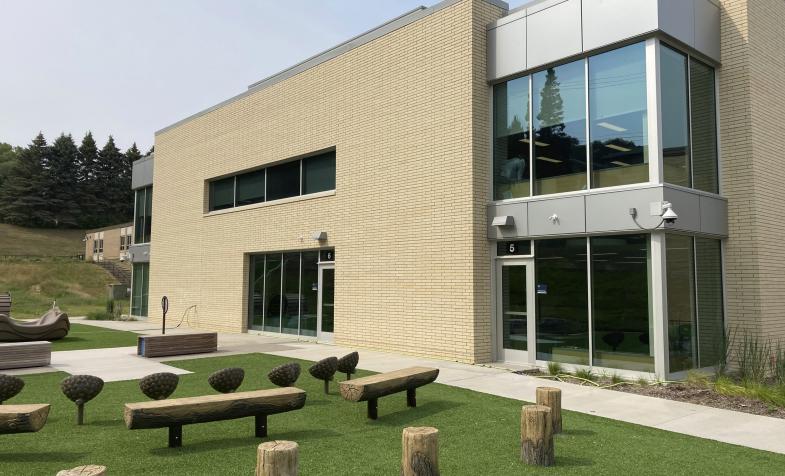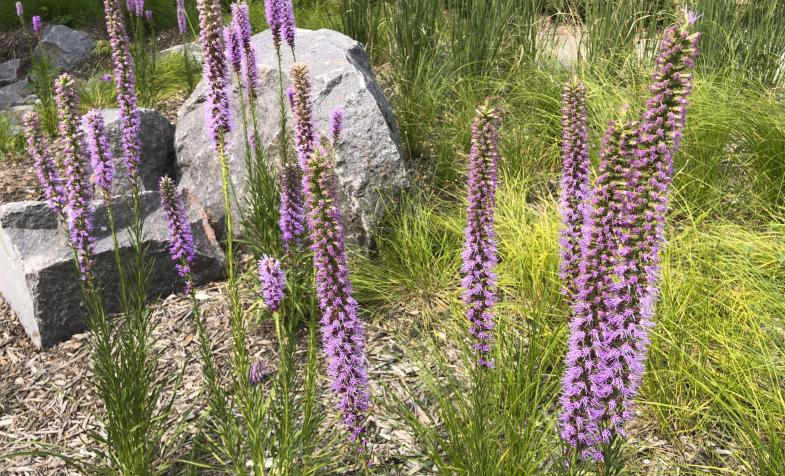 A Trusted Relationship & Creating Regenerative Design Solutions on Budget
Cuningham's long-standing relationship with North Park School of Innovation, which began several years ago when transforming the school's dated media center into a flexible learning environment, meant designers were able to expertly translate the school's values into meaningful design.
"This project was a success because of the relationships we had built and the trust we had in each other," Garman said. "We all worked well together and it came down to having the same goal of designing spaces that promote creativity and learning and regenerative design. 'Active engagement' is a school value and allows students to more readily share, collaborate, and make many of their own choices in order to create the best possible individual learning environment."
Cuningham was also able to push the design beyond the initial scope while staying all within a modest budget.
"North Park exemplifies that schools can achieve exemplary regenerative design goals that seamlessly support and are woven into the school's mission and curriculum. The landscape and building serve as active teaching tools, promoting equitable learning opportunities," Garman said.
This project was a success because of the relationships we had built and the trust we had in each other. We all worked well together and it came down to having the same goal of designing spaces that promote creativity, learning, and regenerative design. 
Setting a Precedent for the Future
After the project was completed, North Park installed a biodigestor to expand their curriculum and operations to convert all carbon-based waste (ie. food, paper, etc) into nutrient-rich compost. Currently used in their school gardens, this compost will eventually become a biomass fuel source to heat the entire building. Students are involved in all aspects of this circular waste system: learning about sorting waste streams, how the biodigester works, spreading the resulting compost in the gardens and learning about the ecosystem services they are providing.
"It's exciting to see all the learning opportunities that are happening outside and inside of the school," said Clark. "I have so much hope for what the school can and will do and the opportunities they are providing their students."
For more on North Park School for Innovation, watch Cuningham's presentation from the USGBC Mountain Region's 2021 Green Schools Summit, titled Net Zero Across the Nation.