Mino-bimaadiziwin Apartments Opens in Minneapolis
Mino-bimaadiziwin Apartments Opens in Minneapolis
Cuningham has announced the opening of a 110-unit affordable housing community featuring a Red Lake Nation embassy and healthcare clinic in Minneapolis, Minnesota, on behalf of its client, the Red Lake Ojibwe Band.
Designed with Full Circle Indigenous Planning + Design, the community is called Mino-bimaadiziwin, which means "living the good life" in Ojibwe, and provides housing to Red Lake Ojibwe Band members and other local Native American residents, as well as brings much-needed services to the tribe's urban population. It is the first housing project developed by a tribal government in a major city, according to Full Circle Indigenous Planning + Design Founding Principal and CEO Sam Olbekson, AIA, NCARB.
"The Red Lake Ojibwe Band identified a strong need for culturally-specific supportive housing for its community members living off the tribe's northern Minnesota reservation," says Olbekson. "In addition to the affordable housing units, the development's Red Lake Nation embassy and healthcare clinic will create a convenient hub for residents to receive the services, resources, and care they need."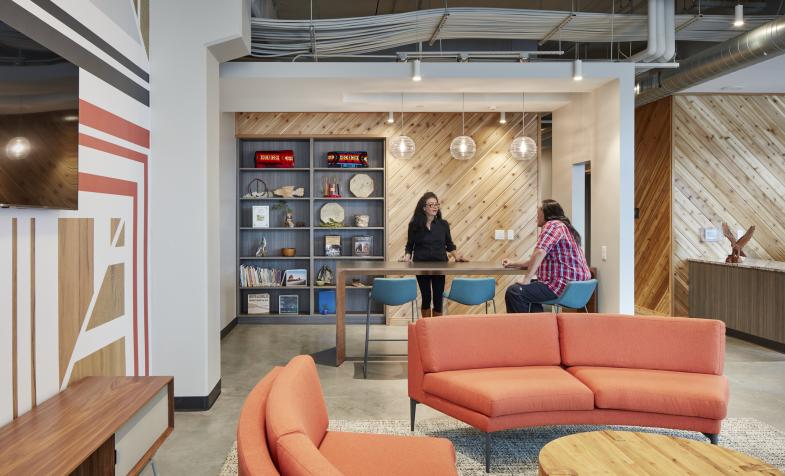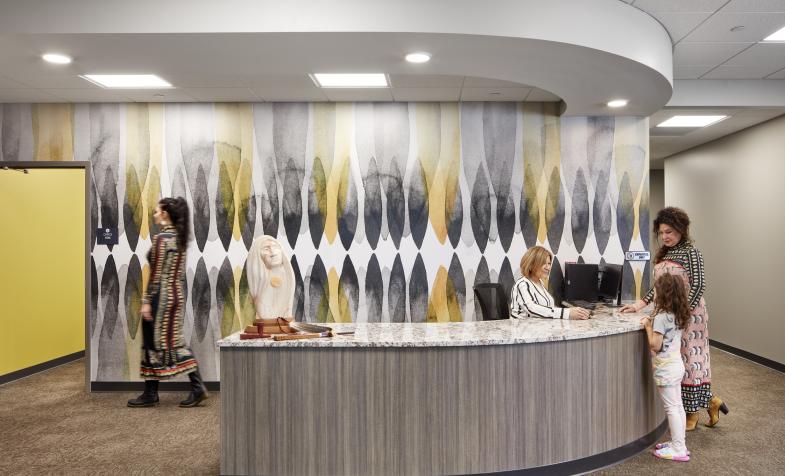 Olbekson notes that project funding for the nearly $42 million development came from the city of Minneapolis, Hennepin County, the Shakopee Mdewakanton Sioux Community, and 15 others.
"We've seen widespread support for Mino-bimaadiziwin from a range of local stakeholders who hold a strong belief that this permanent housing solution, as well as convenient access to community resources and physical and mental health services, will create a solid foundation upon which residents will flourish," explains Olbekson, who notes that the project was built on a site was previously a temporary navigation center and near a homeless encampment that grew to more than 300 people, primarily Native.
According to Olbekson, the housing development and community center simultaneously responds to contemporary tribal life while honoring and communicating tradition, which is reflected in and facilitated by its design. The Cuningham team collaborated closely with Red Lake Ojibwe members and other stakeholders to ensure the design was strongly rooted in place and aligned with enhancing and uplifting the resident experience and overall mission of the project.  
"Beyond the straightforward housing and services, Mino-bimaadiziwin serves a deeper purpose of bonding, teaching, and transmitting cultural knowledge that is deeply important to tribal cultures," continues Olbekson. "In turn, this will enrich the lives of residents through providing a sense of place and pride. To achieve this, we crafted a strategic, modern design with the subtle inclusion of elements indicative of history and traditions."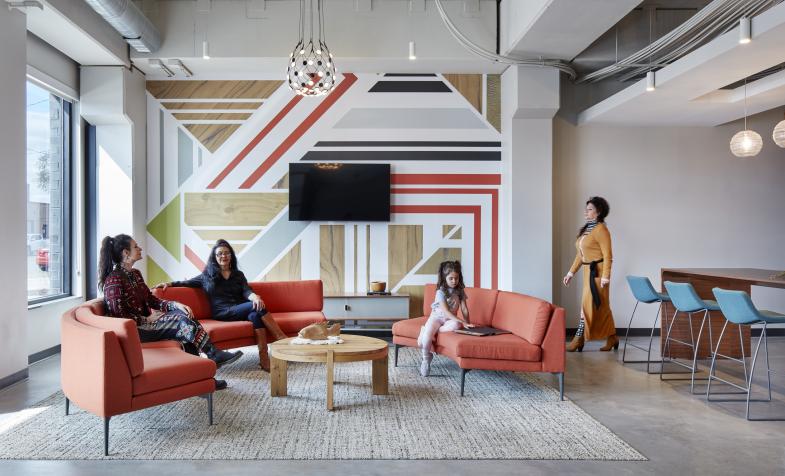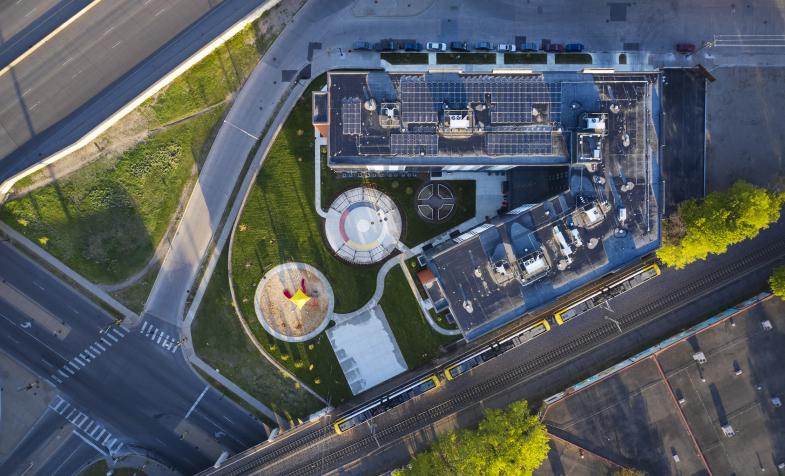 Specific design elements incorporating and celebrating the tribal culture include:
A garden of four raised beds sitting adjacent to the clinic, which is based around the traditional form of an Ojibwe medicine garden.

The ceiling and wall treatment throughout the building features locally sourced cedar, a sacred tree to the Ojibwe.

The tribe's traditional dances and brightly colored and patterned clothing are reflected in wall graphics in key locations throughout the property.

Light fixtures and woven textured elements in the housing lobby reflecting traditional basket weaving.

The coloring of the gathering circle is a graphic representation of the Ojibwe medicine wheel.
Different property 'zones' represent the Red Lake tribe's seven clans: Kingfisher (Internal Domestic Communications) is the housing portion of the building; Bald Eagle (Outgoing International Communications) is the Embassy office; Mink and Pine Martin (Social, Scouting, Hunting, Gathering) is the community center, kitchen, training, and daycare facilities; Black Bear (Defense and Healing) is the physical health portion of the clinic; and Turtle and Bullhead Catfish (Teaching and Healing) is the chemical health and mental health portion of the clinic.
Olbekson adds that Cuningham also implemented several regenerative design principles, strategically utilizing local and inherently sustainable materials. The overall commitment to the wellbeing of residents, visitors, staff, and the natural world was also reflected with elements of biophilia.
"Based on our depth of experience on a range of projects throughout the local Minneapolis area and the country, we understood the importance of fostering community and encouraging wellness in every aspect of design," continues Olbekson. "Inspired by a holistic connection to nature and the Red Lake Nation's culture, we were able to create a unique, respectful, and revitalizing space."
Mino-bimaadiziwin features a community playground designed for exploration and engagement of children of all ages, underlining the importance of family and the mission to provide homes for a wide range of people; a gathering space with a wood pergola and colored concrete plaza, which provides a space for outdoor community events; as well as convenient amenities including laundry facilities and an attached parking ramp.
The property is located adjacent to a major light rail stop and other public transportation. Part of a 25-year urban development revitalization plan, the community is also situated in the heart of the American Indian Cultural Corridor, positioning residents near culturally focused art galleries, dining, services, and additional housing communities.
The six-story apartment community features a range of floorplans including studio, one-, two-, three, and four-bedroom units and is located at 2109 Cedar Avenue in Minneapolis, Minnesota.