Community Design on Colfax
Community Design on Colfax
A historic street deserves an iconic design. That's what the Judson, a new multi-use development located one block off of Colorado's storied Colfax Avenue, will provide residents and community members through its gritty materials, neon lighting, and people-centered design.
Conveniently situated between downtown Denver and the Rocky Mountains, the Judson will have it all. Included in the design are 227 residential units, office space, and different restaurant options across two sites — creating an energetic destination adjacent to the Lamar Train Station. Drawing inspiration from both Colfax Avenue and the 40 West Arts District in which the project lies, the Judson is a new piece in the explosive growth along Colorado's Front Range.
Contributing to Colfax's Comeback
In recent years, Colfax Avenue has undergone a renaissance visible through the restoration and rehabilitation of its historic, retro architecture. Old motor inns and midcentury-modern diners are distributed throughout the neighborhood and the Judson draws inspiration from this context, using gritty materials, neon lighting, and artistic murals as its main design elements. The project is also intended to be used as a canvas for local artists, providing thousands of square feet for murals that will serve as a billboard for the burgeoning 40 West Arts District and create a connection between the new building and the existing art community.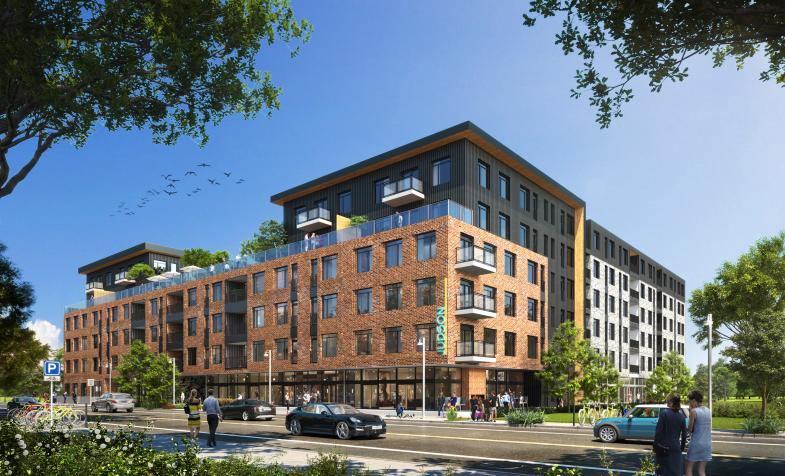 Community-Centered Design
Designed to create a sense of community and familiarity, the project offers a variety of living styles in townhome and apartment units centered around shared narrow brick streets. The buildings reinforce the street wall and add retail, while "outdoor rooms" offer different experiences across the site.
Walk-up townhome units with stoops and garden areas enhance the pedestrian scale, while large rooftop decks allow residents to take advantage of Colorado's climate. The townhomes use brick pavers and parallel parking to slow traffic and create intimate areas that take cues from historic European and American streetscapes.
The Judson also features a large park area incorporated into an existing flood plain, offering a versatile and expansive grassy area for residents to use as a dog park, barbeque area, and playing field. In addition, the project incorporates a 10,000-square-foot communal roof deck, featuring an oversized pool, spa, bocce courts, planting beds, and fire pits. The roof deck offers expansive views of the Rocky Mountains and is designed to maximize sun exposure in winter months and shade in summer months.