Beyond Shelter: Affordable Housing that Helps Residents Thrive
Beyond Shelter: Affordable Housing that Helps Residents Thrive
This piece was previously published in Colorado Real Estate Journal's "Building Dialogue" magazine. Read the original piece here. 
As cities thrive and area median incomes climb, housing affordability is becoming increasingly challenging. Nation-wide, the most alluring markets are the most likely to see millions of people struggling to afford a home, for-sale and rental dwellings included.
Denver is a prime example of a flourishing market experiencing housing unaffordability. Metro Denver holds the dubious honor of being the fifth least affordable housing market in the country.
As such, many design firms and professionals involved in affordable housing development are continuously exploring and employing creative, innovative, and cost-effective ways to achieve quality affordable housing.
"We can do more together"
One key component to solving affordable housing is working in partnership with cities and organizations dedicated to this challenge—because when providing dignity-affirming shelter for those in need, all housing development entities must collaborate in tandem for the best possible outcome.
Our founder, John Cuningham, instilled the simple idea that "we can do more together" which has formed Cuningham's Live Studio model of incorporating client, entitlement specialists, neighborhood groups, consultants, and contractor participation. Using this model, we have been creating exceptional affordable housing in the Denver metro area for nearly 10 years.
In 2021, we completed our third partnership project with Northeast Denver Housing Center (NDHC) to create Central Park Urban Living in Denver—the very first 100-percent affordable condominium complex in Colorado since the passing of the city and state condominium legislation.
Developed through Denver's Affordable Housing Program, the project serves households at 60 percent to 80 percent of the city's median income. With all 132 units contracted, Central Park Urban Living gives the opportunity of homeownership to many who would otherwise be unable to purchase a home. Additionally, we have three other projects with NDHC currently in the pipeline.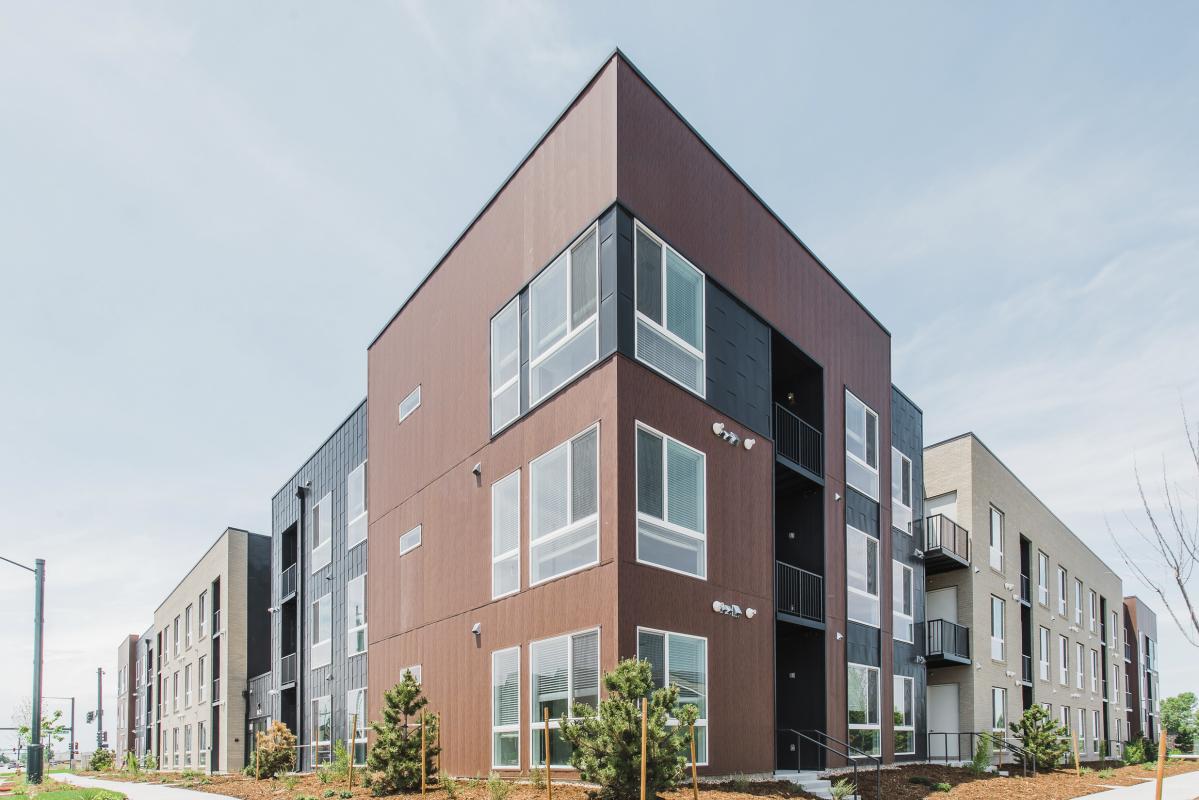 Design that meets human needs
Meaningful affordable housing involves more than merely constructing units. To achieve the ultimate goal of elevating the lives of residents in these communities, the buildings themselves focus on the experience of the resident through design for the senses.
The term "affordable housing" tends to evoke images of lackluster, uniform blocks and rows of institutional-looking grey box-like homes.  Experiential design considers the sensory ideas of hospitality from a 'care' sense, and a new model emerges that inspires and renews residents' spirit.
Drawing back to basic human needs through sight, sound and touch allow occupants to form deeper connections with their home and its extended neighborhood context.  Design unlocks the barrier of space for space sake and forms a stronger inclusion and meaning that provides dignity and pride in a community. This is the affordable housing architects and developers must aspire to. 
For example, Cuningham's design for Central Park Urban Living implements a pedestrian-friendly street façade, walk-up "front porch" balconies where people can approach on another.
The building's roofline along Central Park Boulevard forms eight different angles, creating interest as it shifts to follow the curve along the frontage as it responds to the urban environment. Metered exterior patterns featuring various distinct materials break down the façade even further and create an interesting urban wall that were inspired by historic building forms.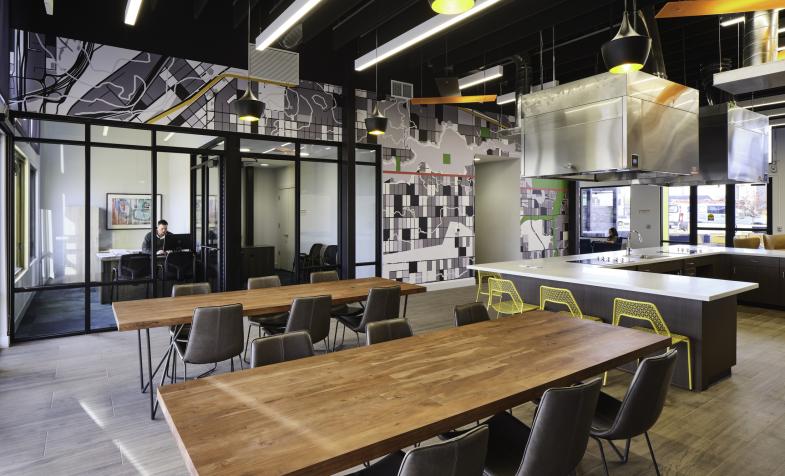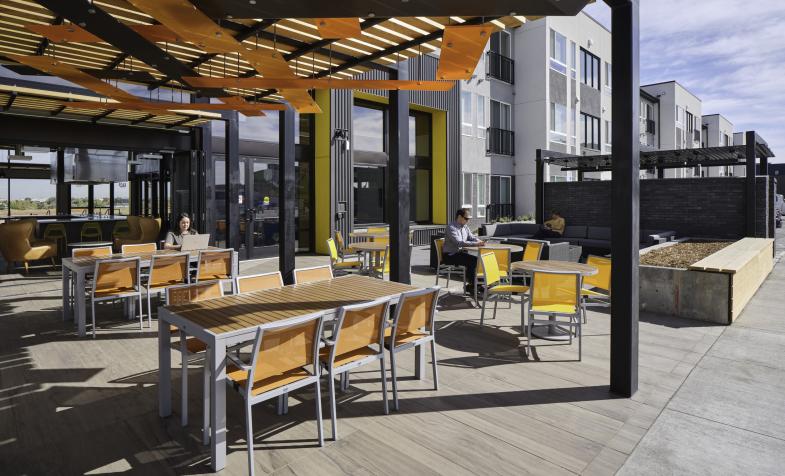 Similarly, Cuningham collaborated with Northeast Denver Housing Center in creating Moline Apartments, a vibrant, healthy living environment designed to address the isolation of affordable housing and fosters neighborhood connectivity.
Arranged around a series of smaller, three-level, twelve-unit clusters opening onto a common stair with warm wood stairs, neighborhoods within the larger community are formed.  This apartment arrangement is designed to create small communities with nurturing strong ties between neighbors and offering residents a more welcoming and supportive environment. Close proximity to parks, trails, and a nature center further the reach and access of Moline's residents to connect to their home.
These examples demonstrate what affordable housing can be when developers and designers prioritize the resident experience. As Cuningham continues working with developers like NDHC, the City of Denver, and other organizations focused on creating and preserving affordability, we hold these outcomes top of mind and focus on the true transformation design professionals and developers can make in the lives of our local communities through the lens of experiential design.