Spaces to Grow: Creating, Rebuilding Areas for CTE Learning
Spaces to Grow: Creating, Rebuilding Areas for CTE Learning
A version of this interview with Cuningham Group Architect Tyler Whitehead by Chris Burt previously appeared in University Business and District Administration. 
How do CTE spaces typically differ from regular classrooms?
Career and technical education, and the types of instruction and activities that take place, vary greatly. There is rarely a 'one size fits all' design approach for these spaces. That said, as a whole, CTE spaces are more focused on hands-on, active learning and typically require a larger space than a traditional classroom.
For example, highly specialized learning spaces like those utilized by nursing, biomedical, or welding students require equally specialized equipment, and thus more square footage is needed per student in order to accommodate increased training materials and movement.
What are some of the barriers to design in the current environment?
In response to the ongoing social distancing requirements and recommendations –including maintaining six feet between individuals at all times – the solution might appear to be larger classrooms and workshops, wider corridors, etc. But the fact is, educational institutions simply do not have the funds to expand their facilities to allow for this. Making a space larger for the sake of it is not always the most effective solution.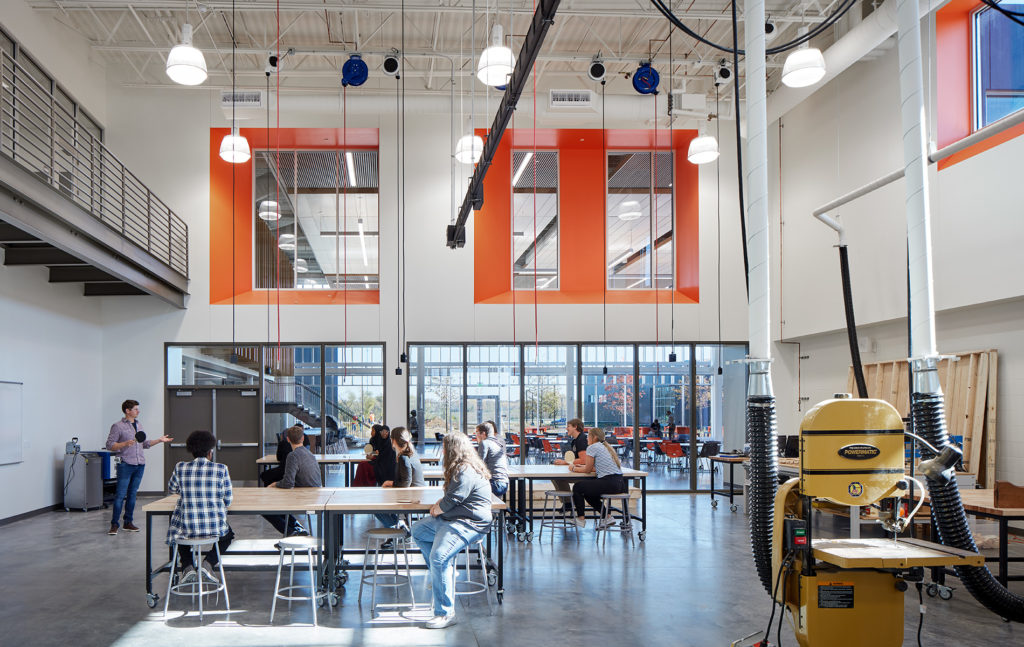 What are some of the unique ways schools and CTE instructors can rethink their spaces and remain safe?
Flexibility and adaptability are truly the keys to success in this educational environment. This applies to physical spaces as much as it does to learning approaches – and the pandemic has only amplified this.
Many of the educational institutions Cuningham has worked with in recent years were well-positioned to make the necessary transitions and implement safety precautions in light of COVID-19.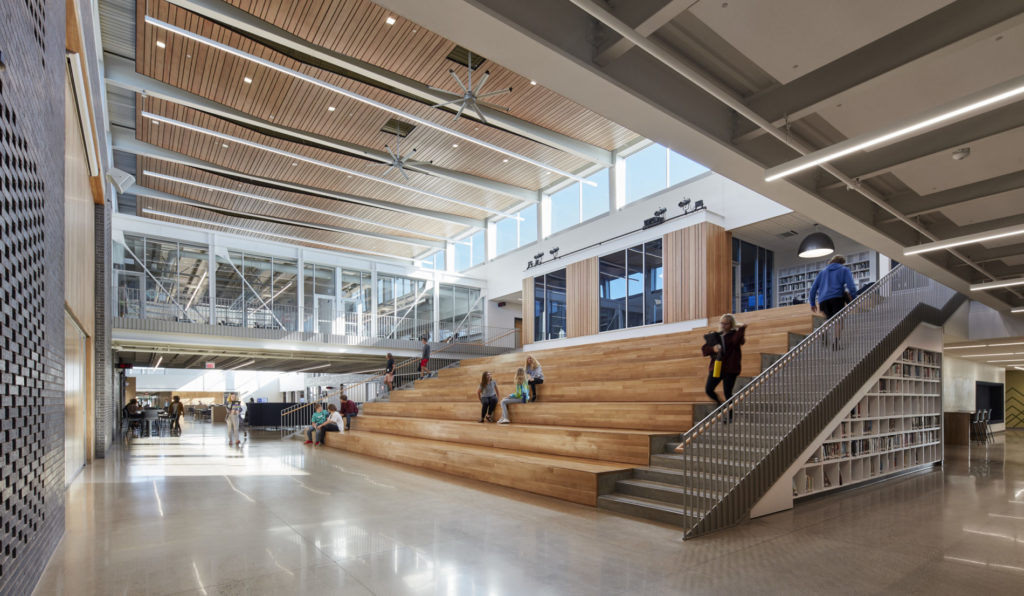 Our CTE spaces have typically incorporated easily adaptable elements such as movable walls, furniture on wheels, and power sources that come from above, rather than below the floor. This is because we've long valued the ability to remain nimble in our education projects, as a way to help our clients remain budget-conscious and accommodate various learning styles and trends. Features such as these not only position schools to adjust to extreme situations like a pandemic, but also as class schedules and curriculum change semester-to-semester.
For the time being, pairing different resources with on-site learning, unique to each specific institution or program, will also be required to yield the best results and ensure students stay on track. For example, CTE instruction typically involves both a lecture-style lesson then the immediate hands-on application of what was learned about. Now, some instruction is taking place online, and the time that would have been used on the in-person lecture allows for smaller groups of students in CTE spaces at different times. Digital training and take-home modules could continue to become more commonplace as well.
There is often collaboration on projects happening within CTE spaces from groups of students. How can schools ensure that this type of learning can still take place safely and effectively?
While social distancing protocols will relax over the coming months, COVID-19 will leave a lasting impact on how people interact for many years to come.
Looking ahead, we anticipate that the solution for some colleges and universities could actually be a move towards flexible yet smaller, more specialized CTE spaces where the number of students who come in close contact with the equipment, and each other, can be better monitored.
Additionally, it is important now more than ever that educators and designers consider all aspects of how a space will be used. We've found this is best achieved through close collaboration with faculty and students – listening is key.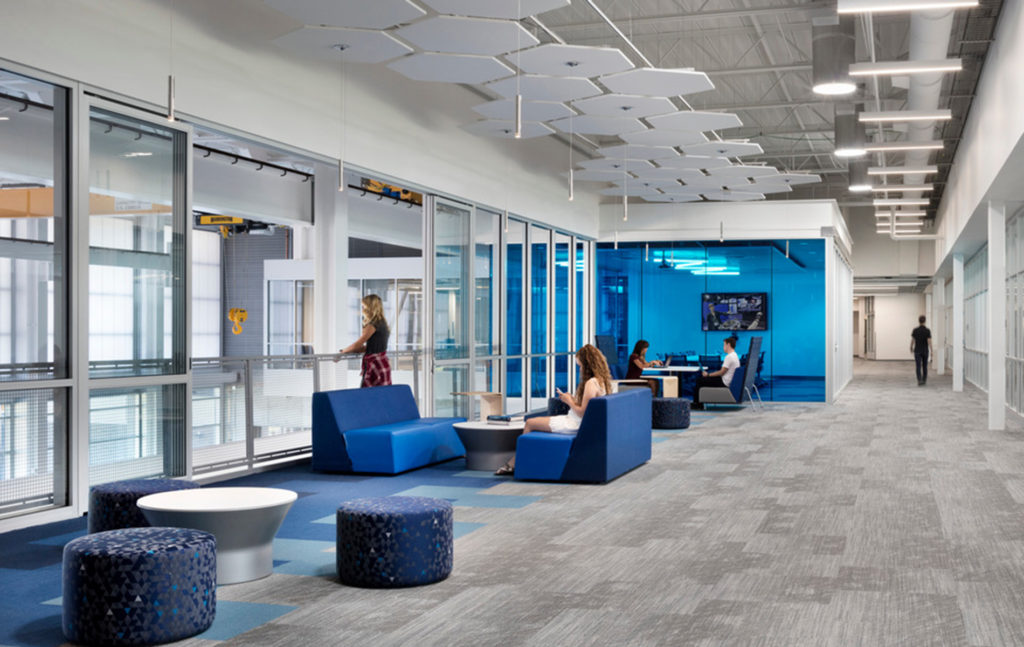 This method allows us to have a full understanding of how exactly a space will be utilized day-to-day and how all parties hope to experience it, which greatly informs design – especially in light of new safety protocols.
When the pandemic was declared, we were working with a community college on a project that included an advanced manufacturing facility. In response, workshops were held to discuss and evaluate how approaches needed to change going forward.
Naturally, one of the pressing topics was how CTE could proceed, due to its hands-on nature.
This was an example of a time where distance was not a primary issue for CTE spaces. Some computer-integrated machining and manufacturing spaces are up to 20,000 square-feet. Often, students in a lab environment will naturally be separated at their own workspaces.
It is the shared classroom spaces, learning materials, fixtures, door handles, etc. that place students at the most risk. Ensuring hygienic equipment and rigid sanitization protocols will allow many programs to continue without much of an adjustment to the physical spaces.
Can you tell us about an example of a CTE space that works really well?
In 2016, Cuningham completed a new campus in Wyoming that included not only a traditional high school, but also an innovative program integrating college prep curriculum, industry certifications, internships, and portfolio development.
Our team was tasked with creating a CTE facility to accommodate several activities for this program.
An innovative solution was born out of necessity. When the planned square footage for the facility was cut down, our team had to get creative to deliver a space that could serve students' needs seamlessly.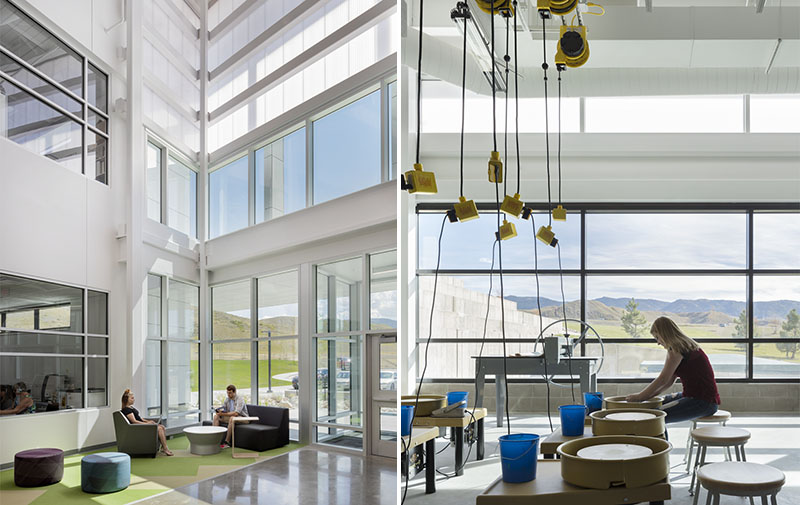 The result was ultimately a large, flexible space with infrastructure that utilized the square footage to its full extent. We strategically scaled down the size of the specialized labs because those spaces were adjacent to a larger shared fabrication hall that could be used as each program needed. This also had the added benefit of encouraging open communication between different departments to coordinate use of this flexible space.
In the years since, this project's success has served as an inspiration for our high school, community college, and university CTE space work.
More recently, the Cuningham team also completed a new campus for a high school in Minnesota. We integrated CTE into the heart of school and created a design that fostered a natural relationship between the spaces.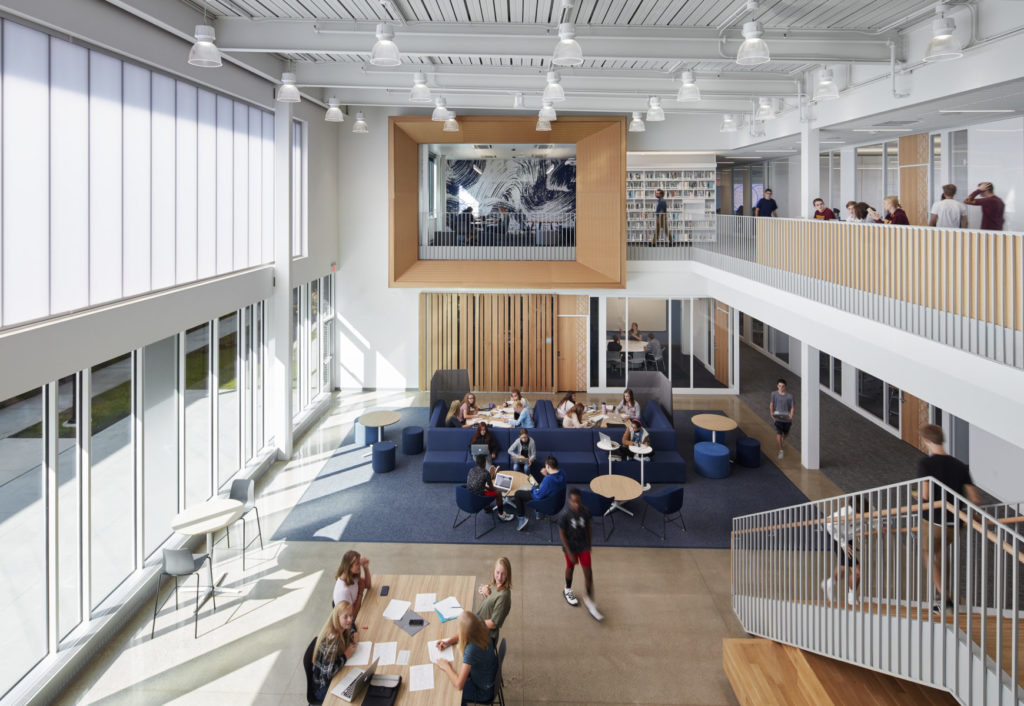 We placed an innovative makerspace next to a two-story fabrication lab that is designed to scale larger or smaller to accommodate a wide variety of project sizes and scopes. These spaces, while containing the proper flexible infrastructure, were designed to recreate the flow of a Design, Process, Build, professional mantra. Students can now design, prototype, test and finalize the fabrication and construction of a real-world project. These valuable spaces give students their first experience in the practical aspects of a project, boosting their confidence, skills, and experience. Oftentimes these projects involve community partners, who help create real-world client interactions and conversations.
Can the model of a revamped CTE space be implemented into a traditional class setting or does that really depend on the number of students within those classrooms?
We do see the lines between the traditional classroom setting and specialized CTE becoming blurred as certain entry technologies become more accessible.
For instance, makerspaces and hands-on labs exposing students to a variety of skills are continuously being implemented in higher education facilities, high schools, and even middle schools.
We anticipate that designated CTE spaces will continue to contain more specialized, higher-end equipment. That said, some of these tools – like 3D printers and laser cutters – might more commonly be available for all teachers regardless of their subject area, for use in their classrooms as they become increasingly affordable and accessible.