When it comes to the design of sustainable learning environments, educators and administrators naturally have a lot of questions. Will staff possess the necessary expertise to maintain a high-tech building? Are the new, sustainable systems built to last? Will the building really deliver the energy and cost savings promised?
Until now, the reality of achieving and maintaining a high-efficiency school has been, at best, challenging. And when these challenges aren't met, otherwise high-efficiency buildings begin to suffer. Energy performance sinks and eventually the school begins to consume more utilities over time.
Cuningham and BranchPattern are focused on finding a solution to this problem.
After researching the Passive House framework — an alternative approach to meeting aggressive energy performance standards — we learned that, when it comes to the design of high-efficiency schools, it is possible to have your cake and eat it too. Investing a higher percentage of initial construction costs on a building's external envelope can "future-proof" facilities against the usual pitfalls of sustainable, high-efficiency buildings.
Not only do schools developed under this framework have extended service lives and improved ease-of-use, they improve on more conventional approaches to sustainability.
Sierra Grande School PK-12
The Passive House framework was successfully used at Sierra Grande PK-12 in Blanca, Colorado. Sierra Grande's envelope is based on Passive House principles with an HVAC system that is 100 percent electric. Our energy modeling indicates that Sierra Grande will be among the most energy efficient school buildings in Colorado. And, this was all done without any specific addition to the budget!
How this is possible:
Building Envelope: A building's envelope — the physical separator between the indoor and the outdoor — is responsible for everything from structural support to a room's temperature and thermal comfort. We studied the school's envelope, including exterior walls, roofing, and windows. Working with the school district, the general contractor, and an independent cost estimator, focus was placed on improving the insulating qualities of the envelope components, with final materials being selected based on their impact on energy use, durability, and affordability.
Floor Systems: The Passive House framework requires at least some insulation under all the foundation. There are several ways to go about this, though we found the easiest way is to use a flexible roll product. Although not the most energy efficient option, it still provides the all-important thermal break and is the easiest for the contractor to install, thus saving time and money.
HVAC: The Passive House framework is heavily focused on the efficiency of building's envelope, so its mechanical systems can be greatly simplified which in turn reduces cost and increases energy efficiency. At Sierra Grande, the envelope is so efficient that the HVAC system no longer needs a boiler, chiller, or perimeter heating. It uses very simple components familiar to any technician. The simplification of a school's HVAC system has many positive ramifications.
Photovoltaic Array: Because Sierra Grande will have an all-electric HVAC system the district can pursue the potential of on-site PV arrays. The location in the San Luis Valley is ideal for solar energy production due to clear skies and cool temperatures. The array, at 372 kW capacity, will enable the building to produce as much energy as it consumes during a typical school year, making it a truly net zero energy building.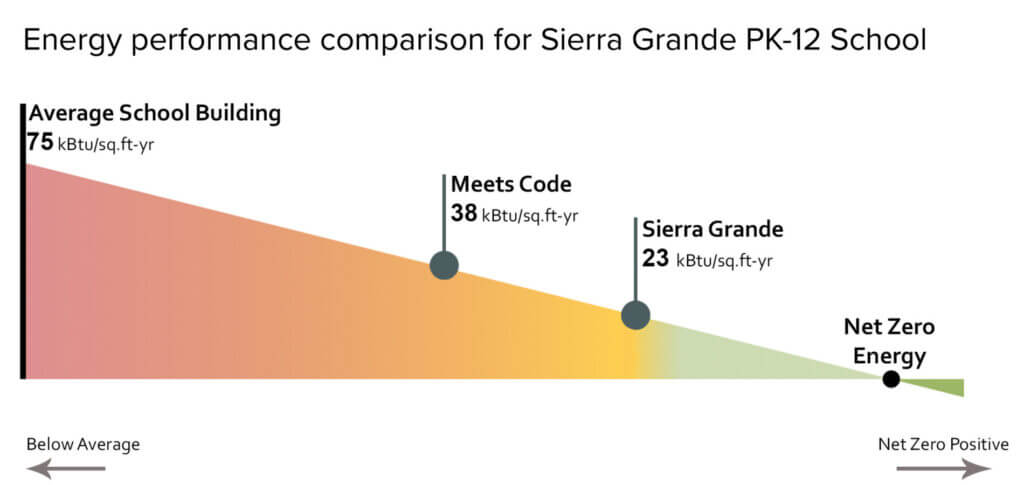 What's the Cost?
Under the Passive House framework, the cost increases from an improved envelope are offset by the cost decreases from the simplified HVAC system. We worked with an independent cost estimator to confirm this. After evaluating several different variables, we concluded that the total cost of the Passive House options was not more expensive than a traditional high-performance approach. In fact, the cost difference was less than 1% of the total construction budget. This demonstrates that a Passive House approach can be implemented with corresponding simplification of HVAC systems.
Simplifying a building's energy systems through the Passive House framework isn't just a cost-saving measure — it's a time (and headache) saver, too. Staff no longer have to worry that they won't have the expertise to maintain complicated, high-efficiency energy systems. And because of this, there is minimal risk of untended systems decreasing in performance and increasing utility usage over time.
We believe the Passive House framework is the future of sustainable school design… simple to operate, easy to maintain, providing extremely low utility bills, and providing a comfortable environment for learning.