Torrance, California
Providence Breeze Advanced Care Center
Constructed on the site of an old newspaper facility, this Advanced Care Center area challenges the norms of patient-centric care with a design that looks, feels, and operates like a hospitality project. One of the facility's biggest design-based innovations is its concierge service. Replacing the traditional registration desk, Providence Breeze instead uses a concierge area similar to that of an upscale hotel, complete with a coffee shop and kiosks where guests can register themselves. The design team also broke from the traditionally sterile hospital environment by creating a seating area that mimics a cozy living room. Waiting areas are broken up into small clusters that evoke an intimate, at-home experience. Even the more clinical spaces accomplish this effect by emphasizing the use of warm, natural materials which still adhere to stringent, hospital-level finish materials restrictions.
This hospitality-based approach is elevated further in the women's center. A spa/resort-style approach featuring soft, ambient lighting and warm textures helps to diffuse the stress often associated with mammograms and other treatments. Other similar, stress-reducing design elements throughout the facility include organic-patterned screens in the waiting room, symbolic images of nature, colored accent walls, and a fireplace.
Client: Providence Health & Services
Studio: Heal, Work
Market: Commercial, Medical Office Buildings | Ambulatory, Oncology, Women's Health
Size: 106,300 Square Feet
Scope: New Construction
Services: Architecture, Interior Design
Delivery Method: Construction Manager at Risk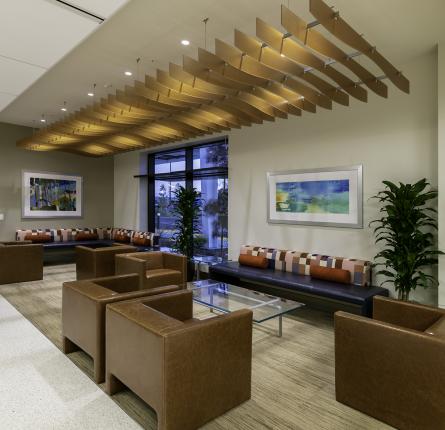 The 106,000-square-foot space houses a women's center, imaging center, outpatient ambulatory surgery center, clinics, medical and surgical oncology, infusion center and two linear accelerators.