Saint Paul, Minnesota
Minnesota State Fair West End Market
The Minnesota State Fair's largest project since the Works Progress Administration era.
As one of the country's most prolific state fairs, any work done on "The Great Minnesota Get-Together" requires careful sensitivity to the nostalgic and enduring characteristics embraced by generations of loyal patrons. The new West End Market pays close attention to these traditions, injecting life into the fair's former Heritage Square. The result is a renewed, truly Minnesotan space.
Highlights include the History & Heritage Center (the first ever fully air-conditioned public building on the grounds); the restoration and reuse of a historic street car arch at the fair's west entry; vendor pavilions; LuLu's Public House, the only restaurant at the fair with a second-level patio; the striking Blue Barn food venue; the Hugh & Margaret Schilling Amphitheater that provides a full schedule of daily performances; a new bus area that manages tens of thousands of daily visitors.
The History and Heritage Center showcases the rich stories of the Minnesota State Fair's 164-plus years of existence in an expressive, contemporary structure at the heart of the West End Market. Its 5,600 square feet are situated between the primary shuttle entrance to the fairgrounds and the center of the bustling market neighborhood.
Client: Minnesota State Fair
Studio: Grow, Play
Market: Civic, Fairs & Expositions
Size: 215,300 Square Feet
Scope: New Construction
Services: Architecture, Interior Design, Landscape Architecture, Master Planning
Delivery Method: Negotiated Contract
Key Project Contacts: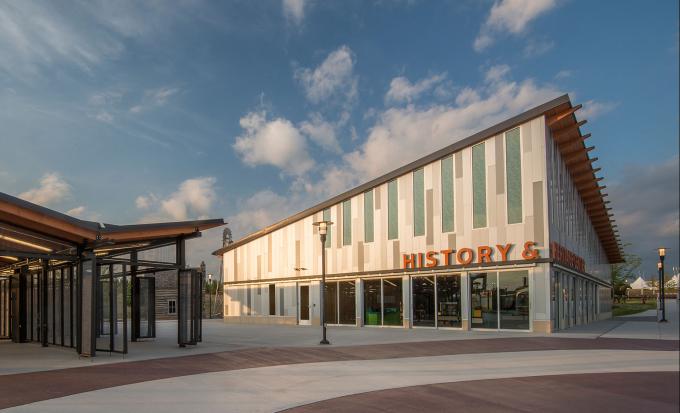 A partnership between the Minnesota State Fair and Minnesota Historical Society fostered this new way for fairgoers to experience the fair's myriad historical photographs and artifacts. The interior walls of the facility are lined with interactive displays bursting with stories that have been carefully curated over many decades.
As the fair's first public, fully-air-conditioned, year-round facility, the softly-lit interior of the History and Heritage Center also plays host to many off-season events, ranging from weddings to staff parties.
Awards
Finance & Commerce Top Projects
Integration of a renewed and truly Minnesota experience began with the revitalization of the former Heritage Square.