Chula Vista, California
Douglas & Nancy Barnhart Cancer Center
The Douglas and Nancy Barnhart Cancer Center is a state-of-the-art healing environment. By following an evidence-based design approach, the cancer center uses only adhesives, paints, carpets, and composite wood products that are sustainable and have low levels of potentially irritating off-gassed contaminates — an approach that considers the many cancer patients who are more vulnerable to pollutants. In addition, extra sensors monitor indoor air quality, increasing the percentage of outdoor air when needed.
Returning patients will find comfort through a dedicated returning patient entry, and staff will access the Center through a secure entry point. A consultation lounge — as opposed to a consultation room — provides patients and their families with a comfortable, "living room' feeling.
As cancer patients generally visit such centers for one of three reasons — physician visits, treatment planning, and treatments — the wayfinding and floor plan layout was divided among these three functions to ease navigation. Each area is enhanced with natural daylight, interior rock gardens, and carefully procured art pieces that serve as both landmarks and healing elements.
Client: Sharp HealthCare
Studio: Heal
Market: Medical Office Buildings | Ambulatory, Oncology
Size: 45,000 Square Feet
Scope: New Construction
Services: Architecture, Interior Design
Delivery Method: Design-Build
Key Project Contacts: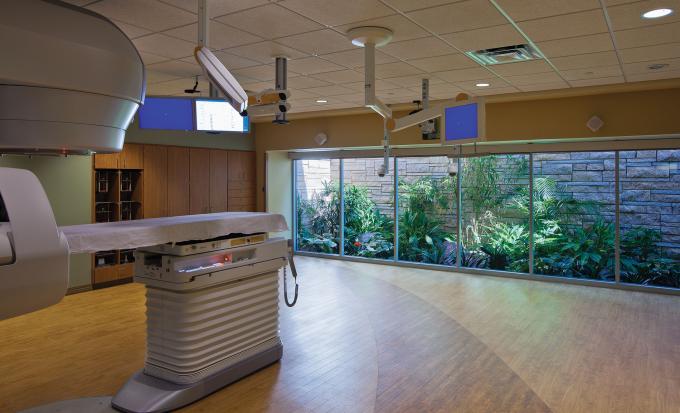 The lobby, waiting and indoor and outdoor healing areas offer places for both privacy and group interaction. Treatment vaults are made less intimidating with landscaped tree gardens, ledger rock walls, and direct natural daylight. The resource center is integrated as part of the lobby and is highly-visible to encourage use by patients and their families. The lobby space also doubles as an event space for educational and fundraising events.