Building a Just Community
Building a Just Community
This piece was originally published in Daily Minneapolis News under the title, "Sam Olbekson of Minneapolis on Building a Just Community"
The killing of George Floyd under the knee of a town policeman has outraged and deeply saddened the Minneapolis Indian community. It is a painful reminder of an ongoing crisis of structural racism and oppression that is directly affecting Indigenous, African American and other color communities on a daily basis. It's a painful reminder of incredibly deep wounds that don't heal.
Our communities share Minneapolis, and we share the Minneapolis Police Department. Police violence and structural racism are no stranger to the Minneapolis Indian community. From historical government policies aimed at exterminating indigenous peoples to the subtlest forms of institutional racism that perpetuates social injustices today, the Native American community has survived through resilience, insurgency, and collective action. The murder of a fellow citizen by a police officer is no time to be silent or complacent as an individual, as a community or as a profession.
As a member of the Indian community and an architect who watches the neighborhood where I grew up in a social uprising, I wonder how our profession will respond to both destruction and murder. What sustained, long-term actions will our profession take to address the core issues and underlying systems that have enabled our society to accept the status quo? I know architects will step in to remove the consequences and design the buildings that will replace those that have burned down. That is a good thing. But are we asking the tough questions and questioning our own prejudices? Do we as a profession tackle the core social issues in order to initiate real structural change? Or are we essentially just rehashing the old design thinking of a broken system?
Is structural racism even an issue for architects? Property damage and violence are inexcusable, and the communities affected by last week's events will need our rebuilding services. But maybe the real change we need as a society will come from the committed institutions and community members who understand that the relationship between design, people, buildings, neighborhoods, infrastructure, culture, opportunity, equity and justice are inextricably linked. That's architecture. Our profession not only has to participate, it also has to lead a sustainable dialogue.
As I watched events in my neighborhood, I reflect on my own role and professional responsibilities as a Native American architect dealing with equity issues in community building. For the past decade, I've been involved in an effort to revitalize a section of the urban fabric along Franklin Avenue in South Minneapolis that has been the center of one of the largest Native American urban communities for over 50 years. Our efforts are transforming a slowly decaying neighborhood into a safe and vibrant cultural destination called the American Indian Cultural Corridor. We are looking for ways to inventive rethink what the heart of our community will be, and investing in organizations and projects that serve our community and bring them together.
Migizi Communications
A major recent success story is Migizi Communications, a 40-year-old non-profit organization that promotes the development of the city's Native American youth. I'm a graduate of the program myself, and it's been an important part of my life since I was in elementary school in the Phillips neighborhood of South Minneapolis. The organization recently bought and renovated a small building after a long capital campaign and moved to its new location last fall with a ceremony and community celebration. I was honored to be designing the space as a pro bono endeavor to say thank you for the personal impact they had on me as a teenager. Migizi is full of energy, hope and spirit for the future of our community.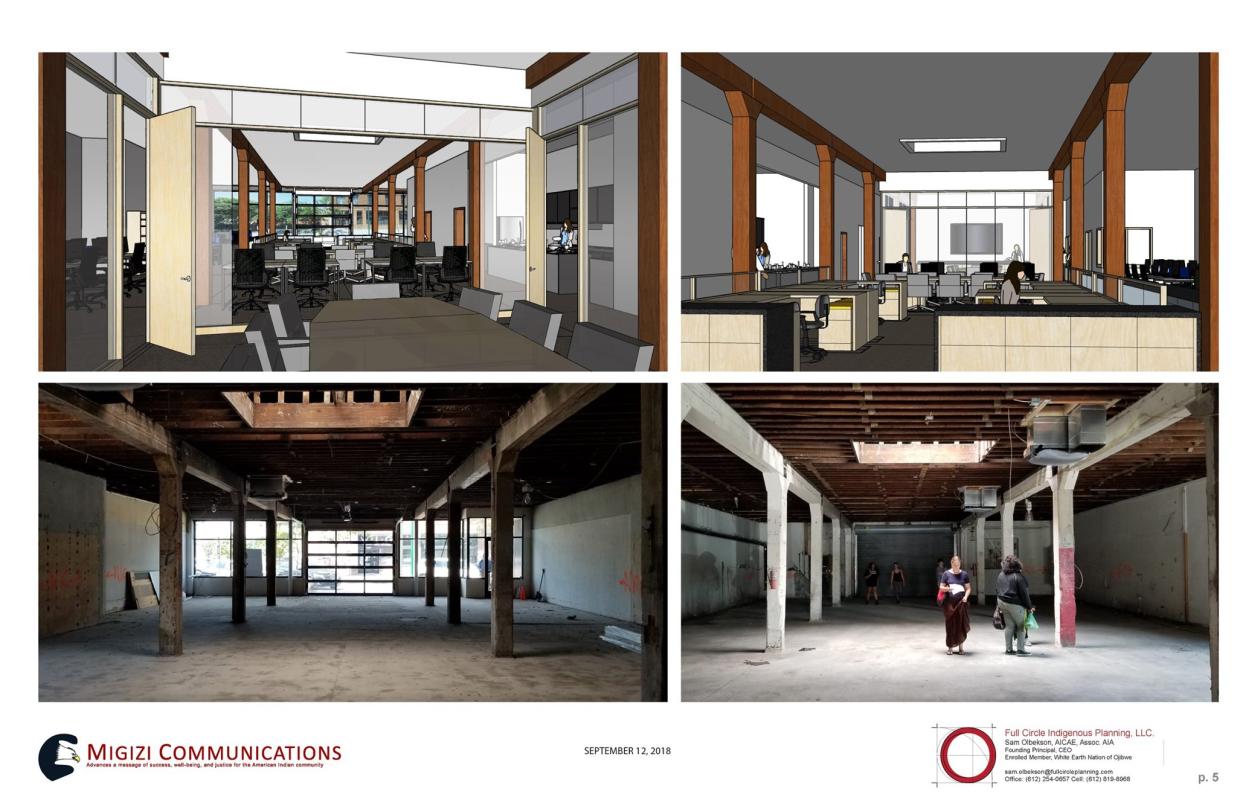 The Migizi Communication building happens to be one block from the the precinct police station that was the focus of early protests against the George Floyd assassination in South Minneapolis. The building was not targeted and nobody was injured, but the embers spread from a nearby fire and destroyed the building overnight. All Migizi equipment and supplies in the building were lost. This is a devastating loss to our community and we are determined to rebuild it.
Numerous other businesses, buildings, and community resources were destroyed or damaged across the city of Minneapolis. Each of these institutions and neighborhoods also has the opportunity to rethink themselves when rebuilding. As our profession participates in this process, we have an unprecedented opportunity and an undeniable responsibility to explore new avenues of design thinking that can challenge the previously existing structural systems. How are we going to approach this as a profession? How can we rethink the way we design buildings and neighborhoods to promote justice? How can we celebrate cultural identity and also honor diversity? What does a world look like that is not based on the status quo?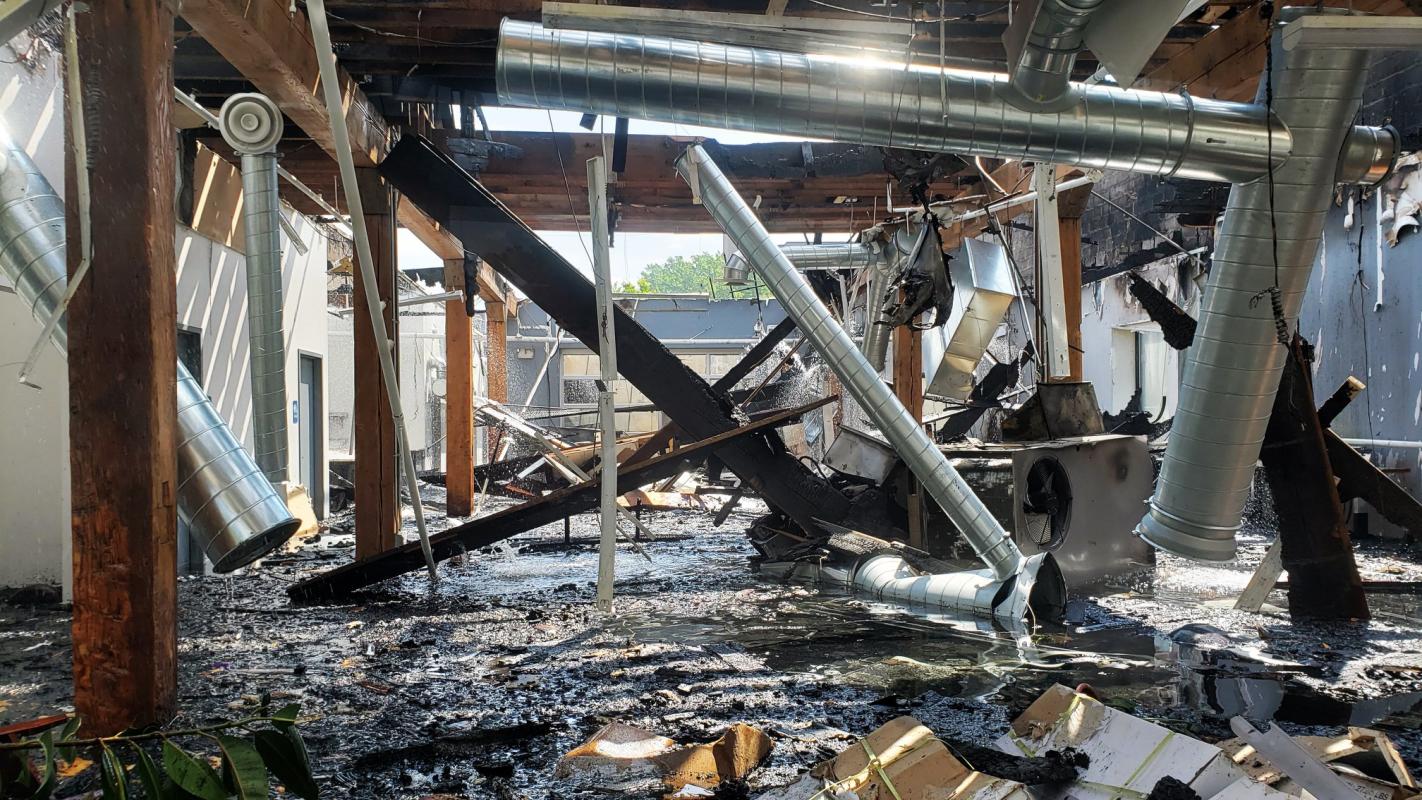 The pain and anger we publicly express as individuals and as allied colored communities is rooted in the shared experience of police violence and the long history of structural racism that colored communities see and live every day. Our community, in solidarity with the African American community, calls for quick action, stronger and positive partnerships, and sustained change within the Minneapolis Police Department. We demand permanent change.
I challenge our profession to do the same. We cannot return to normality based on a broken system. Anyone who witnessed what happened to George Floyd and the destruction in Minneapolis and other communities across the country is now forever responsible for doing something different than before. We are responsible for transforming and healing our communities, promoting unity and justice, and joining a common struggle to dismantle systems of oppression. The wounds of systemic racism, sexism, classism, and every form of destructive bias hurt us all, even if you have a privilege or a blind spot that doesn't allow you to see it. Justice and equity are part of any architecture worth doing.