Becoming an Architect: A Conversation with Patricia Joseph
Becoming an Architect: A Conversation with Patricia Joseph
As a large architecture firm, it's not uncommon to celebrate the licensure of a new architect. It is a moment so many years in the making that the sensation of relief and accomplishment of a newly licensed architect is nearly palpable for those of us working with them day in and day out. For some in this industry, the accomplishment stands out even more. When Patricia Joseph, AIA, announced her licensure as one of less than 600 Black women in the United States (and one of only two in the state of Colorado!) the excitement kept Cuningham's intranet in celebration mode for days. While some folks had greater understanding of why Black women are too often denied opportunity to succeed in architecture, others were surprised to learn about the dismal numbers. As part of Cuningham's Equity + Justice Task Force's mission to raise awareness and remove barriers to equity, I recently sat down (opened a zoom window) with Patricia to talk about her journey. 
Matthew Trotter, AIA, NOMA: First off, congratulations once again on your licensure! Not only on becoming an architect but also on becoming licensed in an industry that has historically excluded so many. How did you learn about architecture? And when did you decide this was for you?
Patricia Joseph, AIA, NOMA: I learned about the built environment through my Uncles' influence on me at a young age. They were always making and fixing things for the house, building, cutting wood, and fixing plumbing fixtures. Culturally, I was not shunned away even though I was young and female. That exposure of making and fixing got me thinking about the built environment. As a kid, I tended to just stare out of the car windows, watching buildings change shape as I passed by. My dad is an artist, so I was naturally exposed to art. I saw the art in the built environment, and I wanted to create my own. I started to draw more and construct little towns of paper. I found that what I was doing was architecture and that I could make it my career. In junior high I decided I wanted to become an architect. (by the way… I should note that it was mostly because my parents wanted me to be a surgeon!). Grad school is when I really felt like I was on my way to achieving my dreams.
Matthew: That's interesting that you bring up grad school. I was one of very few black students in my architecture school, and I found it very difficult at times. Did you have a similar experience and how may it have been different as a black woman?
Patricia: Undergrad was difficult because I was one of three black women in the entire architecture program of about 120 students. On top of that, we got separated, becoming one of one in each section. I remember it being a very isolating experience due to cliques and the differences people saw in me. But grad school at Sci-Arc was the complete opposite. There was representation from many cultural backgrounds and many students were international. Though I may have been the only black woman in my crew, my friends included a black man from Nigeria, one person from Ecuador, another from Korea, Pakistan, Sweden, UAE, and China…So we were minorities together, and that kind of broke down the barriers I was seeing before. In addition, I was surrounded by many languages and cultures, not only in the student make up but the faculty as well. Not having a majority changed the atmosphere. It wasn't as intimidating, and we all became more confident. 
Matthew: Tell us a little about what your experience has been in the architectural profession.
Patricia: Unfortunately, it has some similarities to my undergrad experience. The architecture industry currently does not reflect the diverse environment or communities it serves. Being primarily white, I think it's harder for people of color to show up with their true self at work. It is already difficult to become an architect, let alone the added issues that frequently stand in the way for many minorities. 
Matthew: With all these obstacles in your way, what drove you to stay on the path to licensure?
Patricia: Good question. You grow up thinking of an Architect mostly defined in what we do and less of an identifier of a licensed individual. As a young architecture student, I just wanted to design beautiful spaces. Entering the profession, I learned about the limitations without a license. I always had a dream of having my own firm one day, designing solutions for my large family. I always had this beautiful idea to put them all together in their own spaces designed by me. Knowing that a license would be needed to achieve some of my dreams, was a big push. I had to really dig deep when working and sitting for exams. I would ask myself, "Why am I here? Why am I putting my time into this? Why have I said no to attending my social engagements?" What got me through was the constant reminder that I want to be able to do this thing that I said I would. I want to eventually have my own firm. I want to create for my family and my community. Reminding myself of that goal was what got me through it. Another important factor was seeing other black women Architects excelling in the profession. 
Matthew: That's powerful. Many of us have rolled up our sleeves to do the hard work of creating an equitable firm, and we still have a long way to go in order to reflect the communities we serve. (see Cuningham demographics below) What I want to do right now is kind of talk about the statistics, and, if I have this right, you are one of just 600 black women architects nationally and 1 of 2 in Denver? 
Patricia: Yes. 
Matthew: Wow. How does that make you feel? How does that impact your day to day experience?
Patricia: I'm just so happy to get to this point, but I also think it comes with a lot of responsibility. As an educator at CU Denver, I see the future generation of architects. And there are more and more students and young adults that look like me. I feel that there's a responsibility to show up, be an example for excellent work and to mentor. Most of my career I did not have a mentor that looked like me, a woman of color. It took seven years of experience in the industry before I met my first licensed black woman Architect. It's something you don't know until it happens. You don't realize how excited you are to see somebody look like you, achieving goals that you have for yourself. In light of that, I am extremely proud of being one of two licensed black women architects in Colorado and possibly the first originally to get licensed here. Now that I am here, I think there's a responsibility to make the process easier and happier for the next generation.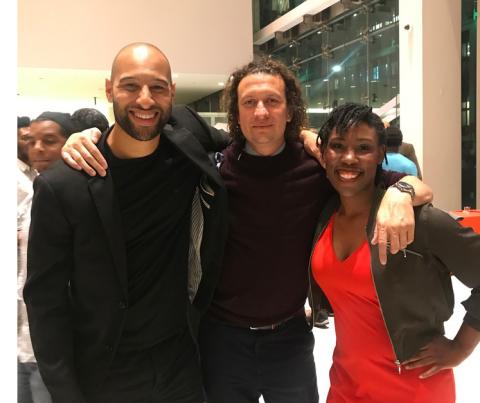 Matthew: I totally relate, and I am happy to have been present with you at your first NOMA (National Organization of Minority Architects) conference. I remember how excited you were to see so many architects that looked like you. It would be great if you could speak on that. 
Patricia: We really underestimate what happens when, as a minority, you are surrounded by a majority that you have to make effort to relate and to fit in. Then you finally find yourself released and among those who look and sound like you. I remember meeting a Haitian black woman architect at the conference, and I was starstruck. I'm not one to get emotional, but I had a reaction right there. The experience brings you out of your silo of thinking you are the only one doing this work. That all goes away with NOMA, and you can think past your minority status and think towards how we can make this industry better. How can we continue to do this work of being inclusive and promoting diversity? Conferences like NOMA National are so impactful, and we, as an industry, should not overlook the opportunity of that experience.
Matthew: Speaking of NOMA, you have done some pretty big things in the organization as a founding member of the Denver Chapter! How did your participation in this organization help you in your goals and your journey to licensure? 
Patricia: Well, I thank National for keeping me from being a president of the Denver chapter I helped form. 😊 A chapter presidency requires licensure. That was another reason to get licensed! As you struggle with studying or exam results you need more reasons to remind you why you're on the path. Starting the NOMA Colorado chapter was a super impactful and empowering experience. I've seen our chapter grow and advance. We've helped our network and become a little bit better with understanding issues regarding equity and diversity. We've done quite a few webinars and seminars with AIA Colorado. It's been kind of amazing what we've done in our first year. We have become a resource for AIA, local schools and firms. I am very proud to say that we have helped minority students obtain jobs with local firms.
Matthew: I don't know if you've taken a step back to sit down and reflect on your legacy. At such a young age, you have founded a NOMA chapter and become one of, if not the first, black woman architect in your area. It's impactful and should be celebrated. 10 years from now, that chapter may become one of the biggest in that region. Who knows how many architects will spawn from that chapter. Who knows how many designers will be helped by that chapter. I want to say thank you. I feel an incredible sense of pride to know you. 
NCARB recently published an article revealing the reasons that many minorities struggle with exam testing are due to a lack of access. This includes access to capital for study materials and exam fees, study resources, mentors, and firm support. Of those listed, non-billable time, study materials and financial support have been a major contributor to passing the Architecture Registration Exam (ARE). These are things that minorities tend to lack access to, when compared to their white counterparts. Cuningham provides billable hours for testing, financial aid for exams, study materials and online video guides for those actively testing. How important were those benefits in sitting for the exams?
Patricia: Those benefits were crucial to my success with exams. I think that as minorities we do not want to leave room for any kind of inefficiencies. We struggle with managing our hyper visibility. To have hours dedicated to sitting for exams is another thing we do not have to worry about. It is a benefit that says we support you. 
Additionally, the access to the study materials has been super helpful. Personally, I used Black Spectacles exams over and over again. The cost of the online resources is expensive for individuals, so having the firm provide this resource was meaningful. What many often do not recognize is that minorities are entering the profession with the effects of systemic racism. To then face these exams that opens doors to opportunities but require money is a very daunting, difficult task. It becomes a stumbling block that a lot of us do not overcome. I am very thankful for the opportunities provided through our employee ARE support program.
"I feel that there's a responsibility to show up, be an example for excellent work and to mentor. Most of my career I never had a mentor that looked like me, a woman of color. It took seven years of experience in the industry where I met my first licensed black woman Architect."
Matthew: I agree. Used the same resources to help me on my path to licensure. Despite the solid exam benefits Cuningham provides, there's always room for improvement. Many firms are evolving their policies and practices to provide a more equitable environment for women and people of color. What would your advice be to not only our firm but the entire industry to improve the diversity and number of certificate holders? 
Patricia: Yes, I think this is a great question that we should as an industry spend more time with. I will say that I would have loved more opportunities for failed exams. I think that goes toward equity. Some may need more while others may need less. I also think about helping minorities at the first sign of struggle. It is kind of like a teacher in a classroom who gives 15-minutes to every student, and maybe there is a student that stays behind for that extra help. What does that extra help look like in architecture? I remember acknowledging that I was struggling. Saying, "I can't keep paying for these tests…there has to be another way." There are times when you have expired all the benefits for the exam that have been allocated for any one individual, what comes after that? Maybe a mentor is provided to that individual, specific for the ARE on the process of testing. Someone that checks in on your progress and helps you when you are having a tough time.
Matthew: Thank you for sharing with us today. To close out, what would be your advice to the young black women out there dreaming of building the world of tomorrow?
Patricia: A lot of that advice would be around self-confidence, being secure in what you know is true. I think being in this position, being both a woman and a minority, is a tricky place to be. It comes with a lot of things. I've got gender and race issues…and sometimes they're happening all together. Sometimes it's just one or the other. That can make navigating through this industry, which is primarily white, a minefield. There is an incredible amount of energy in calculating risk in normal everyday decisions. I think what will not fail you is having your own sense of what is true, what is right, and what is wrong. It is very easy to fall into what you think you should be doing or what you think you should be responding with, but I encourage you to take the risk to trust what is in your heart. That goes to say, follow your dreams. Next step is to list your goals to reach your dream. Understanding your goals is huge. And not just tomorrow, or for five years from now, but different stages of life goals. I think goal setting and even just dreaming about your future is a really great way to navigate yourself. It will help you to understand what's important and what is not. It will help you clear and navigate the minefields.