Four Ways to Make Your Multi-Family Project Stand Out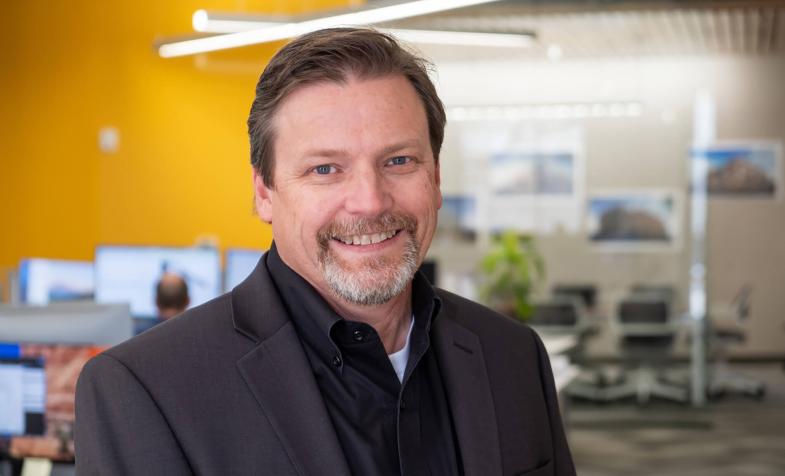 Four Ways to Make Your Multi-Family Project Stand Out
As humans, we all strive to stand out and express our personal creativity - it's in our nature. Whether it's our cars, clothes or smartphones, many of us have the basics but also continue to seek ways to differentiate ourselves at the same time. This also translates into how we live and work.
While multi-family projects tend to be very formulaic with specific unit mixes and sizes to fit within monthly rent structures, there is also a desire to design projects that stand out creatively from the others to attract and retain tenants. There are many ways to differentiate in the market with innovative unit plans, amenities to fit target tenant lifestyles, sustainability features and special features that will make residents proud to call them home.
1. Unit Plans
As designers and developers pack as much as possible into small spaces, special attention must be given to creating unit plans that are unique and provide the tenant with sense of home and personalization. Developers are now providing multiple finish packages to allow for selections such as lighter or darker flooring and cabinets. Another example is that as part of the lease agreement, tenants can select an accent wall in the living space and the owner will paint a highlighted color on the wall. Shelving is another great option to design in unit plans for personal expression. Tenants are looking for unit plans that fit their lifestyle and, just like our smartphones and the apps we select, may have the same unit type, but want to customize it with selected features.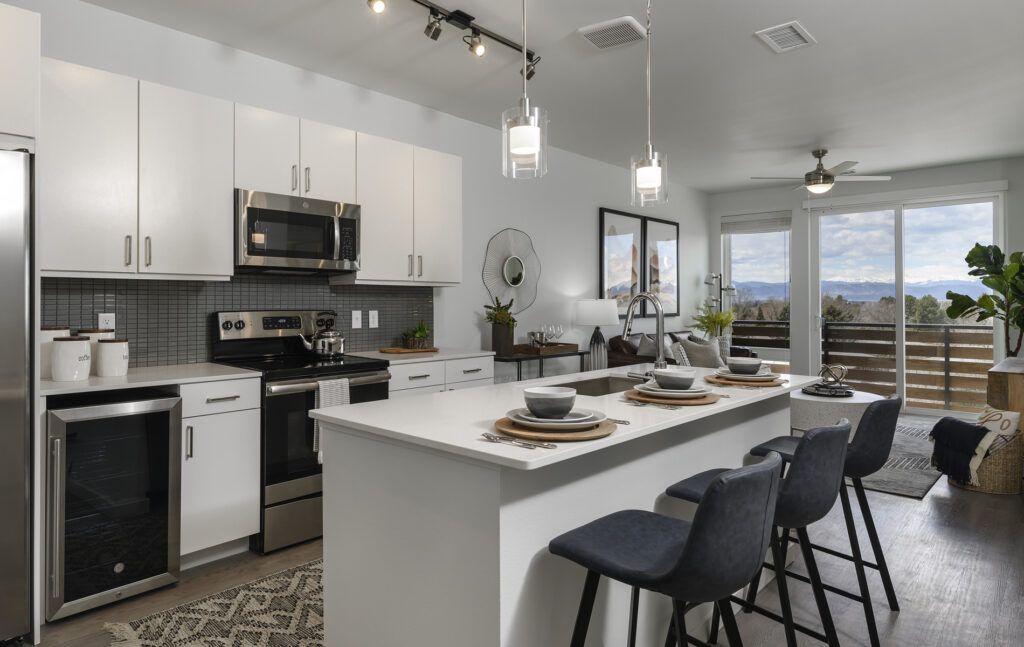 2. Amenities
These remain the greatest focus of attention to differentiate a project in the market place for design teams and developers. The focus is on clubrooms, work-from-home spaces, pool and aqua lounges, and fitness centers. Fitness centers have and will always be a desired amenity, but to differentiate in the current market, have added yoga rooms, cycling areas, free weights, and massage areas. Additional square footage is required in these areas to spread out cardio equipment and areas for tenants to stretch. Connections to the exterior for fitness has also become increasingly important to allow for fresh air.
Clubrooms typically feature bar tables, games, giant TVs, and comfortable areas to relax with friends. Work-from-home (or Business Centers) are making a resurgence in the time of COVID-19, and developers are looking to increase square footage to allow for appropriate social distancing. These include small glass conference rooms and solo computer areas to provide safe areas for working in a social setting without being confined to units.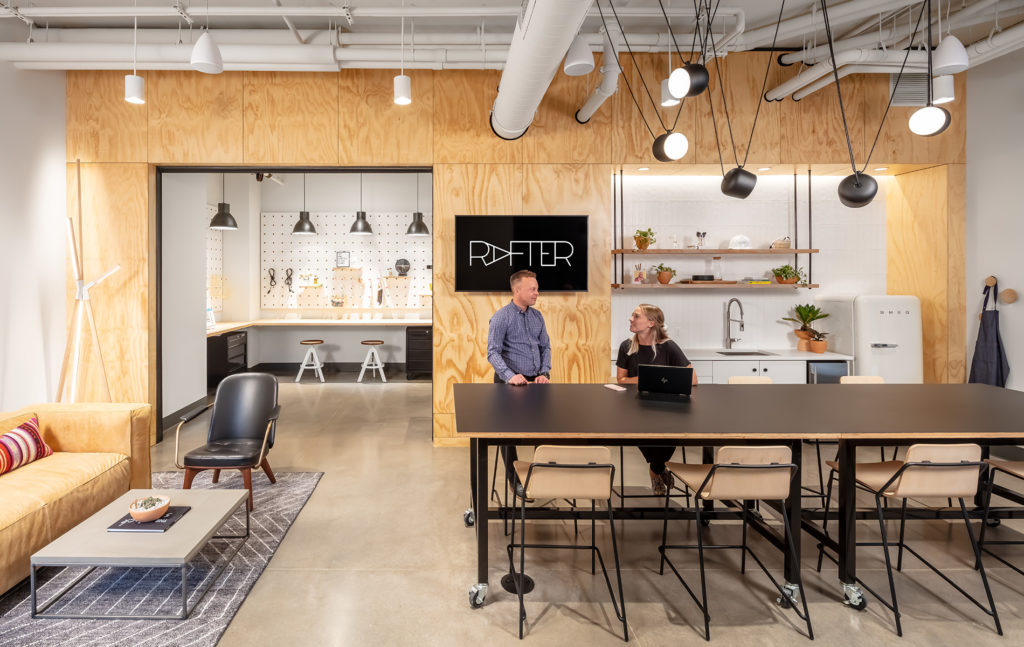 3. Sustainability
As code restrictions require a greater attention towards sustainability, designers and developers will again look for ways to differentiate in the market by highlighting "green" features beyond recycling, composting, solar panels and recycled materials. Green living walls on the interior and exterior (where allowed by climate conditions) illustrate a sustainable feature in lieu of only incorporating unseen measures such as LED lights and efficient mechanical systems.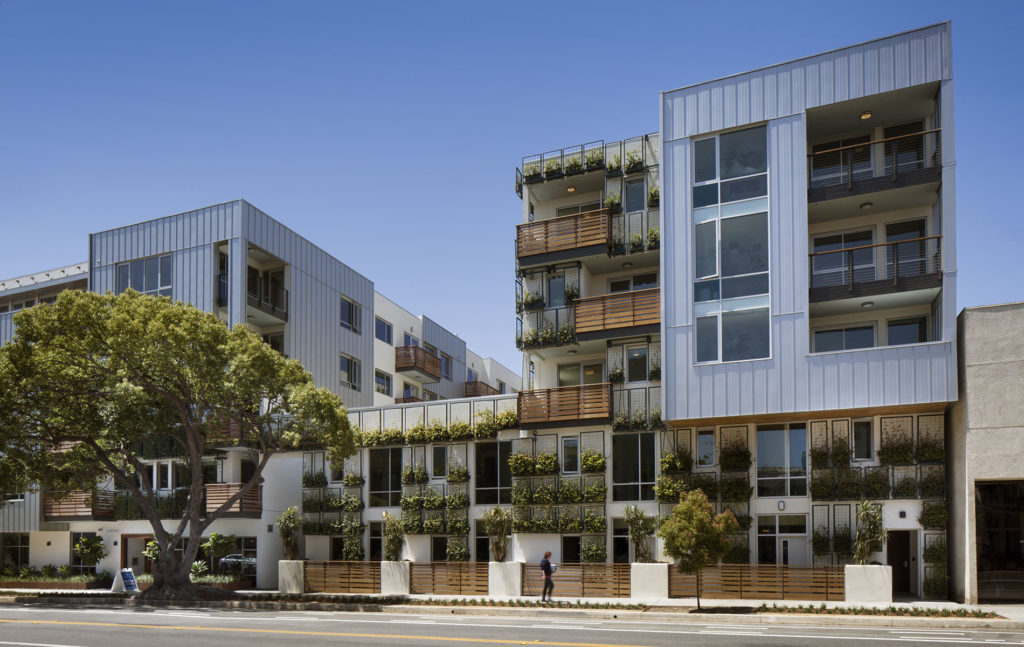 4. Special Features
Everyone is looking for that special trait that separates their multi-family project from the thousands of units being developed every year. Most of the time it's a larger or luxurious space, but occasionally new ideas such as a lazy river, pinball game room, indoor climbing wall or ski or golf simulators create buzz in the market. Designers and developers look to lifestyle and activity trends for inspiration and bringing these activities into projects to attract tenants.. Will stand-up paddle board machines take off in fitness centers, or will poker tables and theaters make a come back once we can socialize again?
As the multi-family market expands to meet the demand of renters in a growing economy, so too is the desire to create projects that differentiate themselves by utilizing methods to attract and retain tenants. Designers continue to revise unit plans and interior finishes to provide multiple options for people looking to personalize the spaces in which they live. Providing amenities that not only check the boxes on a prospective tenant's list, but also create options for a lifestyle that is desired among the target markets. Sustainability goals and awareness will increasingly be a deciding factor among younger renters. And, that "special something" or feature will always be sought after by the industry that is based on sameness but craves creativity. Differentiation will continue to be at the root of decisions on projects to deliver and we all love it -- just like many of the apps on our smartphones.