Sketching in Today's Tech-Focused Environment
The following is a summary of Director of Design Technologies Adam Wilbrecht's presentation "Sketching in Today's Tech-Focused Environment." Wilbrecht originally presented this topic at the 2019 AIA Minnesota Conference.
Despite the advances of design technology in architecture, the art of sketching remains as an essential tool. Through technology, the value of the sketch can be amplified in many different ways to communicate as well as directly inform sophisticated design solutions.
"We really should celebrate and gain greater value from our sketches," Wilbrecht said during his presentation. "We are now have ways to integrate them into our digital design workflows."
New Modalities
Advancements in technology have given designers the freedom to work from anywhere. Portable tablet devices such as the Apple iPad Pro, Microsoft Surface, and an array of Wacom products are designed to enable the physical experience of sketching in a digital format no matter where you are. Additionally, through simple scanning technology available on the most basic of smartphone, paper sketches are easily captured into a digital format.
New Communication
In the recent past, sketches have been abandoned as a communication tool in favor of basic modeling software such as Sketchup. The unfortunate result is that many sketches are left inside the designers' notebook or on piles of trace paper on a desk.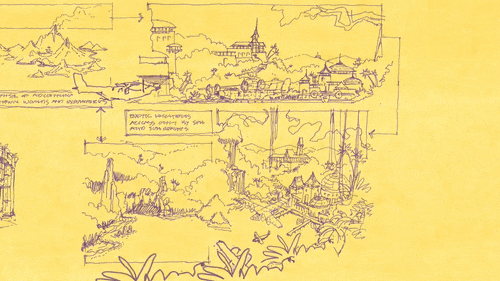 Taking a note from the movie industry, Cuningham is utilizing Hollywood-grade storyboarding software. Through the use of what's called "animatics," we can animate elements within the sketch, employ camera effects such as pans and zooms, as well as add sound and music to create an immersive storytelling video that takes the sketch to a whole new level as a communication tool.
New Workflows
All designers work differently. At Cuningham we have invested in technology that allows our designers to tailor both the design and communication process to the unique needs of the client.
"Designers often conceptualize design in a free-form way and employ sketching to visualize their ideas. Our challenge is to capture and convert these drawings to a sophisticated Building Information Model yet enable the ability for the designer to review and optimize the design using their familiar sketch tools." Wilbrecht said. By enabling digital sketching technologies, we can liberate the designer from complex modeling operations and permit them to communicate more efficiently with the project team, the client and the builder.
At an advanced level we employ parametric modeling to directly translate sketches into a digital building model. Utilizing algorithm-based software, such as Autodesk Dynamo and MacNeel Rhino, sketch geometry can be captured real-time to dynamically explore such things as geometric topologies and metal panel patterns on a façade.
The Power of Sketching
Sketching is elemental to the designer's toolkit. At Cuningham we celebrate the power of the sketch and enable technologies to open up new possibilities and new solutions.