The Sidewalk is Having a Moment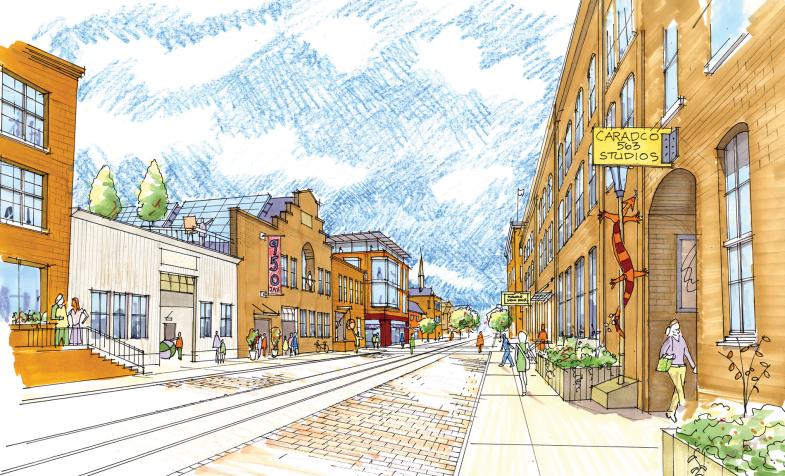 The Sidewalk is Having a Moment
In the Age of Social Distancing, the Sidewalk is Having a Moment

Given his status as a legendary war correspondent and evening news anchor for CBS News, I did not expect Dan Rather to post a tweet about sidewalks.
But, as our lives are consumed with the impacts of social distancing and quarantine, it appears that the simple, humble, and often overlooked sidewalk is having a moment. That strip of pavement, usually five feet wide, has become the topic of much conversation, controversy, provocation, and delight. Why? Simply put, we are using them more, and expecting more of them. As parks, community centers, and libraries shut down, sidewalks remain open.
To put the sidewalk in context, it is a part of a much larger public realm system that we interact with and use on a daily basis. Together with streets, parks, trails, and open spaces, the sidewalk is part of a system that contributes greatly to a city's overall quality of life. It's also the most fundamental piece of our transportation system. Regardless of how you arrive at your destination, eventually you become a pedestrian, which probably means you are using the sidewalk.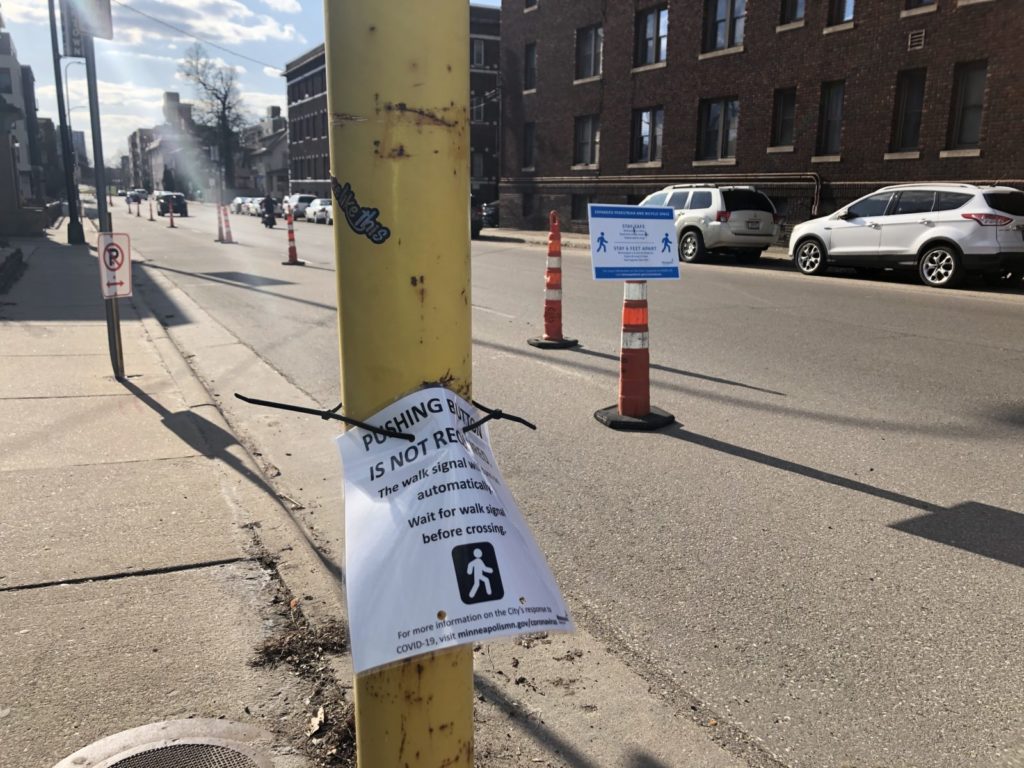 Prior to the pandemic, the core function of a sidewalk was often compromised by the ever increasing needs and uses of the public right of way. Widened roads, utility boxes, light posts, power poles, errant garbage cans, newspaper boxes, and even tree roots have all chipped away at quality of our sidewalks.
Fortunately, the sidewalk is having a renaissance as social distancing increases. It has become so much more than a transportation system. Right now, we're seeing sidewalks transformed into art galleries, safe meeting places, opportunities for neighborliness, and places to sing birthday greetings to our family and friends.
They have also sparked controversy because not all sidewalks accommodate six feet of distancing so perfectly. This creates etiquette issues with dog walkers, joggers, strollers, and even when two people simply pass each other.
Sidewalk Size Matters
As we think about post-COVID life, there has been discussion about increasing the minimum width to six feet to allow two people to pass safely without passing a virus. Personally, I like the five-foot sidewalk because it forces us to yield, make eye contact, and hopefully be a friendly neighbor, which is welcome in this time of isolation. We need more of that, not less.
Some sidewalks are simply too narrow and unsafe when not practicing social distancing. Though protected by ADA regulations, some barely pass legal muster; others survive simply because they have not been reconstructed since prior to the ADA. Over the past few weeks, cities have taken notice and several have finally taken action by closing streets or lanes to widen the space for pedestrians. And, taking a cue from traffic designers and more recently grocery stores, some cities have turned sidewalks into one-way traffic!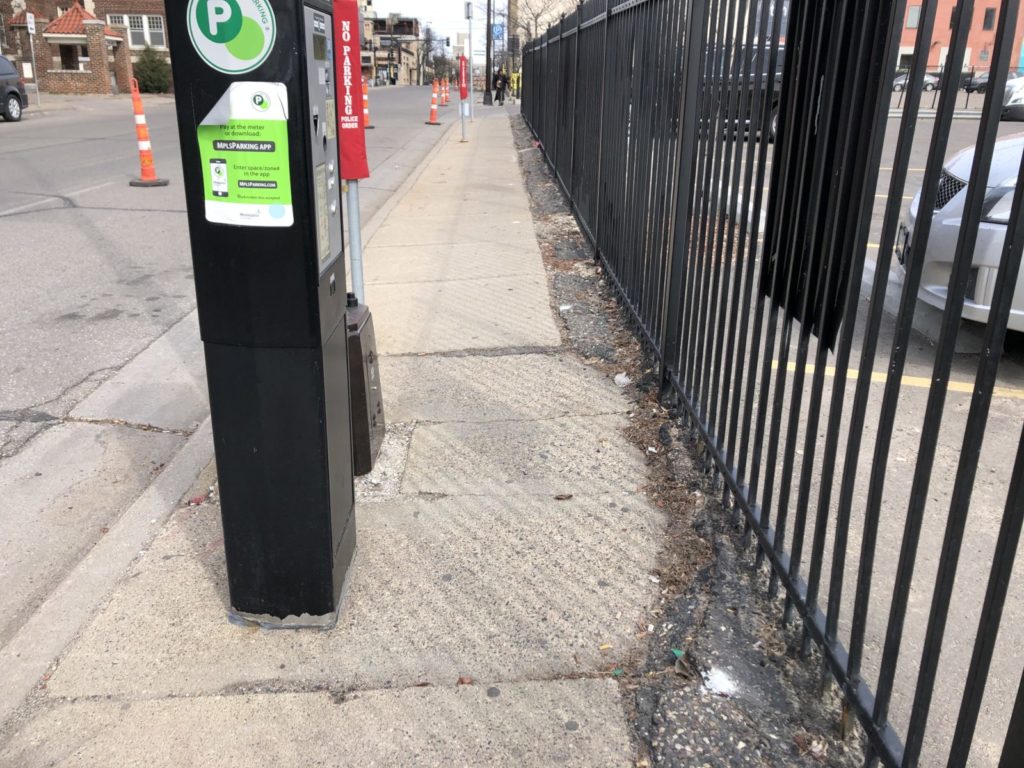 Important Business Corridors
Sidewalks have always played an important role in supporting commerce along corridors and commercial areas. As daily business has suddenly changed, the functions of sidewalks have also changed. Many cities are allowing businesses less restrictive uses to support their survival in these times. They've also relaxed the use of curb space, allowing individual businesses to cordon off public parking spaces for meal pick-up zones. Some cities are also allowing sidewalk use for businesses to establish more elaborate walk-up and staging windows.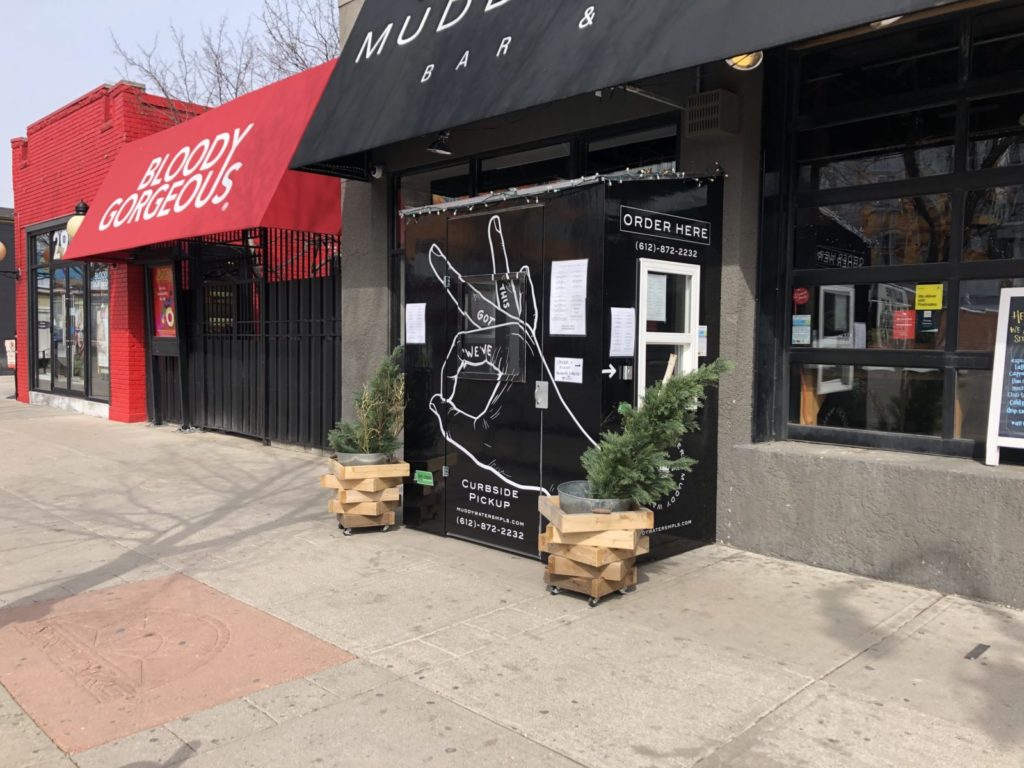 Impromptu Community Spaces
One of the more delightful aspect of the "COVID sidewalk renaissance" is its emergence as impromptu community art galleries and planned neighborliness. Around the country neighbors have taken to expressing their creativity, humor and positivity with sidewalk chalk, rock displays, block "porchtrait" sessions to raise funds for local hunger organizations, and organized music performances. They are bringing much needed smiles and respite to people feeling isolated in quarantine.
What have we learned from the COVID sidewalk renaissance that we can take forward? First, let's recognize its importance as an essential piece of our urban infrastructure. Like roads, sewers, and transit, the sidewalk is essential to a functioning city. But it is much more than simply a place to walk. Like libraries, community centers and parks, the sidewalk is a place to nurture social infrastructure — the invisible glue of relationships, networks and cooperation that bonds and sustain communities.