Designing for Dignity: How these design professionals are taking the fight against homelessness into their own hands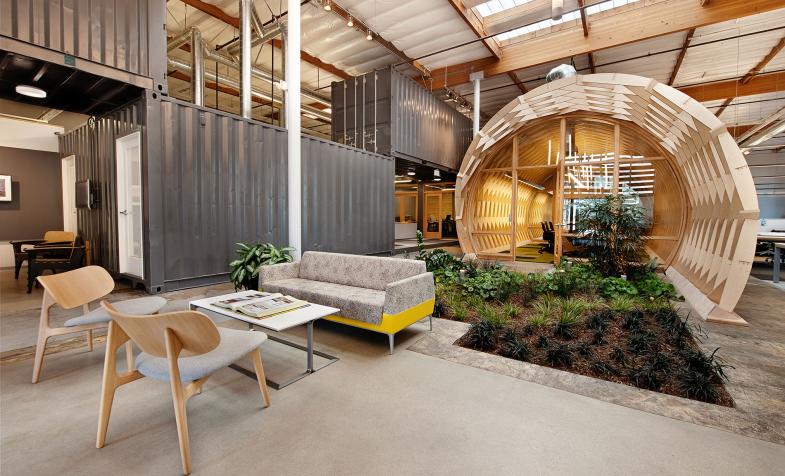 Cuningham Group Principal Scott Godfrey, AIA, NCARB has a passion for helping those in need. His 30-year career is defined by a commitment to volunteerism — specifically his efforts to help reduce and fight the environmental factors that contribute to homelessness. Recently, Scott has been instrumental in an AIA Los Angeles initiative focused on mitigating the city's growing homeless population.
Turning Words into Work
For the past three years, AIA Los Angeles has hosted the Design for Dignity Conference, a forum for the architectural community to "coalesce around, initiate, and fulfill strategies that reduce homelessness and increase housing affordability."
Following this year's conference, Cuningham Group Principal Scott Godfrey and the other attendees within the AEC industry decided it was time to turn talk into action; together, they formed an official action plan. Organized into nine separate subcommittees, each consisting of 10 to 12 members, this plan seeks to create a toolkit of best-practices for distributing supportive, affordable housing and to help neighborhood councils and community organizations streamline the addition of supportive housing and temporary shelter.
Currently, Godfrey volunteers on the plan's "Innovative Housing Typologies" subcommittee, which is developing an online database for reference on innovative typologies, providers, and consultants, with the goal of sharing best practices and cutting-edge solutions. The other committees' focuses include:
Establishing an official AIA|LA Housing Committee
Establishing a multi-disciplinary "Design for Dignity" subcommittee
Supporting and helping coordinate an ideas competition on the future of the                    single-family neighborhood
Authoring a white paper to justify a FEMA-like approval process
Advocating for policy, procedural and regulatory reforms
Creating and maintaining an inventory of all the building code and zoning code-                related impediments to the rapid construction of housing for the homeless
Creating a media campaign on the wellness benefits of healthy and complete                    communities
Producing a well-designed, graphically compelling "document" that demonstrates              the many great examples of density in the city
Ongoing Challenges
From an architectural standpoint, Godfrey says one of the biggest hurdles he and his colleagues face is an unwillingness by city and county officials to rework zoning codes in favor of higher density.
"The problem is; we don't have any more land," Godfrey says. "We have 65,000 people living in the streets in Los Angeles. So, if you say you want to solve the homeless crisis, but you aren't willing to densify, then you're just going to keep having the problem. "
Despite this resistance, Godfrey and his peers have made headway.
"We've made great strides," he adds. "We've opened many temporary shelters. Now we're finally starting to open some of the city's first permanent buildings for those without shelter."
Looking Toward the Future
Godfrey is optimistic about what he and the Design for Dignity team will be able to accomplish moving forward, and he cites an overflow of public support as the source of his optimism.
"We have the will of the people in LA County as billions in tax dollars were voted specifically to house the homeless," Godfrey says. "It is important to have qualified local professionals working in the space to make sure the funding is well spent."
And while their volunteer efforts aren't always flashy—they do a lot government procedural work—it is an important part of a broader solution.
"It's an ongoing process," Godfrey notes. "There aren't a lot of spectacular individual moments, but it's these efforts that will help make the lives easier of those doing the real, full-time work."
For those interested in learning more about Design for Dignity, the group has interactive dashboards on two measures they have already passed in LA county, Measure H and Measure HHH, regarding direct money for housing and supplemental services for health and safety related to transitional housing, respectively. Additional information on the annual symposium, Design for Dignity, can be found here.