Rafter: A Love Letter to Northeast Minneapolis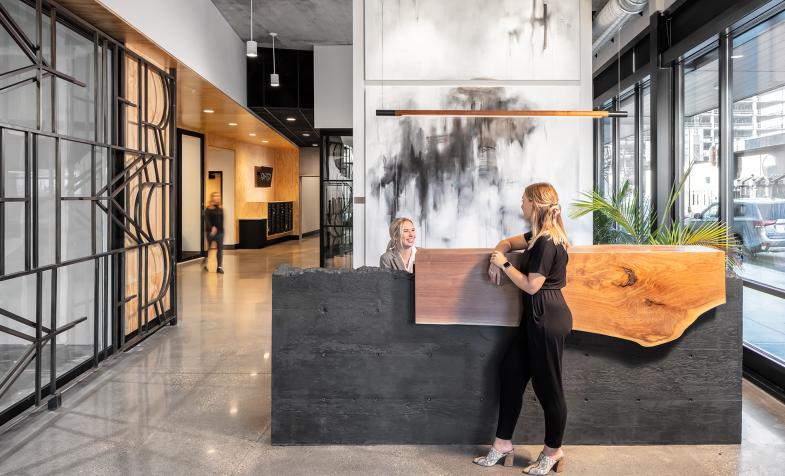 Rafter: A Love Letter to Northeast Minneapolis
Northeast Minneapolis is known for many things — great restaurants, historic buildings, a thriving art scene. For the neighborhood's residents, it's also known for a group of wild turkeys that call the area home. As Northeast Minneapolis' unofficial mascot, these birds represent the area's eclectic, proud heritage — characteristics embodied in a new high-rise apartment complex located in the heart of the neighborhood. Given the name Rafter (the term for a group of turkeys) the new building stands as a love letter to the culture and quirks of its historic neighborhood — fowl included.
Putting the "Art" in Apartment
Northeast Minneapolis is perhaps best known for its thriving Arts District. As home to numerous artists, studios and galleries, the neighborhood is an epicenter for local craftsmanship. Therefore, it was important to both designers and project stakeholders that Rafter reflect Northeast's status as a vibrant artist's community.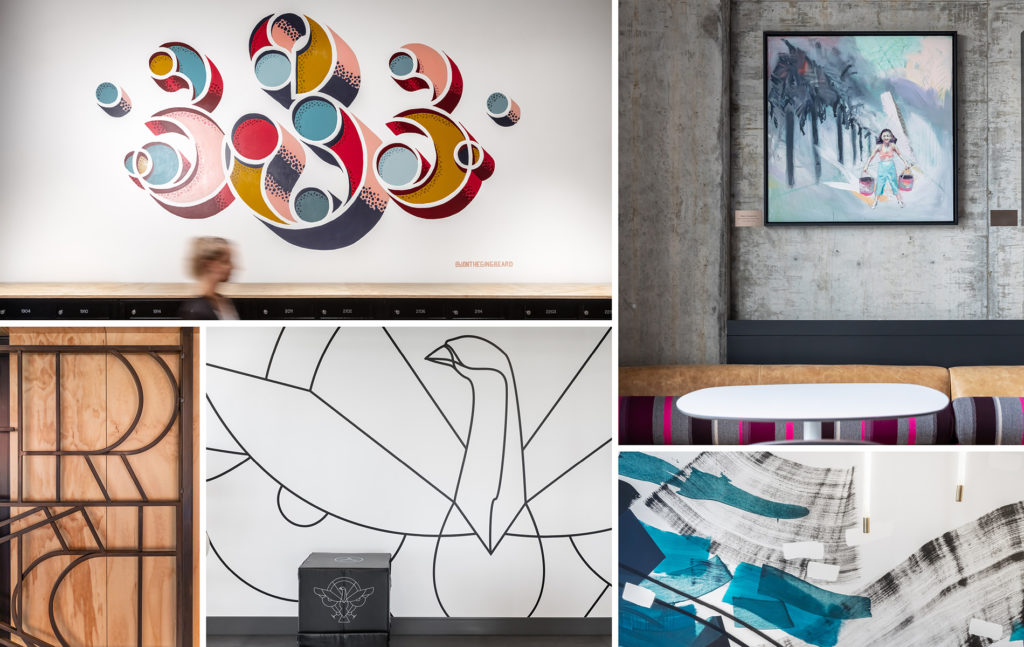 Photographs, paintings, and sculptures by local artists are placed throughout Rafter's shared spaces and on every floor. On the building's 4th Street façade, a three-story mural by local artist Chuck U features stylized depictions of the neighborhood's most recognizable icons. The lobby boasts a metal screen wall designed by local artists and a striking reception desk crafted by Keith Wyman of Concrete Pig. The piece, comprised of welded steel, slabs of walnut, and black pigmented concrete is equal parts function and sculpture — a perfect embodiment of Rafter's spirit, immediately visible to all who enter.
We knew that a tower in Northeast needed to be about Northeast, rather than trying to create its own island.
- Jeremiah Johnson, AIA, NCARB, Project Designer
A restrained pallet of high-contrast light and dark finishes gives Rafter a gallery-like feeling. Working with local fabricators, project designers created several iconic pieces and placed them at key touch points. The result is an intimate, interconnected space built to highlight the art which it contains.
In addition to displaying local art, Rafter actively promotes it, as well. The project team hired two artists-in-residence, offering each a year's lease in exchange for their art, and a shared makerspace allows all residents access to the neighborhood's artistic spirit. From professional to beginner, Rafter encourages its users to embrace their artistic side.
An Industrial Inspiration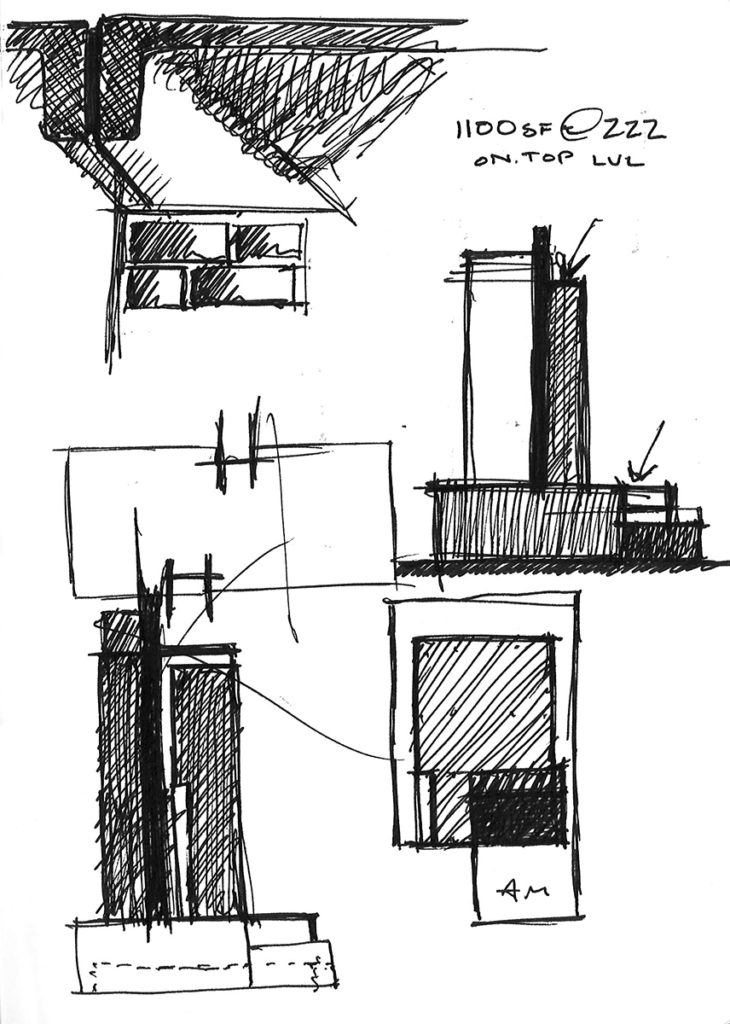 Historically, Northeast Minneapolis was a working-class neighborhood, defined by its numerous factories and warehouses. Today, an industrial aesthetic remains, and residents embrace the area's 'grit.' By using a simple, honest material palette, designers made sure Rafter would blend into the neighborhood's distinct historical context.
The building's brick base connects it to the surrounding streetscape, while the tower's blend of white concrete recalls the nearby General Mills elevators, a Northeast Minneapolis icon. Textured charcoal concrete on the façade is reminiscent of modern ceramic arts, while hints of wood, exposed concrete, and metal occur throughout the building — further establishing a connection to Northeast's industrial past.
The restrained pallet of high-contrast light and dark finishes is gallery like, creating moments that highlight local artists and craftspeople. 
- Stephanie Thompson, NCIDQ, LEED® Green Associate, Interior Designer
Rafter's interior spaces are defined by a rich variety of exposed concrete textures — from rough, board-form textures on the ceiling, to smooth, exposed concrete columns, to polished concrete floors. A strategic use of warm wood tones helps balance the concrete, creating an interior environment that is both bold and welcoming.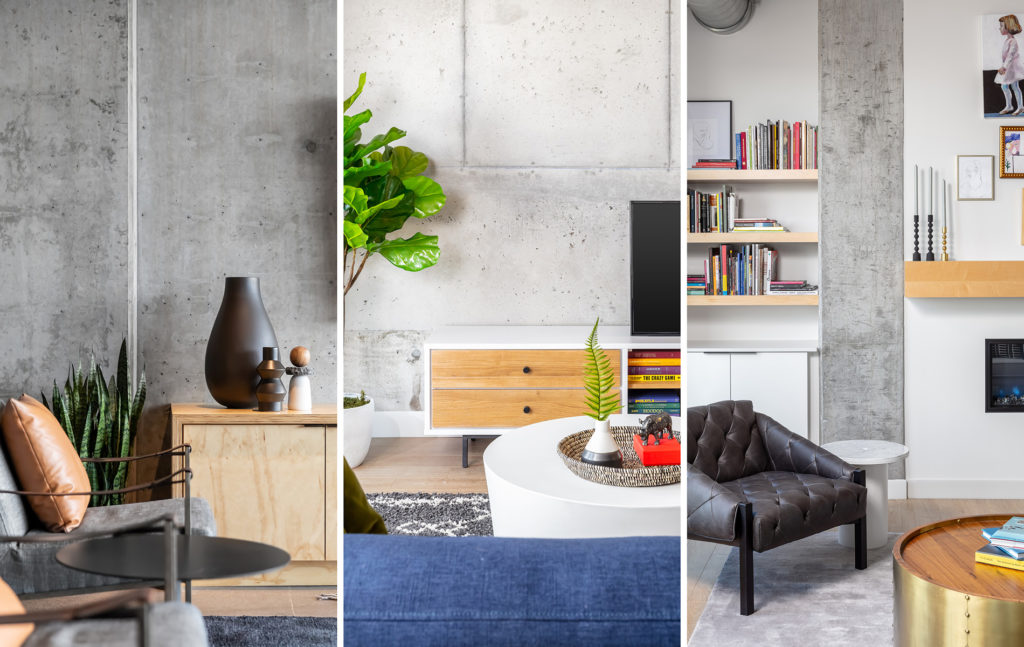 Massing Studies
Rafter's unique building footprint — narrow on one face and wide on the other — initially concerned some members of the city and client group. However, the footprint was inherent to the site, and so designers began methodically studying ways to mitigate the "largeness" of the structure. These studies ranged from sketches and computer modeling, to rendered and studied masses. Working rigorously with the client group, designers crafted a building that fits comfortably into the busy streetscape, its soaring tower a natural extension of the vibrant community below.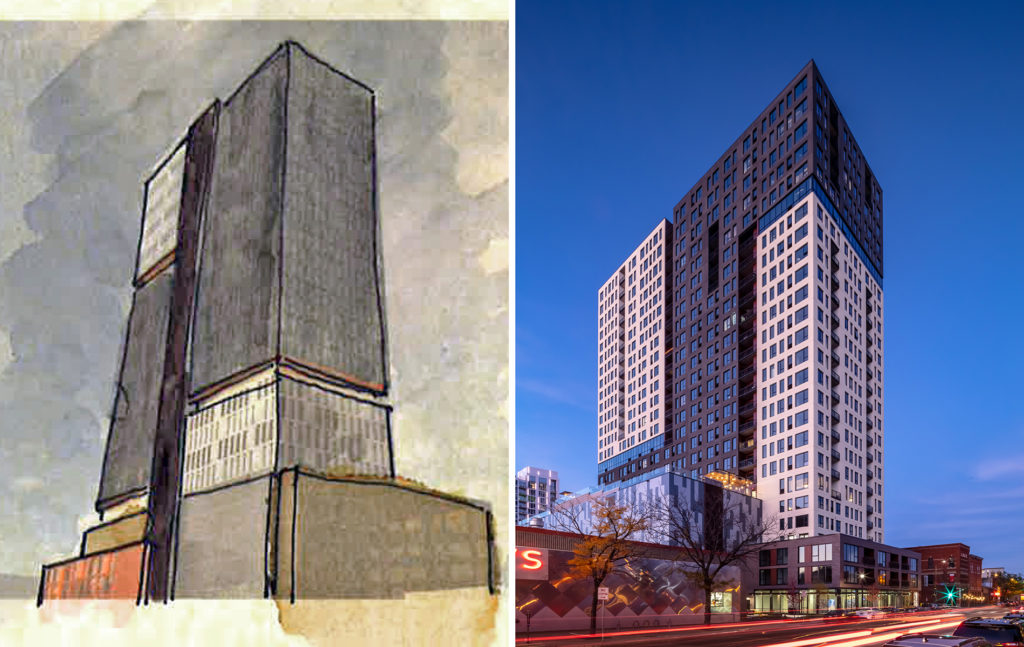 Problem-solving with Precast Panels 
Five hundred and forty tons of precast cement panels cover the building. This distinct look was a response to the client's request for a varied and active façade that could be installed in the most economical way possible. By using 15 different molds, rotating and shifting them across the building's façade, designers created a diverse, dynamic look that minimized the number of forms needed while maximizing variation. The frenetic appearance of the panels mirrors the commotion of the bustling streets below, while a mix of white and charcoal concrete visually connects the building to Northeast's industrial past. In total, 442 panels were used. (See slideshow below)