Sustainability and Wellness Goals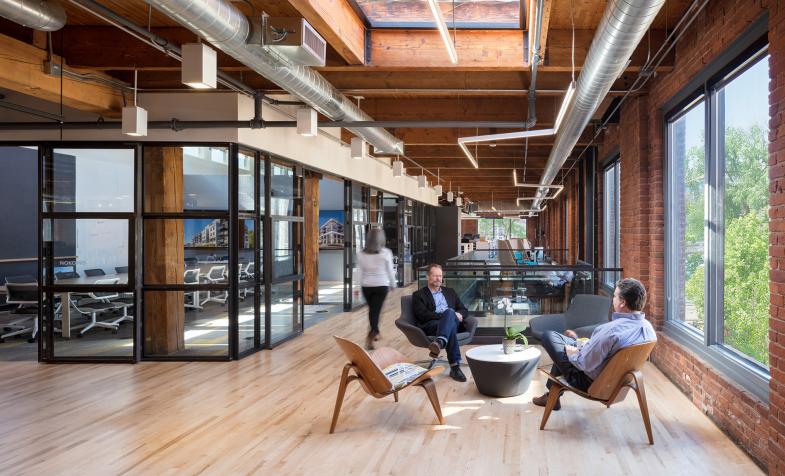 Sustainability and Wellness Goals
"Cuningham Group has a long track record of sustainable design achievement, initiated by John Cuningham himself.  In the last few years, we have made many efforts to re-capture a leadership position among design firms, starting with our signing the 2030 Challenge and the 2030 China Accord.  We are constantly pushing our design teams, clients, and industry partners to reduce energy and water use, improve well-being for our building occupants, and to achieve resiliency in the face of external hazards.  We have made great strides, but we have a long way to go.  I am enthusiastic that a heightened awareness and renewed sense of urgency will propel us toward our goal of designing in a way that respects all living things."
– Paul Hutton, FAIA, LEED AP, BD + C
As part of our continual efforts to highlight and refine issues of sustainability and wellness across all of our offices, in 2018 we launched a year-long program to increase awareness of and practices that support Sustainable Design in our own offices. We decided to combine elements of the WELL building rating system with more typical resource efficiency strategies. The result: a month-by-month analysis of 10 specific issues.
February - Water
March - Plug Loads
April-Air
May -Waste
June - Light
July - Transportation
August- Comfort
September- Paper
October- Fitness
November- Energy
Click through below to see the results of each effort.
February -
Water
For February, we looked at our water usage. Water is one of the most important factors to be considered in conservation efforts. We need to conserve as much water as we can and test to make sure what we are drinking is high quality. As such, Cuningham Group tested the following aspects of water quality in all of our offices:
• Total Hardness
• Total Chlorine
• Alkalinity
• pH
• Nitrite
• Nitrate
• Copper
• Iron
• Total Coliform Bacteria
• Pesticide
• Lead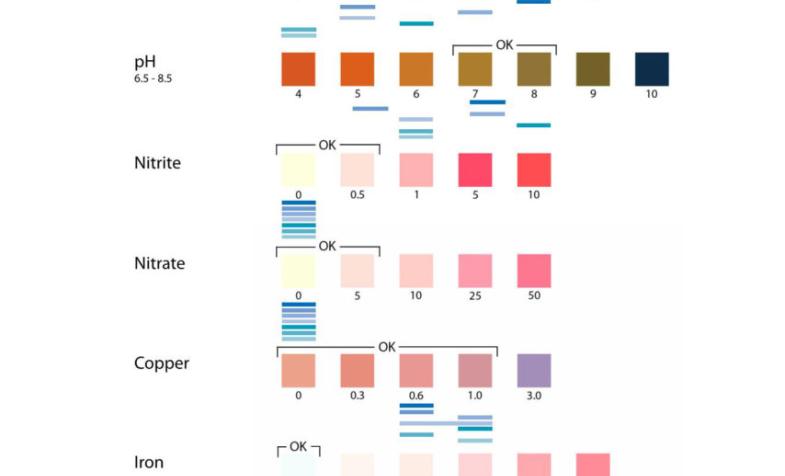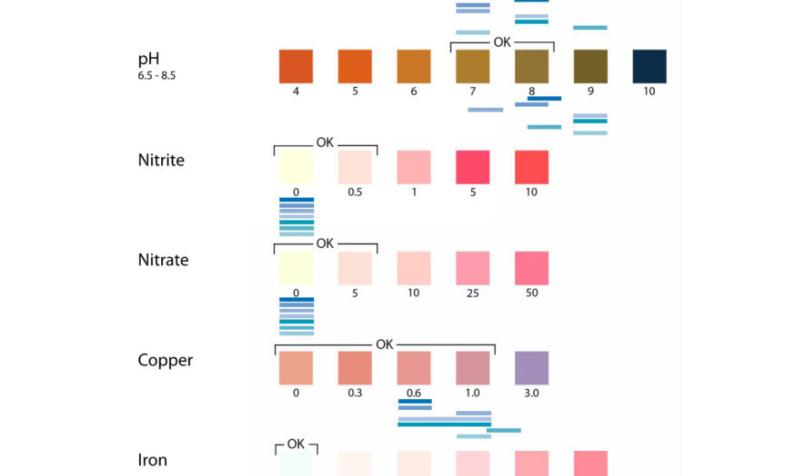 KEY FINDINGS
• Six offices have slightly hard water; our filters correct all but two of those.
• Total chlorine is acceptable in all offices.
• Four offices have slightly high alkalinity; our filters reduce alkalinity too much in two offices. One office remains too high in alkalinity even after filtering.
• Three offices are slightly high in pH; our filters reduce that so four offices are low on pH.
• Two offices are slightly high in iron; our filters correct all but one of those.
RECOMMENDATIONS
• Work with filter providers to improve test results in all offices.
• Conduct yearly tests of drinking water in every office.
• Verify that filters are present at all sources of drinking water in every office, including coffee machines.
March -
Plug Loads
Plug loads are one of the fastest growing sources of energy use in commercial buildings today. In offices, they account for 25 percent of office electricity use. In offices that have already improved the efficiency of their lighting and HVAC systems, that number can be as much as 50 percent. Here is how our offices broke down.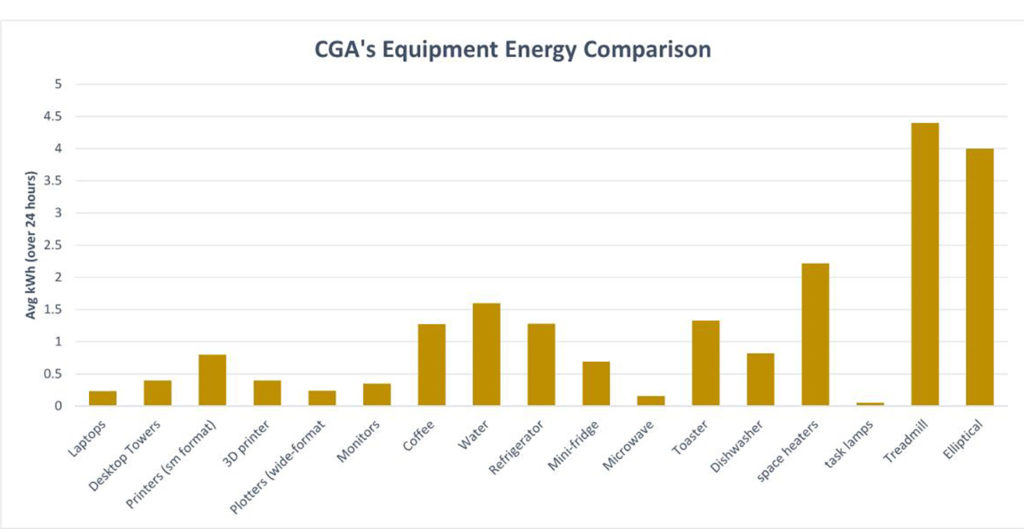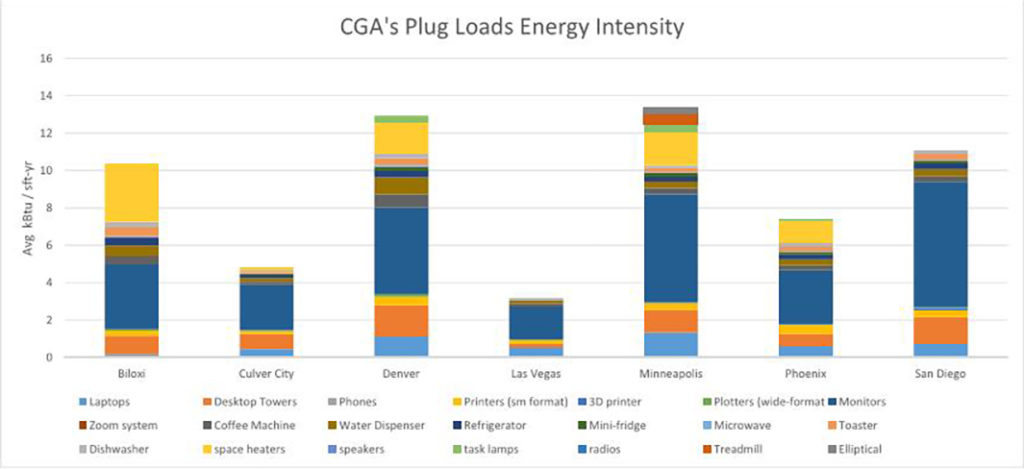 KEY FINDINGS
• Treadmill and Elliptical exercise machines use a lot of energy but due to their low frequency of use they don't have much impact on overall energy use.
• Minneapolis has the most plug load usage - both actu and per square foot while Las Vegas has the least.
• Monitors, even though they are one of the least energy intensive items, use the most total energy because there are so many and their long hours of use.
• Installed equipment power density is highest for Denver, followed by Minneapolis and is the least for Las Vegas.
• The big three for installed power density are space heaters, microwave, and coffee machines.
• The big three for actual energy usage are monitors, desktop towers/laptops, and space heaters.
RECOMMENDATIONS
• Work with EIS to aggressively turn off computers and monitors at night wherever possible.
• Complete transition to laptop computers, minimizing desktops.
• Eliminate use of under desk space heaters in favor of foot warmer pads where needed.
• Take into account yearly electrical use when purchasing equipment such as printers and plotters.
• Get more energy efficient monitors.
• Create a culture of shutting down the PC/Laptops & screens completely.
• Use advanced power strips for peripheral load (monitors, task lighting, etc.)
• Implement time based control for common area equipment.
April -
Air
A recent Harvard School of Public Health Cognitive Function Study "CogFx" found an overwhelming link connecting indoor air quality to human cognition. This study identified nine different cognitive function variables decreased as CO² levels increased. Intuitively this a very logical conclusion. But, what is most surprising was that the decrease in cognitive function started at CO² concentrations well below current code requirements.
Of course Indoor Air Quality (IAQ) isn't all about CO² concentration, it involves temperature, humidity, dust particles, VOC and other chemical off gassing from materials, among many other measures. So during April, our Market Group Sustainability Leaders and Advocates used an Awair Omni meter to measure some of these factors at each of our offices.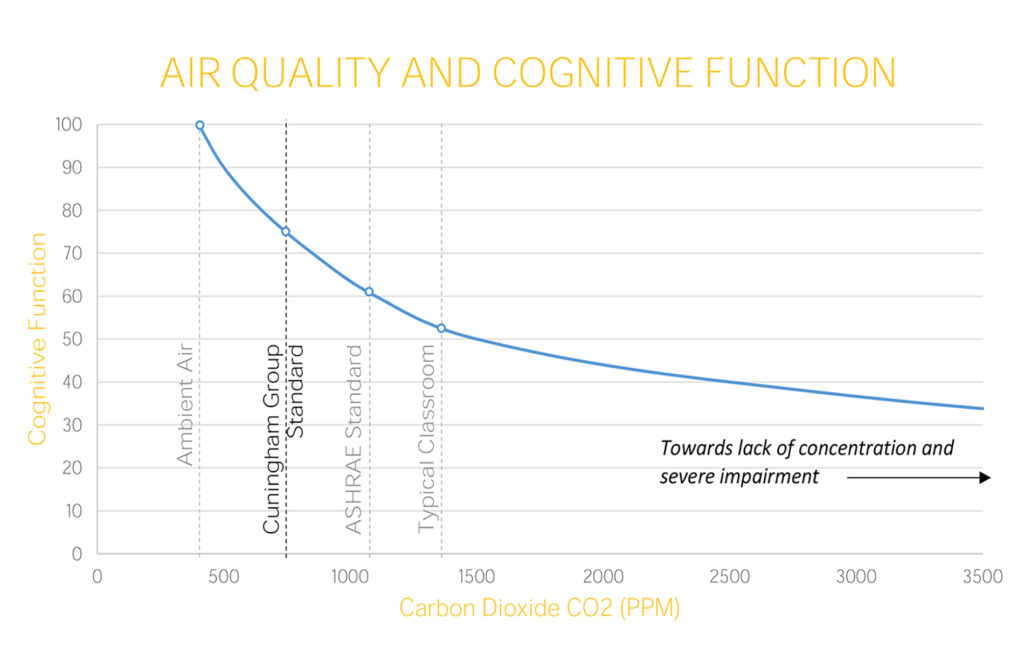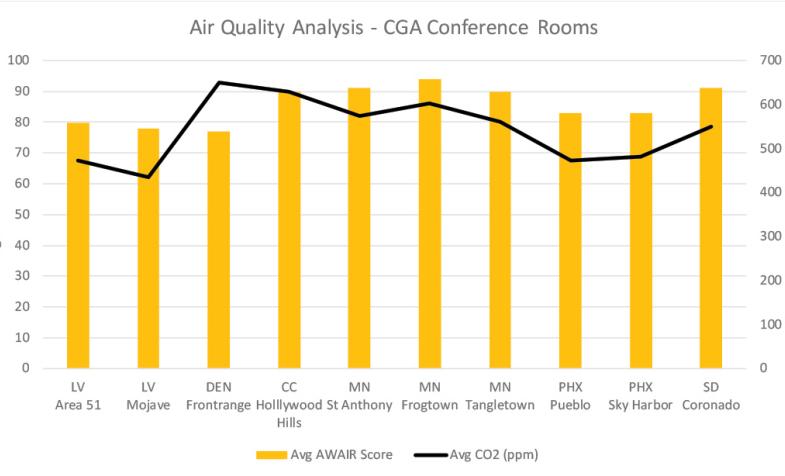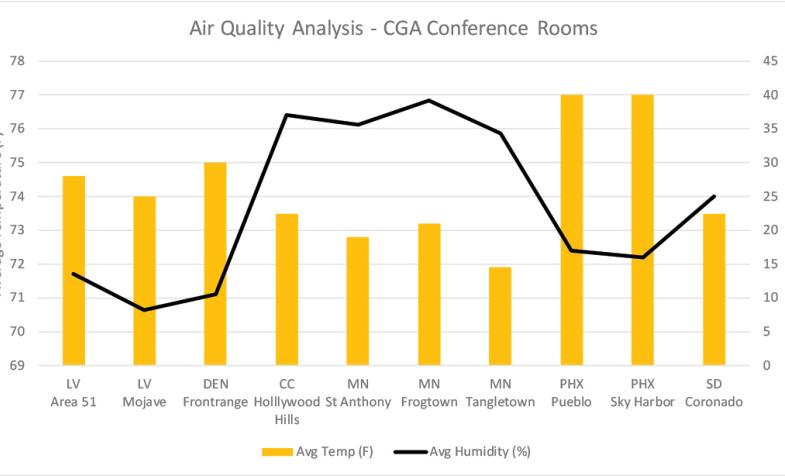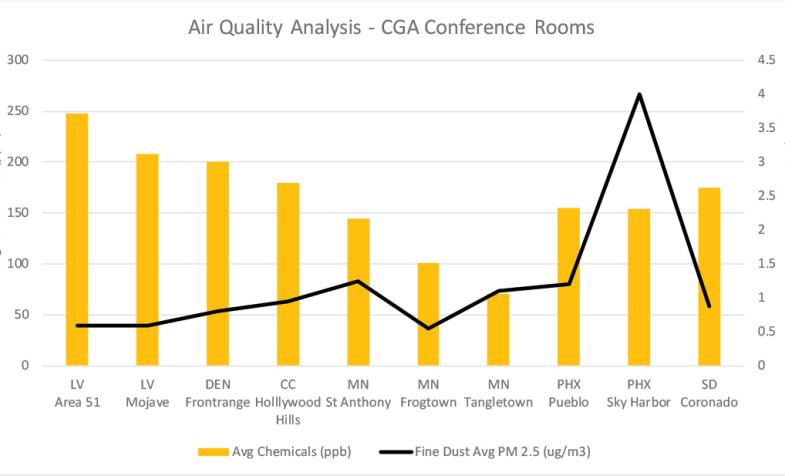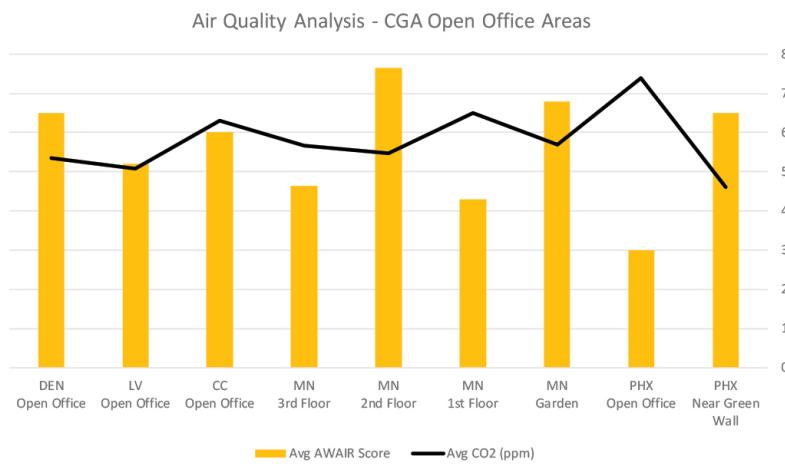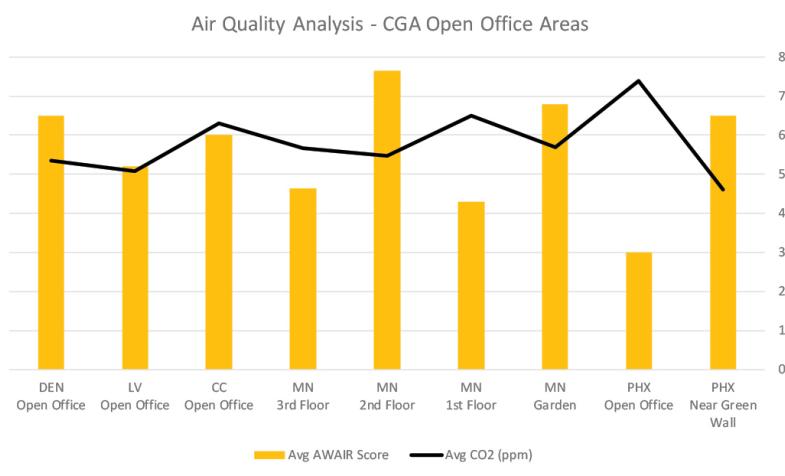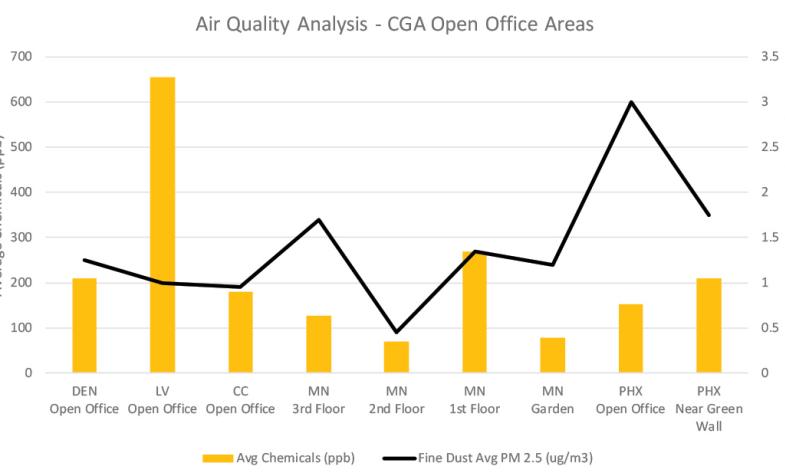 KEY FINDINGS
• On average, all Cuningham Group offices are under 600ppm CO² level which helps create a productive environment for all employees.
• There are some spikes in CO² concentration in smaller conference rooms that is only occasionally noticed.
• Average humidity is generally good for all offices but Phoenix, Las Vegas, and Denver sometimes are too dry.
• Average temperatures in offices generally stay between 72 and 77 degrees.
• Average chemicals and fine dust concentrations are generally within limits except for Phoenix Sky Harbor which was high for unknown reasons.
• There was a decline in CO² levels near the Green Wall in Phoenix.
RECOMMENDATIONS
• When there are spikes in CO² levels, especially in conference rooms, staff should open the door or bring in fresh air by other means to ensure highest cognitive function.
• Humidification of air especially in Phoenix, Las Vegas and Denver should be considered during times of very dry indoor air.
• Explore reasons why chemical and dust levels are higher in Phoenix than in other offices.
• Consider adding green walls in other Cuningham Group offices.
MAY -
WASTE
Wasting time and money has always had a negative connotation, but Americans have a different relationship with materials. We have a largely disposable society, and a mindset to go with it. We are getting better: we now recycle about 30 percent of the waste that we create (approximately 250 million tons per year, or 4.6 pounds per person per day, EPA), however it is estimated that 75 percent of waste should and can be recycled.
During May we looked more closely at our office operations. The following efforts are now underway:
• Verify – waste, recycling and composting are separate (what offices are doing what?). Can we do more composting?
• Weight/volume of waste taken to dumpster
• Weight/volume of recycled waste taken to recycle
• Photos to prove we have clear/enough labels for trash & recycle
• Spot check recycling vs trash (make sure it's in the correct bin)
As we study and develop our standards for office operations, we are seeking input on other ways to conserve our resources. This increased awareness should lead to thinking of innovative ways to conserve materials on projects.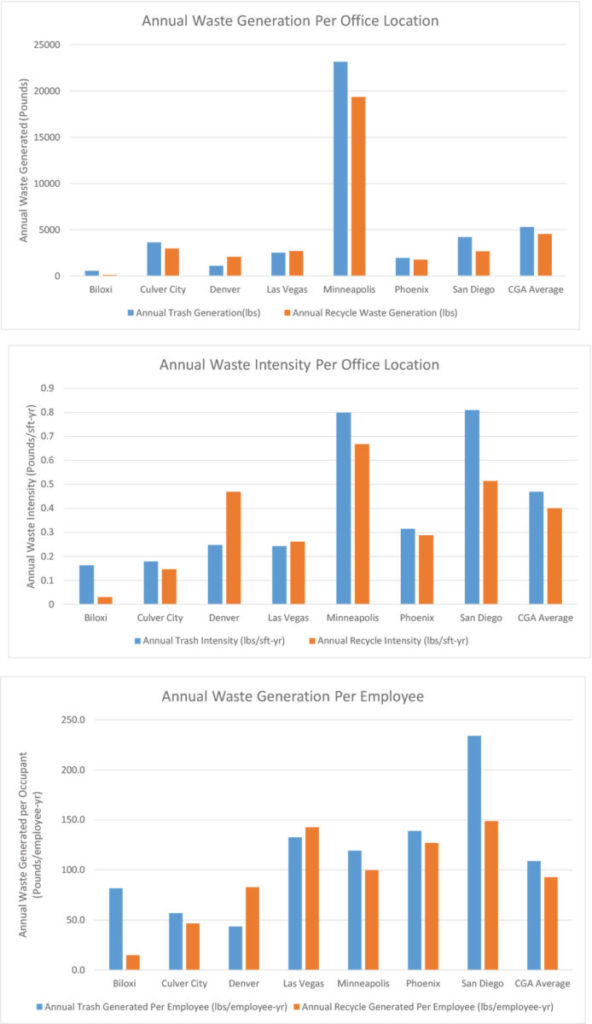 KEY FINDINGS
• Annual trash generated by CGA is about 18.5 tons and recyclable waste is about 15.85 tons.
• CGA generates approximately 0.47 pound of trash and 0.40 pound of recyclable content per square foot per year.
• CGA generates approximately 109 pound of trash and 93 pound of recyclable content per employee per year.
• The three CGA offices that generates the most trash and recyclable content per employee are San Diego, Phoenix, and Las Vegas.
• The three CGA offices that generate the most trash and recyclable content per square foot are Minneapolis, San Diego, and Denver.
RECOMMENDATIONS
• Post specific and graphic recycling instructions at all central waste collection spots in every office.
• Contract with waste management companies that accommodate high levels of recycling.
• Consider composting where available and for special events.
• Continue aggressive monitoring and coaching for vendors who bring food into the office (for example, lunch and learn events).
• Purchase products with maximum recycled content practicable.
JUNE -
LIGHT
June 21 is Summer Solstice—the longest day of sunlight north of the equator—  and in recognition of the huge role the Sun plays in our lives and global history, it's also important to look at both Daylighting and Electric Lighting.
Studies show that daylighting can provide substantial benefits to staff and employers alike, but improper usage can lead to unpleasant conditions within the structure. The benefits of daylighting will only be realized if it is implemented correctly. Improper use of daylighting can reduce productivity and increase employee absenteeism due to the possibility of extremely high lighting levels, excessive glare, and high temperatures.
During June, several of us ran around aiming light meters at things in our offices, mapping view and daylight corridors, looking at window coverings, and counting ceiling light fixtures to determine our Lighting Power Density, and working through Spatial Daylight Autonomy analysis of the results. If we didn't already know about the automation on our lighting circuits, we'll found out what they were programmed for and determined if they can be tweaked to be more effective. We also learned what percentage of all our offices have access to and utilize daylighting — or don't.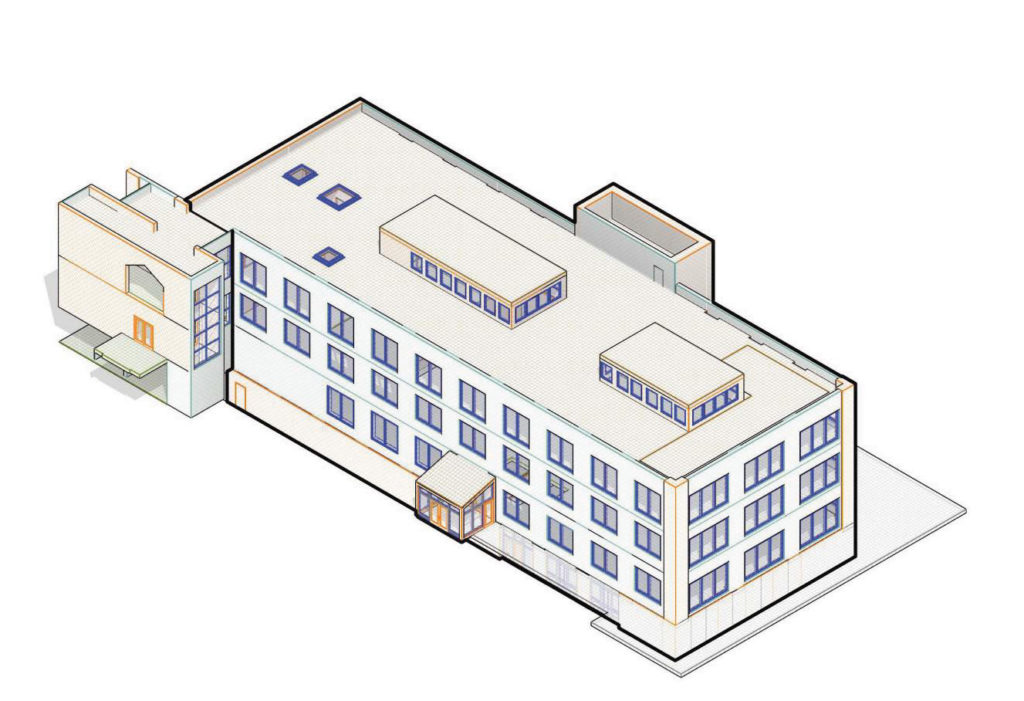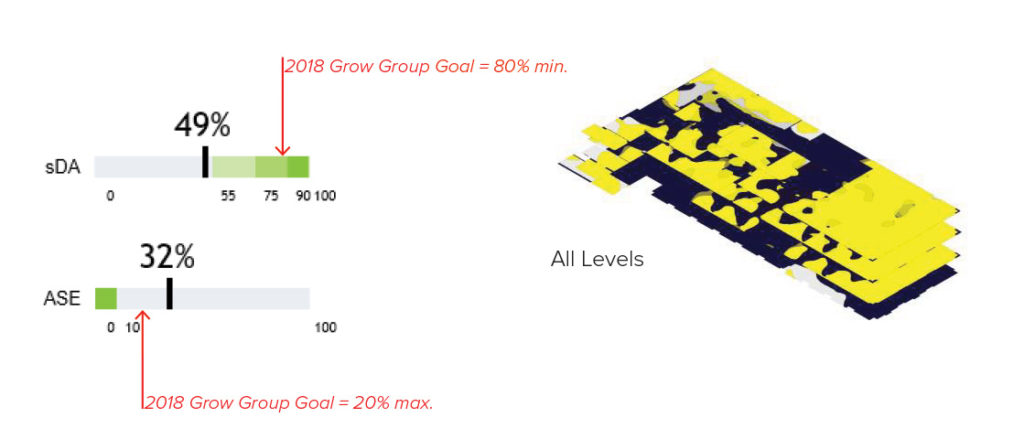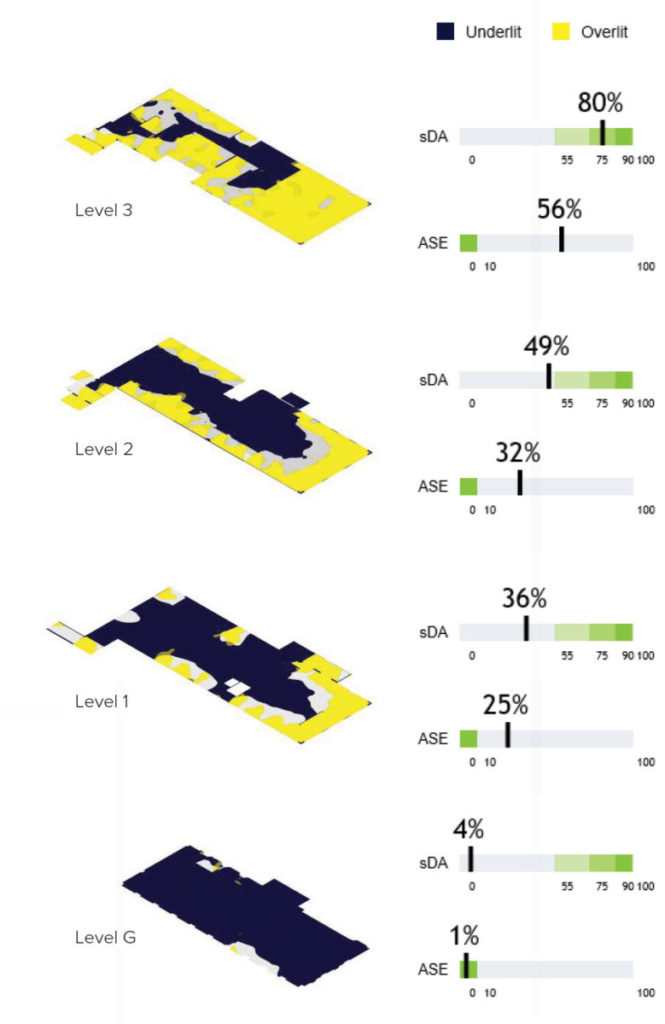 KEY FINDINGS
• The Culver City office is well lit on the north side but darker toward the south side.
• The Las Vegas office is well lit throughout even though there are several glary areas around the perimeter.
• The Minneapolis office is well lit on the top floor but with each level down the quality of lighting declines.
• All offices offer excellent views to the outside except the south side of Culver City and the lower floors of the Minneapolis office.
• Lighting Power Density (LPD) of CGA offices are between 0.5 watts per square foot to 0.85 watts per square foot.
• All offices have some sort of automated lighting control except San Diego. Phoenix has daylight sensors but they are not connected to the tunable fixtures and therefore inactive.
RECOMMENDATIONS
• Provide task lights at all desks and encourage their use.
• Retro-commission all lighting control systems to maximize turning off and/or dimming lights.
• Where no automatic control systems exist, train staff in how to manually control lights to maximize energy savings.
• Evaluate color temperature of main space lighting in all offices. Standardize to 4000k except where tunable fixtures are in use.
• Provide adequate window/skylight coverings to prevent excessive glare at any workstation.
JULY -
TRANSPORTATION 
Transportation is a significant share of our total carbon footprint. So during July, we surveyed our office about their transportation, analyzed what we saw, and developed ways we can improve.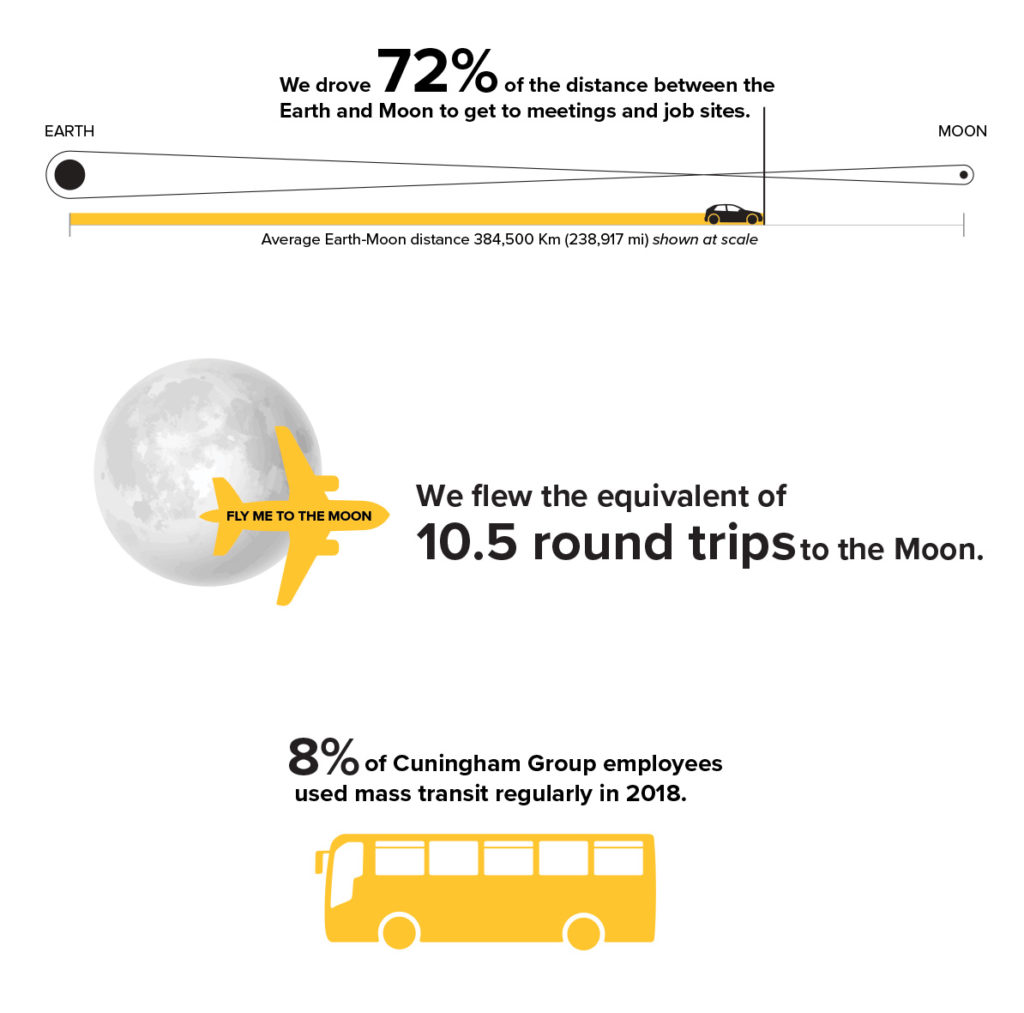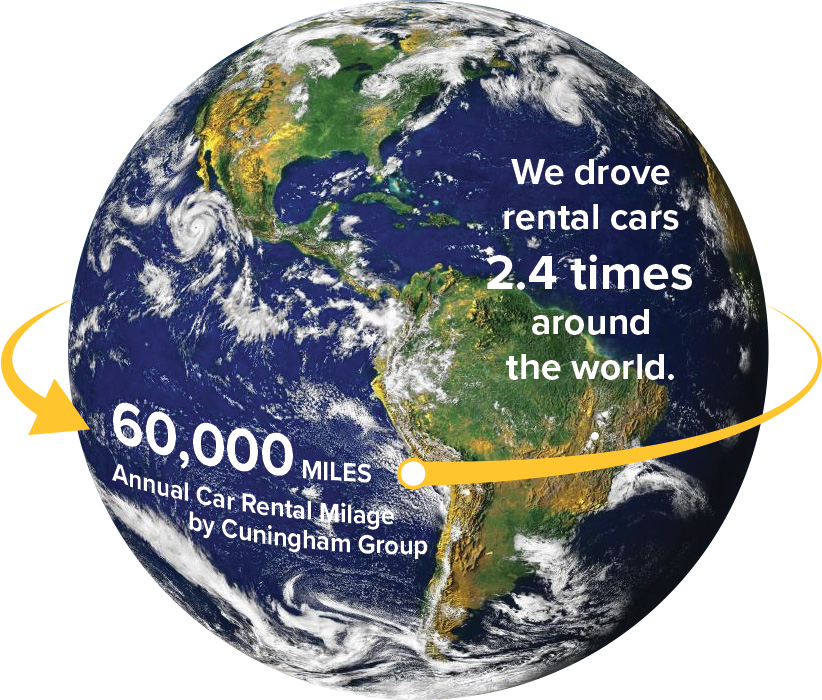 KEY FINDINGS
• We flew nearly 2.5 million miles in 2018.
• We rented cars for almost another 60,000 miles.
• We drove 172,000 miles to meetings and job sites.
• Our average commute to work is approximately 12 miles.
• Approximately 27 employees use mass transit on a regular basis.
RECOMMENDATIONS
• Monitor air travel for business use by all CGA employees.
• Consider carbon offset purchase for air travel by CGA in 2020.
• Promote more aggressively eco-pass options to encourage sustainable commuting.
• Pay only a portion of monthly parking fees to encourage commuting options.
• Restrict company car rental to high efficiency vehicles, except where several passengers will use one vehicle.
• Consider leasing a high efficiency vehicle for transportation to job sites for larger offices.
August -
Comfort
One of the most important values in American culture is comfort. From the time that we're born in the hospital and wrapped in blankets and placed on a soft mattress in a climate-controlled room, we expect to be comfortable. Except for the homeless, almost all Americans live in homes that are climate-controlled.
One of the seven central aspects of the WELL Building Rating System is Comfort. It's important that we look for ways to redefine comfort in a built environment that honors and reflects our relationship with the natural world, while inspiring our best work to preserve and celebrate it. As such, we surveyed our employees to learn more about their comfort levels regarding different aspects of our offices.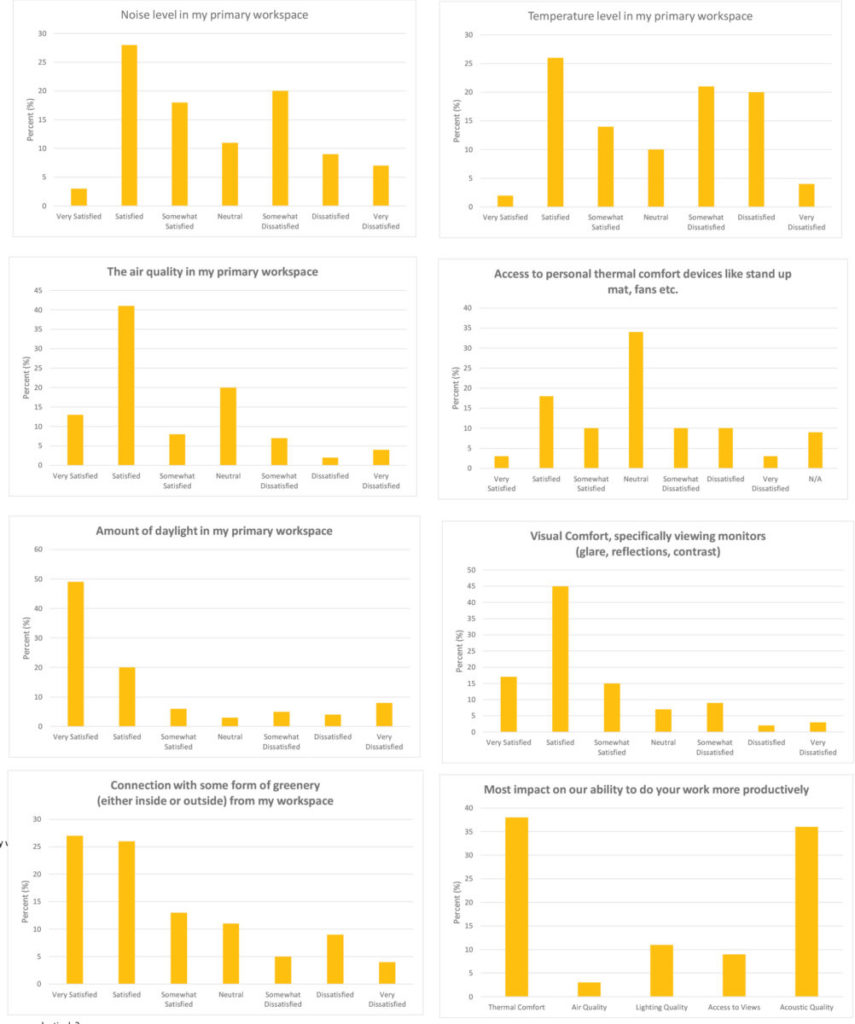 KEY FINDINGS
• The greatest impact on employees' ability to work is from thermal comfort and acoustic quality, according to the survey.
• Daylight, visual comfort, air quality, and connection with outdoors are generally in the satisfactory range per survey.
• Temperature and noise are the most frequently cited causes of employee dissatisfaction.
Survey responses to personal thermal comfort devices was largely neutral.
RECOMMENDATIONS
• Consider pink noise machines to increase acoustic comfort in open office areas, as implemented at Denver office.
• Create small spaces where employees can take calls that would need more acoustic privacy.
• Consider adding acoustic panels in some places in our workspaces
• Encourage adaptive comfort in offices through flexibility in clothing policies.
• Create a cool/hot zone in a portion of an office where staff can take their laptops and work in case they are feeling hotter/colder than the typical employee.
• Use personal thermal comfort devices or hyper-chairs.
September -
Paper
Did you know every Cuningham Group employee uses 8,000 sheets of paper per year?
After a terrific meeting with the administrative team, convened by Danika Larson, we decided we'd try to start measuring some of our office supplies, and what easier place to start than paper (or so we thought). Thanks to a lot of investigation by the EIS team we have learned that Cuningham Group currently consumes approximately 29,300 pounds of print paper per year. That's about 8,000 sheets of paper for every one of us!
Working with Allie Peck in the Denver office, we estimated the company uses another 1,350 pounds of sketch paper. The total weight of 30,650 pounds does not include paper brought into our offices by vendors and suppliers, or paper used to print our design documents that are delivered directly to others, such as Contractors and Clients. And it excludes paper towels, toilet paper, and facial tissue.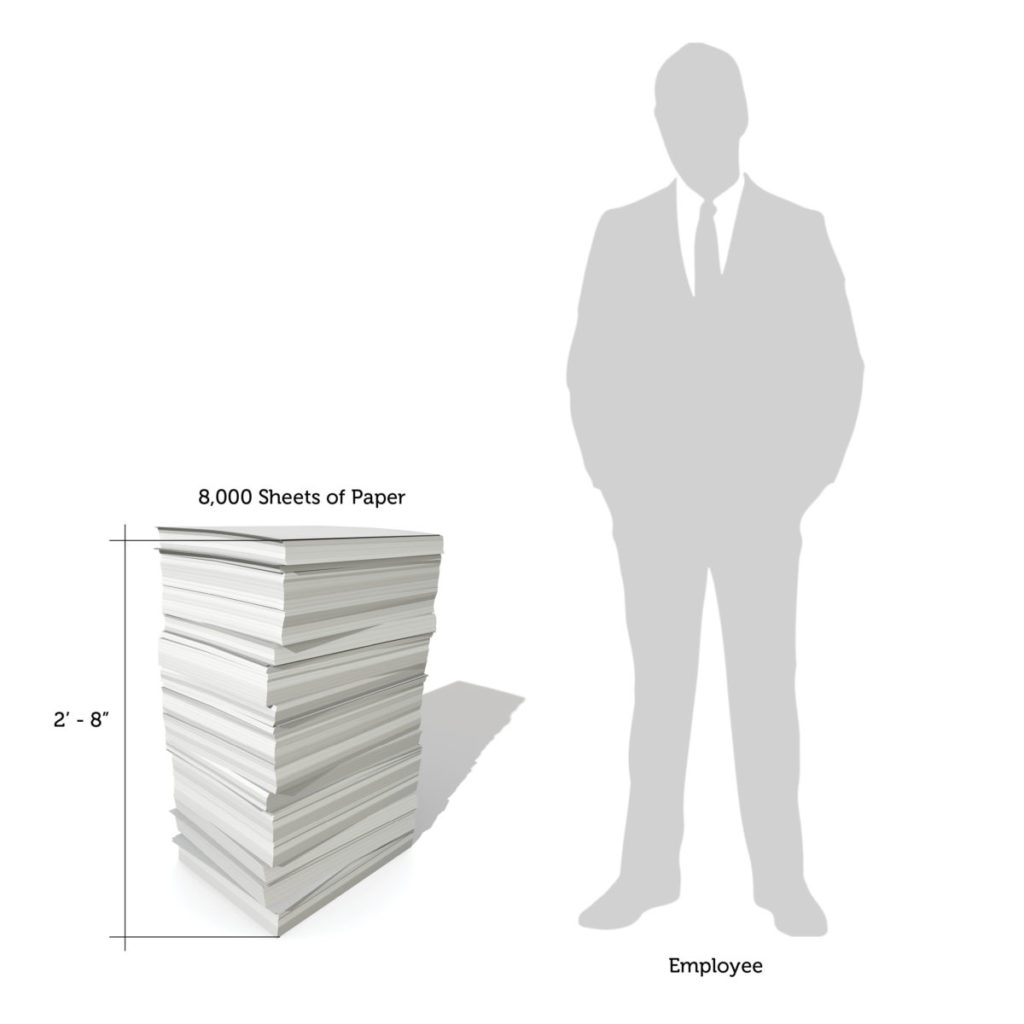 KEY FINDINGS
• We used 22,000 pounds of copy and print paper in 2018.
• We used approximately 1,350 pounds of drawing trace paper.
• The Phoenix office used the highest amount of printer paper per employee and the San • Diego office used the least.
• The Minneapolis office used the highest amount of printer paper per square foot and the Las Vegas office used the least.
RECOMMENDATIONS
• Switch default mode to double sided for all printers. DONE.
• Maximize recycled content for ALL paper products purchased by the firm.
• Utilize electric hand dryers in all future renovation or TI projects including restrooms.
• Conduct an annual paper survey to measure the total amount of paper purchased, with a goal of reducing paper use per employee every year.
October -
Fitness 
To understand how the fitness levels of our employees have a direct impact on our productivity, we spent October determining where we currently are, and developing ways we can improve. The results provided came from an internal, voluntary survey.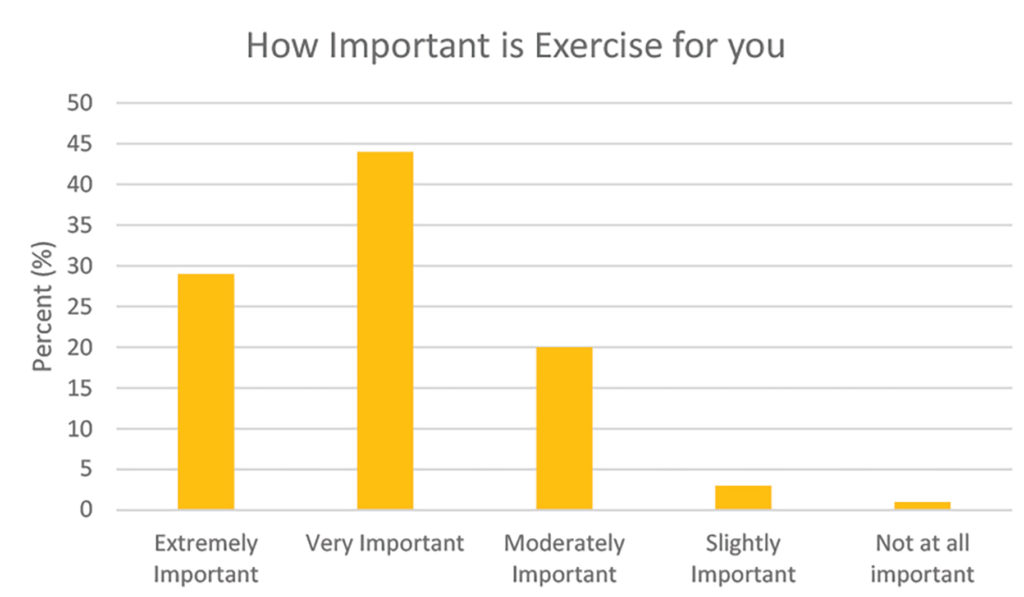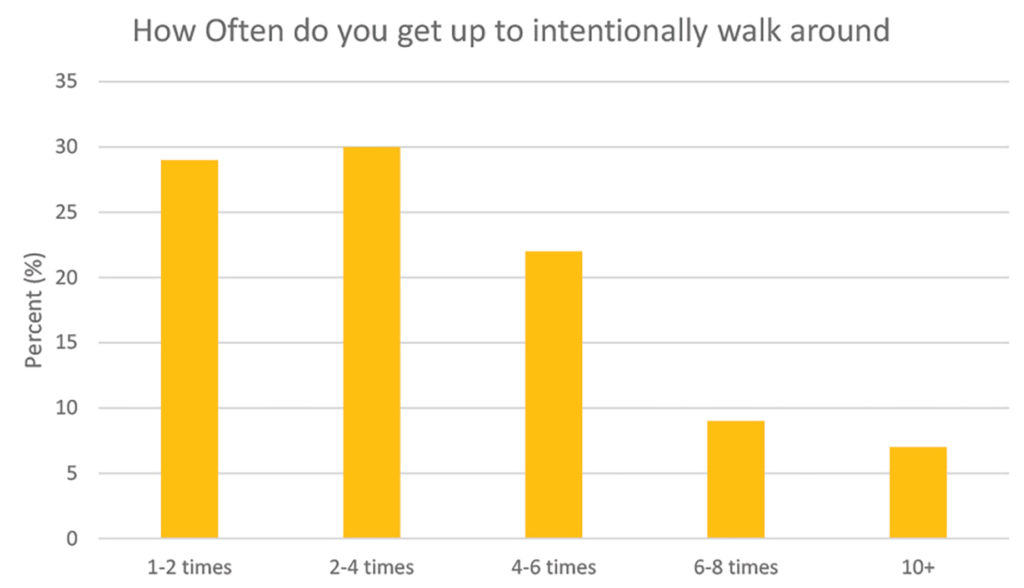 KEY FINDINGS
• 80 percent of our employees get outside for fresh air at least once per day.
• Only 6 percent of our employees exercise every day, but 87 percent exercise at least 1-2 times per week.
• Walking and running are our most popular physical activities. Yoga is our third most popular activity.
RECOMMENDATIONS
• Use Fitbit data as input to health insurance for rebate. (Accomplished)
• Promote employees leaving desks multiple times per day to seek fresh air and daylight outside.
• Provide shower facility at every future office location.
November -
Energy
Energy efficiency has been a paramount concern of the Green Building movement from the beginning. The most LEED points by far are in the Energy and Atmosphere category. Although we are keenly interested in the wellness of the environments we create and the resiliency of our built environment, Energy remains an important issue, as it should. Three recently released reports make the same unequivocal point – to avert global catastrophe we need to rapidly curtail greenhouse gas emissions that derive in large part from building construction and operations. Those reports are:
IPCC Special Report on Global Warming, dated October 2018
WWF Living Planet Report, dated Oct. 30, 2018
U.S. government National Climate Assessment, released Friday, Nov. 23, 2018
The projects closest to home are our own offices. During 2018, we gathered energy-related utility information for the past year on our U.S. offices. In some cases, we have actual bills, and in others we had to estimate our office energy use from total building bills. We calculated our overall office Energy Use Intensity (EUI) and compared that to industry standards.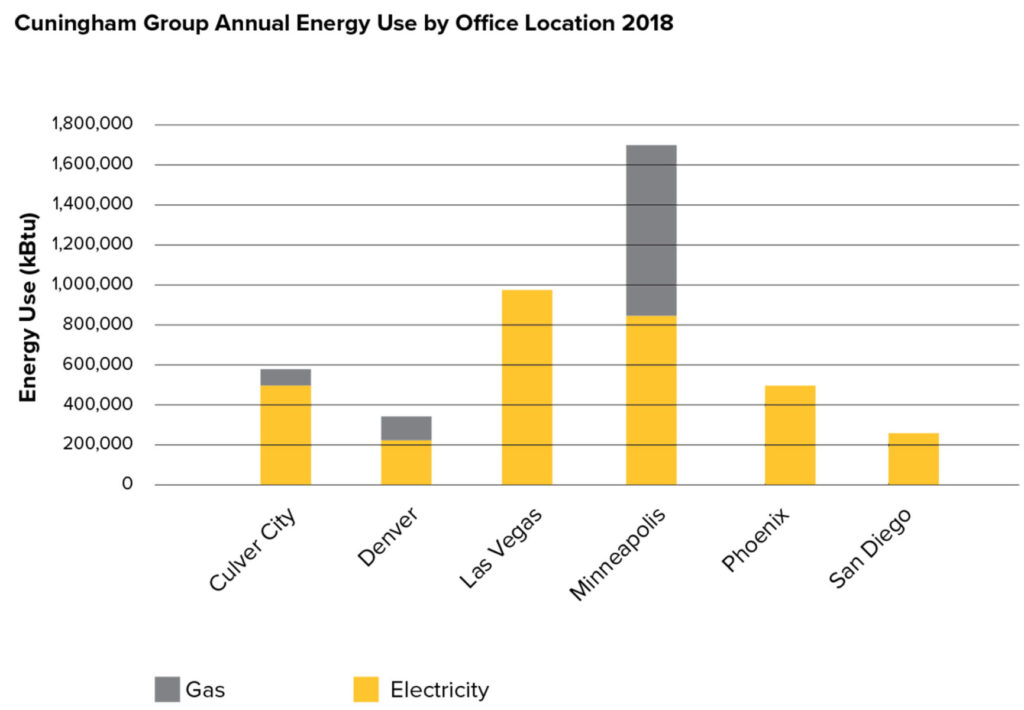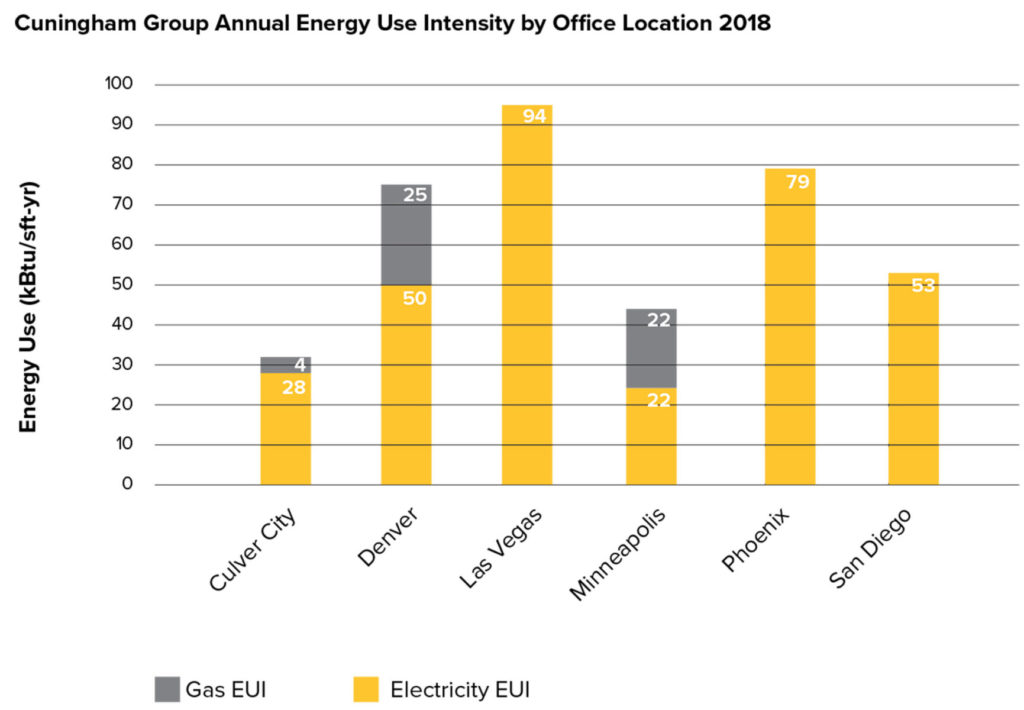 Key Findings
• Our office average Energy Use Intensity is 63 kBtu/s.f./yr. The average U.S. office (less than 10,000 s.f.) is approximately 74 kBtu/s.f./yr and 10,000 s.f. to 100,000 s.f. is approx. 90 kBtu/s.f./yr
• Our most energy efficient office per s.f. is Culver City at 32 kBtu/s.f./yr and our least energy efficient office is Las Vegas at 94 kBtu/s.f./yr. This is largely due to climate differences and operational practices of each office.
• Only Minneapolis, Denver, and Culver City use natural gas for heating.
• All our U.S. offices used a combined 972,178 kWhrs. and 10,277 therms.
RECOMMENDATIONS
• Collect monthly utility data from every office where available and enter into database.
• Run yearly Energy Use Intensity model for every office location.
• Understand each offices lighting, plug load, and HVAC controls and control sequence and make sure it is optimized to occupancy schedule for each office.