Equity & Diversity: Gender Diversity
Cuningham Group conducted a presentation series this year on Gender Equity and Diversity. Organized by a team of our employees, we discussed the factors that go into making a firm successful. Cuningham Group continuously strives to be a leader in equity and diversity, which we view as a main component of firm success. Throughout the sessions, employees were encouraged to participate in thought-provoking discussions and lend their perspectives on the firm's efforts to improve equity and diversity.
Gender Diversity
Cuningham Group architect, Amy Kalar, led the Gender Diversity discussion in partnership with AIA Minnesota. Amy explained the different experiences of women in architecture versus men in the profession. She revealed that women tend to have fewer opportunities for success compared to men. Amy shared statistics that attribute this to the fact that women have a higher tendency to turn down promotions, are more likely to leave the field due to family and childcare obligations, and are less likely to receive the same career advice and options as men. How can we change this? Amy talks about the value of diversity in Architecture in her discussion "The Business Case for Women in Architecture."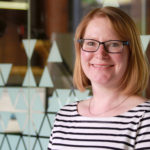 Amy Kalar is a registered architect at Cuningham Group with over 15 years of experience in the field. She works in the firm's Grow market group and serves as Project Manager on various education-based projects. Amy is also a member and co-founder of the American Institute of Architecture (AIA) Minnesota's Women in Architecture Committee. The Women in Architecture committee was founded in 2014 with the purpose of promoting "a strong future for the architecture profession by advocating for women in architecture through recognition, networking, professional development, and mentorship." Today, Amy continues to advocate for women in Architecture and sheds light on the daily issues that women face within the profession.
Learn more about Equity & Diversity here.