Chelsea Woods Receives 2018 AIA Minnesota 25 Year Award
Chelsea Woods
development has 'stood the test of time because of good design'
AIA MN
announced that Cuningham Group has received the 2018 25 Year Award. Led by John Cuningham, Chelsea Woods was designed more than 45 years ago and features townhomes and detached, patio-style homes that blend seamlessly into the surrounding natural setting. In addition to designing the homes, significant planning and landscape architecture work was done to preserve trees, deepen ponds and protect the watershed.

The homes are staggered and placed around cul-de-sacs to provide privacy, but are also placed on zero-lot-line sites to increase density. Paved walkways connect outdoor spaces and amenities that include swimming pools and tennis courts. The community includes a wide variety of residents, from young families to retirees who have resided here for more than 40 years.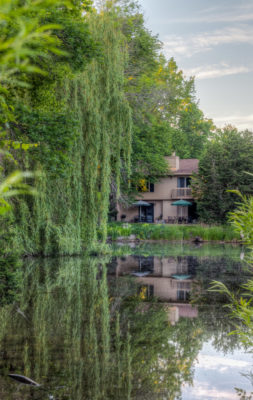 The jury reflected the following when assessing Chelsea Woods:
The project differentiates itself from other developments in the area.
It's an excellent example of how the best planning, service to residents and is a forebear of 21st Century development.
The project embodies AIA Minnesota's core values very well (integrity, inclusion, passion, empathy).