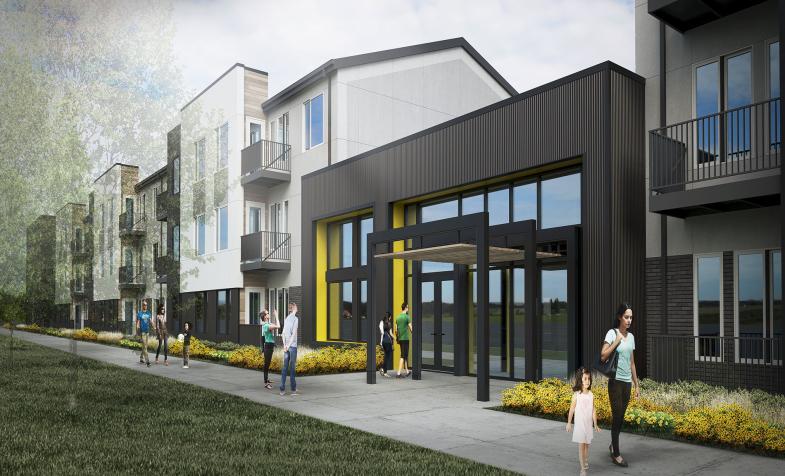 Denver, CO – A groundbreaking will be held on Friday, April 6 for a new affordable and healthy-living development in Denver's Bluff Lake Neighborhood of the Stapleton Development. Cuningham Group Architecture, Inc. (Cuningham Group®) partnered on the 180-unit with its client, Northeast Denver Housing Center. Moline at Stapleton is a public-private development using Denver's Revolving Affordable Housing Loan Fund.
Moline at Stapleton is the second project Cuningham Group is working on with Northeast Denver Housing Center, a nonprofit dedicated to affordable housing development. The project is driven by a commitment to create healthy, community-focused housing opportunities for Denver's underserved household.
The development is in close proximity to parks, trails and a nature center. "The development is intended to address the isolation of affordable housing and instead foster connectivity with the community through massing and scale, along with pedestrian walkways," says Erik Okland, associate principal of Cuningham Group. "The building is designed into small clusters which are arranged in a three-story walk-up building form. The groups of units create small communities within the development, nurturing strong ties between neighbors and making a more welcoming environment for residents."
WHAT:        Groundbreaking of Moline @ Stapleton
WHEN:        9:30 a.m. (MDT), Friday, April 6
WHERE:      Moline Apartments: 2820 North Moline Street, Denver, CO 80238

About Cuningham Group: Celebrating 50 Years of Uplifting the Human Experience
Founded in 1968, Cuningham Group has earned an outstanding reputation for delivering excellence in architecture, interior design, urban design, and landscape architecture for a diverse mix of client and project types. Awarded the American Institute of Architects Minnesota Firm Award, the firm is consistently recognized as a design leader and has grown to nearly 400 employees in offices in Minneapolis, Los Angeles, Las Vegas, Biloxi, Denver, San Diego, Phoenix, Seoul, Beijing and Doha.  For more information, please visit cuningham.com.