A Midcentury Landmark Finds A Renewed Life*
*This article was featured in the August 26 Issue of the Arizona Republic.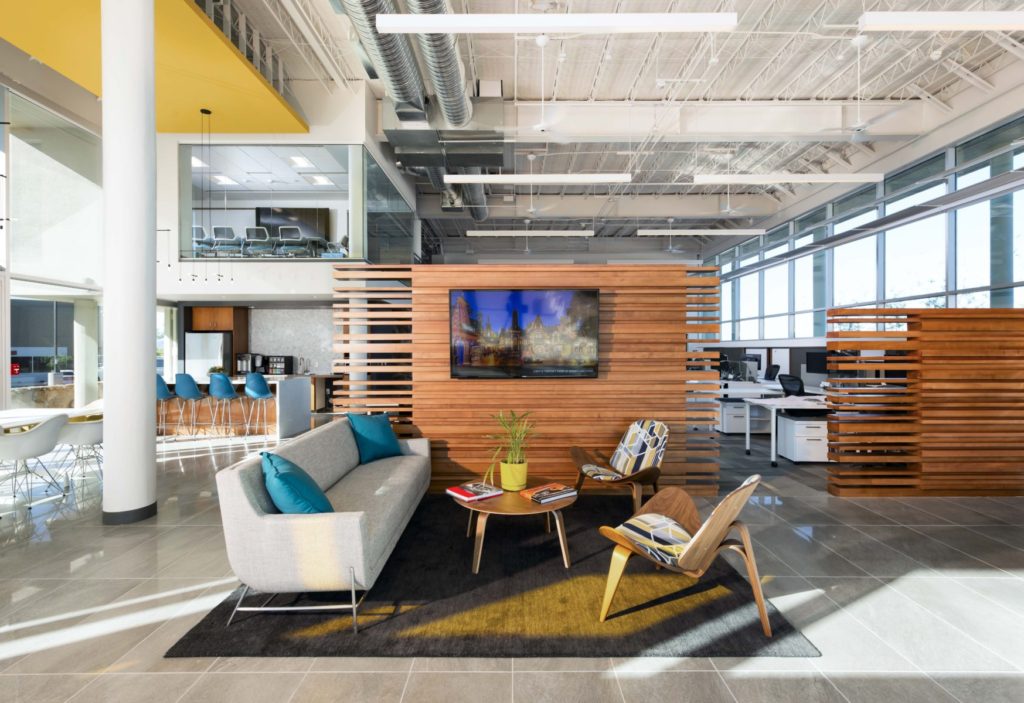 What is it like to work in a landmark? Absolutely inspiring!
That's what we have discovered over the past few months since Cuningham Group Architecture, Inc. settled our Phoenix operations into the historic Farmers & Stockmens Bank building. The Midcentury Modern landmark - an approximately 6,000-square-foot building at 5001 East Washington Street - was designed by the internationally renowned architectural team of Pereira & Luckman in 1951.
Our team had been looking for new space when we came across it sitting vacant over a year ago. We immediately recognized it as a great building. Our architects and interior designers were excited to enhance its character while allowing ourselves comfort and creativity.
An Inspiring Space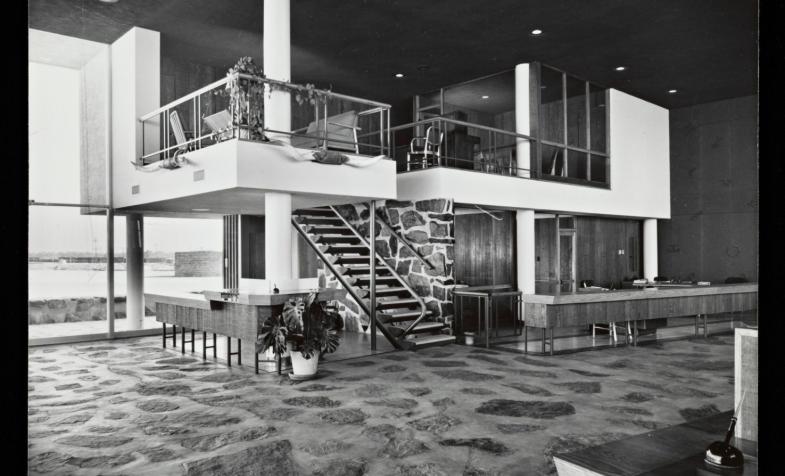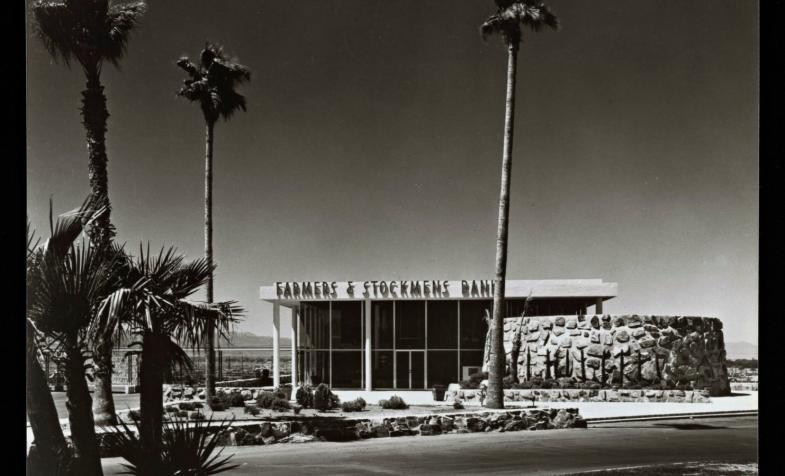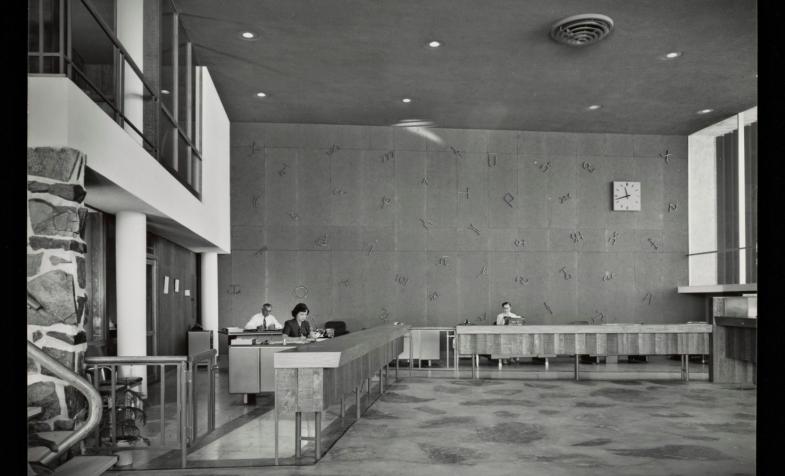 The former bank is one of just two Phoenix structures by Pereira, who is famous for the great Transamerica pyramid in San Francisco and Theme building at LAX, amongst others. There is a pure simplicity to its clean lines and open spaces. We opted for low work stations to create a collaborative environment. This combination inspires communication that walled-off offices or cubicles simply do not provide. The lack of physical barriers also gave us the flexibility to create a variety of meeting spaces, including conference and video-conference rooms as well as open collaborative work spaces.
At the same time, the building has its own dramatically unique spaces: The "doughnut shaped," desert-masonry, bank vault structure, with its enormous vault door, encloses our unique curved video-conference room. It is outfitted with tubular skylights to bring daylight through the roof without disrupting the iconic, curved walls. The mezzanine floor, overlooking the original bank lobby, is now a clean, open work area and houses a transparent glass box for client meetings.
Enduring Charm
Meetings, in fact, are a joy here. Our clients are intrigued by the building's history and by our designs for the interior, employing all Midcentury-inspired furniture and colors. And the teams from our other offices around the country are decidedly envious. Cuningham Group regularly upgrades all its offices, and we can do beautiful interiors work in any building. But none of our other offices quite matches this one.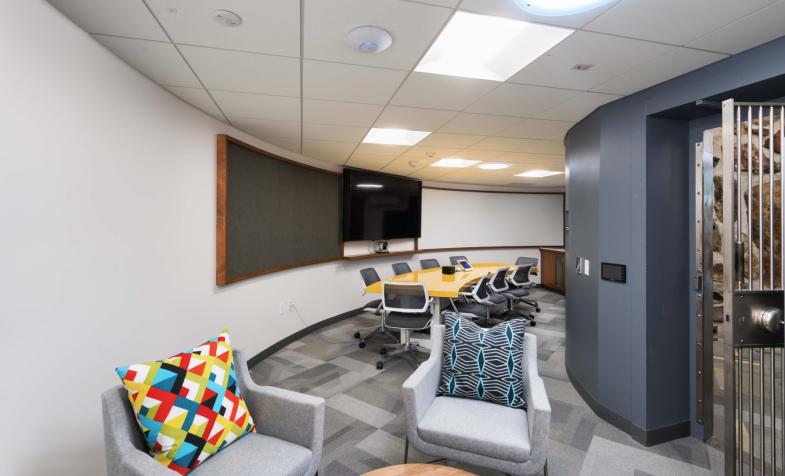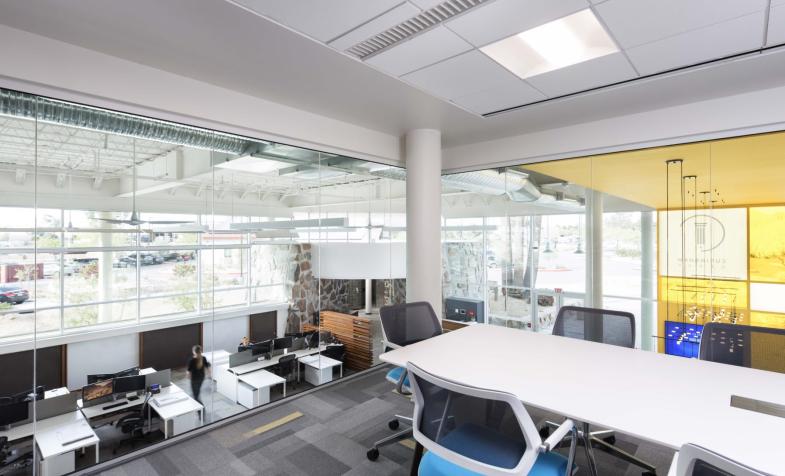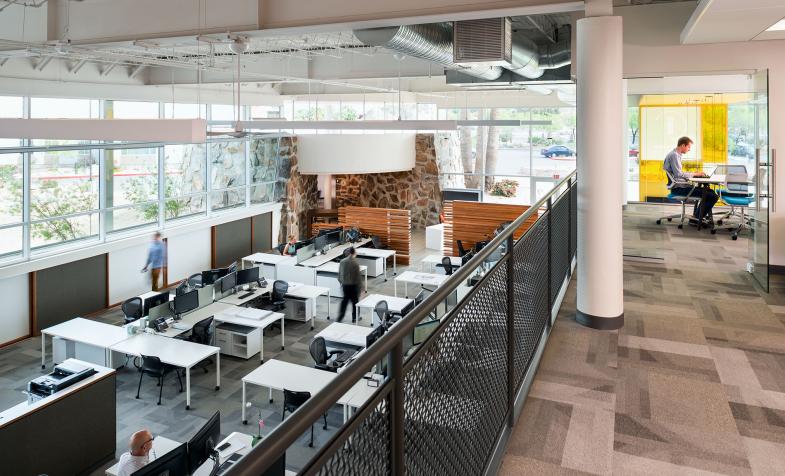 Much of its charm derives from Pereira's particular rendering of the Midcentury style, a period that has proven to be timeless because it is true to itself. Authentic Midcentury architecture does not require applying exterior motifs to look different. Its structure is visible throughout - in this case, in the clean, clear lines of the curtain wall and the contrasting masonry.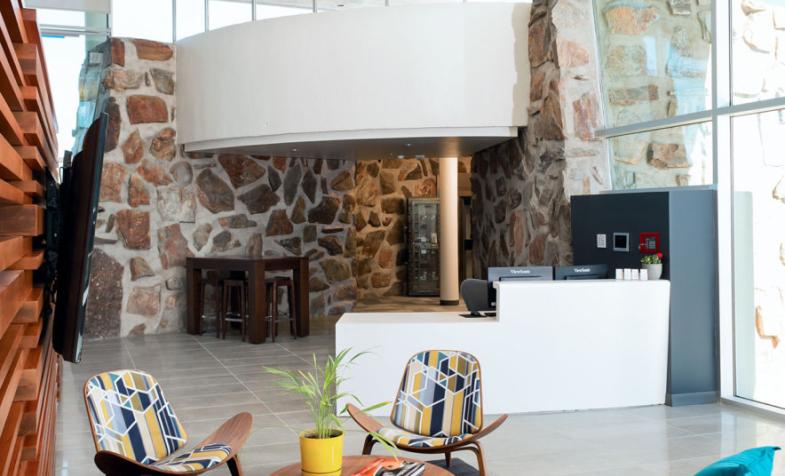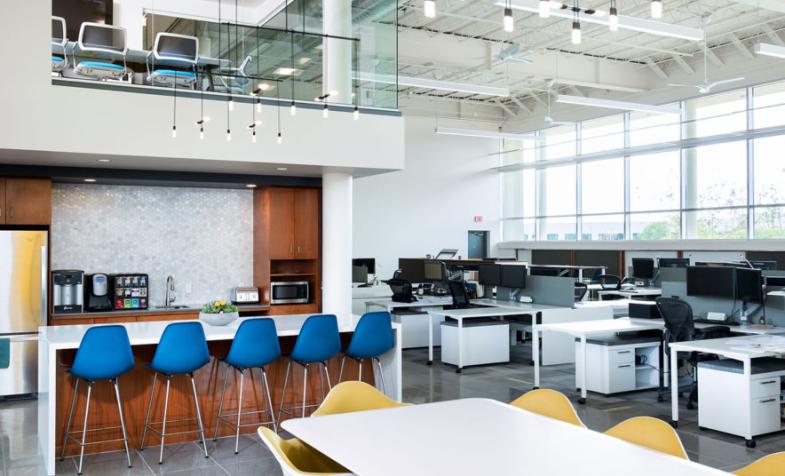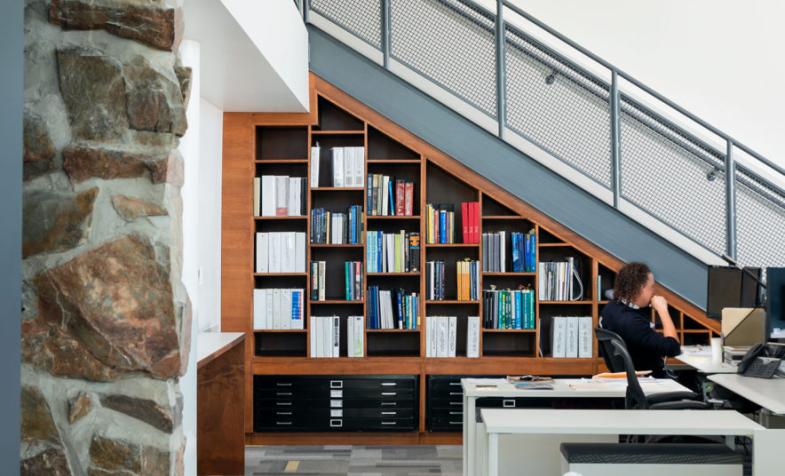 We've also found that the space livens up morale among our team members. People are inspired by the environment and express a sense of ownership in the building. For architects, especially, there is something about working in a place created by a genuine master that inspires one to pay close attention to the details of any project. We added our favorite office music with a wireless sound system, adding freshness and creating a positive flow of energy.
---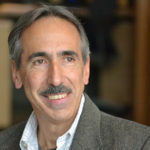 Nabil Abou-Haidar, AIA,
Principal and Senior Living Architect in Cuningham Group's Live/Work Market Group
Nabil is a nationally-recognized architect with more than 34 years of experience whose primary focus in the past 21 years has been the planning and design of senior living communities in Arizona and throughout the United States. As a principal and the Senior Living Practice Leader, Nabil is primarily dedicated to the design of senior communities including skilled living, Alzheimer's care, sub-acute care and independent living projects.