As Competition Heats Up, Creative Amenities Grow*
*This article was featured in the September Issue of Colorado Real Estate Journal, read the full article here.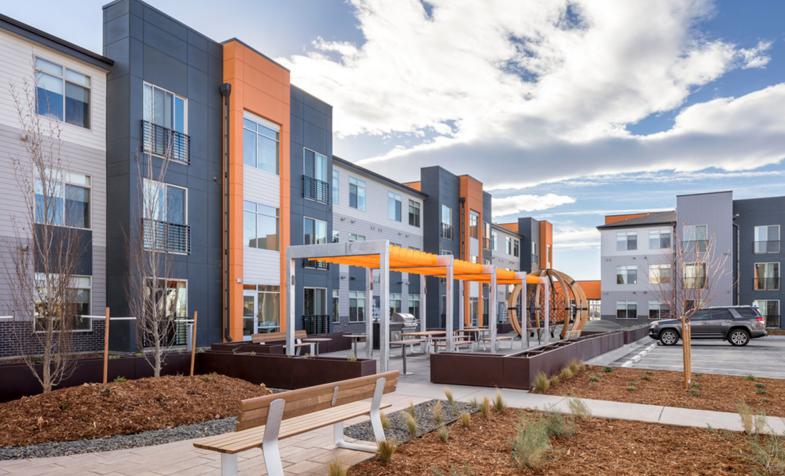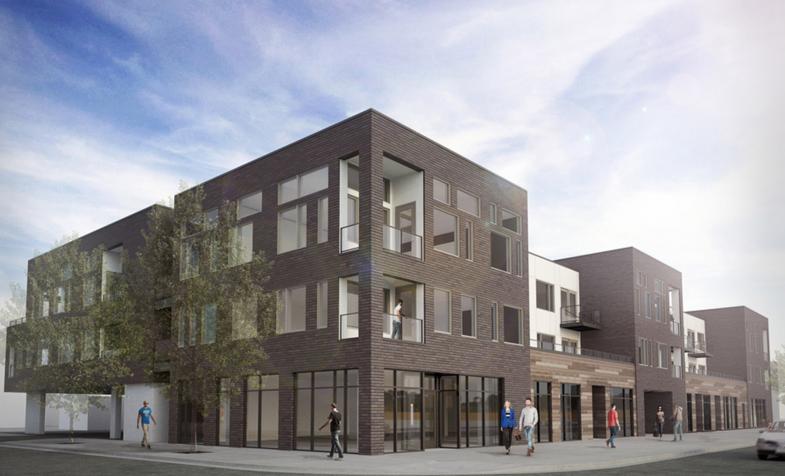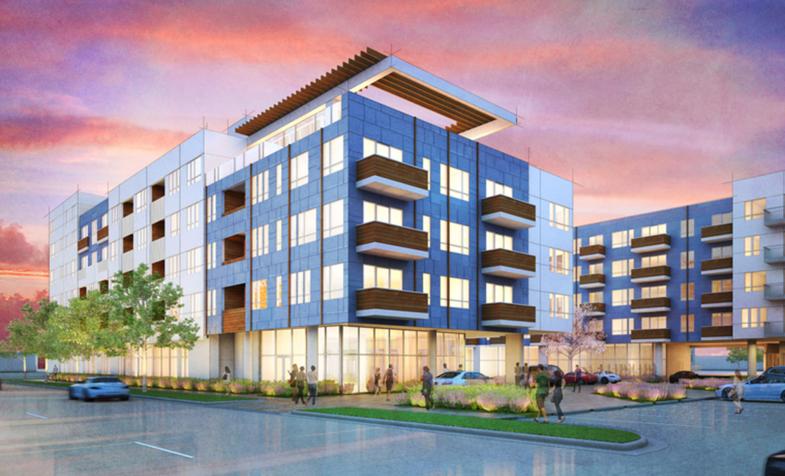 As Competition Heats Up, Creative Amenities Grow
The rapid rise of apartments in Denver is staggering, pushing developers to seek project elements that position them above the crowd.  While well laid-out unit floor plans and distinctive exterior designs are pushing the envelope of cost and creativity, another distinguishing feature is amenities.
Amenity features are becoming the hot selling point with perspective tenants and demand is rising beyond pools and fitness centers. Today's current market trends not only mimic the lifestyle and activities of millennials, but also transfers across most age groups who are looking for a similar lifestyle.
Pool and fitness centers are becoming larger and bordering on hospitality or commercial proportions.  Multiple social spaces are also becoming more common and feature indoor and outdoor gathering spaces with grills and TVs, and demonstration kitchens are being installed for "foodie" groups – all in an attempt to draw people to social events and to interact with follow tenants.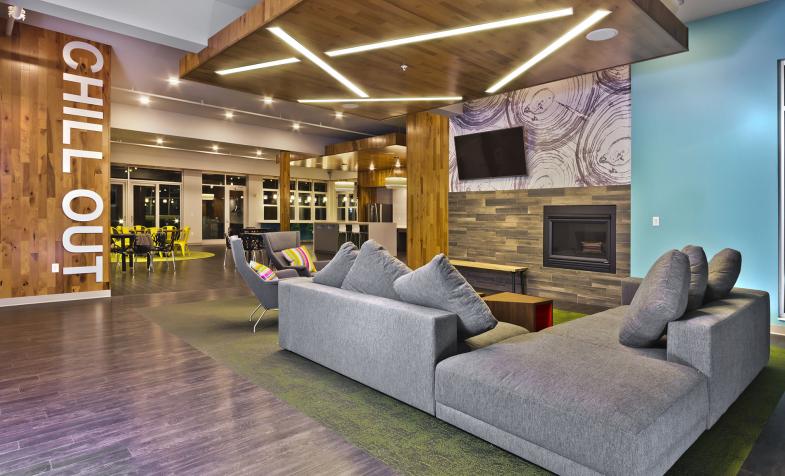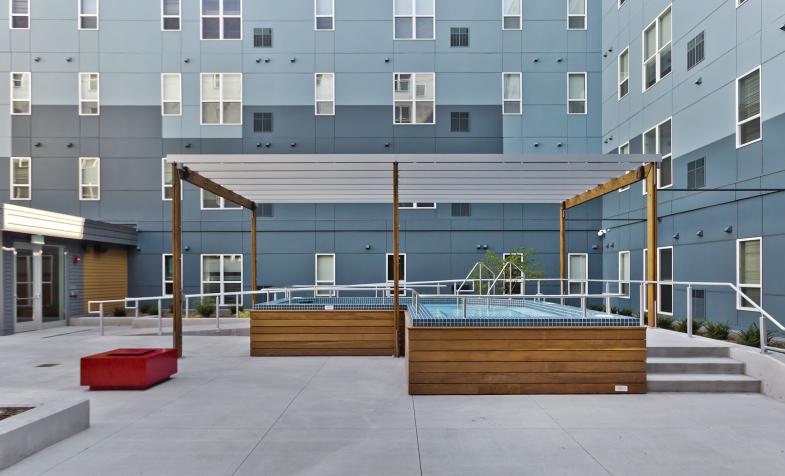 For sports-oriented tenants, golf and ski simulators are appearing in some projects along with climbing walls and indoor basketball courts.  There are dedicated yoga rooms and even massage rooms for after-workout routines.  Gear rooms for bike repair and ski tune-ups include areas to wash off mud from mountain bikes or grim from road bikes.  There are also loaner bikes on some properties, allowing tenants to borrow for commuting around town.
A large proportion of Colorado renters are dog or cat owners. The industry has captured this market by providing dog washes and spa amenities, including treats at the front desk and wash areas and dryers.  Catering to pet owners doesn't seem to be slowing and are increasingly becoming project focal points.  In the future, we may see more connections to veterinary offices and boarding facilities with training and behavior classes at the property.  Dog wash areas are graduating from the stainless steel tubs in the back room to large-room-sized showers near the front of the building.  In addition, there are plenty of ground floor units with large yard spaces for dogs to roam.
On the opposite spectrum, I recently worked on a project that intentionally prohibited pets from the building.  This proved to be successful with non-pet owners who preferred an animal-free development.  While not a large project, the owner realized there was an opportunity in that market.
As a growing number of young people telecommute, workspaces and conference rooms on the property are growing in popularity.  The increase in shared workspaces and business centers is also an opportunity to expand these services in other markets. For instance, these spaces provide study areas for students attending nearby colleges and universities.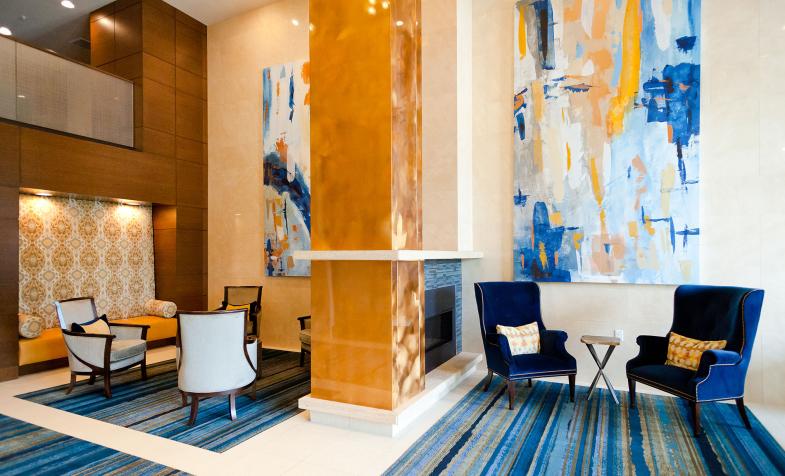 Industry insiders agree that projects must deliver a basic list of amenities, and competition is growing to meet market demands.  Amenity spaces are getting larger while unit sizes are trending smaller.  I've asked developers, architects and interior designers their thoughts on the next trend in amenity spaces and they all agree that they're monitoring what the target market is doing in terms of social and recreational activities and how they can provide these amenities on their properties. What's clear is that residents want to get out, socialize and interact with others in the venues in which they live. Maybe Denver will see its first paddle board pool and shared workspace with reserved offices and conference rooms in the near future.
---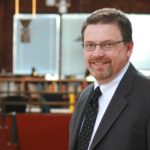 Erik Okland, AIA, NCARB, LEED® AP BD+C
Associate Principal and Architect in Cuningham Group's Live/Work Market Group
Erik has over 30 years of experience designing and managing a wide range of project types, his main focus over the past 18 years has been developing urban multi-family projects within the Denver Metro Area.  He currently serves on the Highlands Ranch Design Review Board and the Urban Land Institute Housing Committee along with being the past chair and current member of the AIA Denver Housing Committee.