Groundbreaking for New St. Cloud Tech High School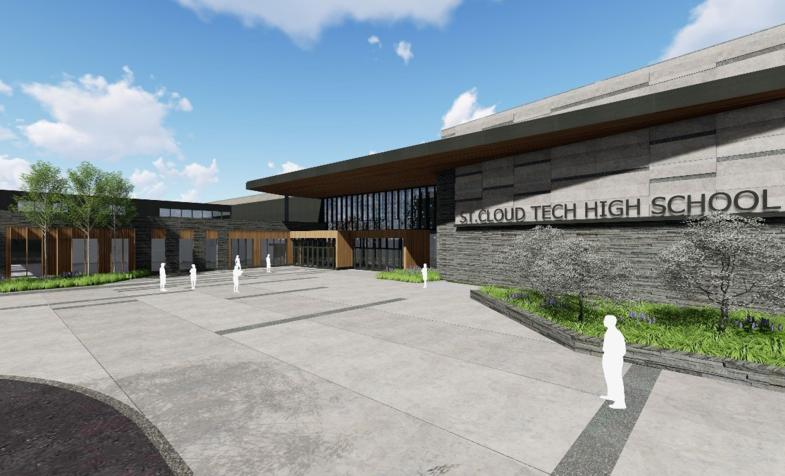 Groundbreaking for New St. Cloud Tech High School
Ceremony to Celebrate Construction of Innovative Facility for Students
Design Reflects District, Community's Vision for Future
St. Cloud Area School District held a groundbreaking ceremony at 4:30 p.m., on Monday August 28, for the new 324,000-square-foot St Cloud Tech High School. The facility, set to open in the fall of 2019, will accommodate 1,600 students in grades 9-12.
Designed by Cuningham Group Architecture and IIW Minnesota, the building will be divided into six integrated learning communities on two levels and will feature a combination of flexible learning spaces, group collaboration spaces, project and science labs and collaborative teaching spaces. The design is intended to be adaptable for the future, support a variety of learning styles and foster global preparedness.
"St. Cloud Area Schools eagerly announces the groundbreaking for the new Tech High School," said Superintendent Willie Jett. "This event marks an exciting phase of development for our district and this community. We are grateful for the ongoing partnership with Mayor Kleis and the City of St. Cloud. We also extend our sincere thanks to our broader community for its support of our vision."
The building's design was inspired by the site's diverse landscape which includes woodlands, granite outcroppings and a designated trout stream. The design team nestled the building along the north woodland edge and each of the learning neighborhoods will open and be connected to the woods and stream, providing a connection to nature from any location in the school.  The site inspired an environmental studies curriculum and the building will include designated outdoor learning spaces.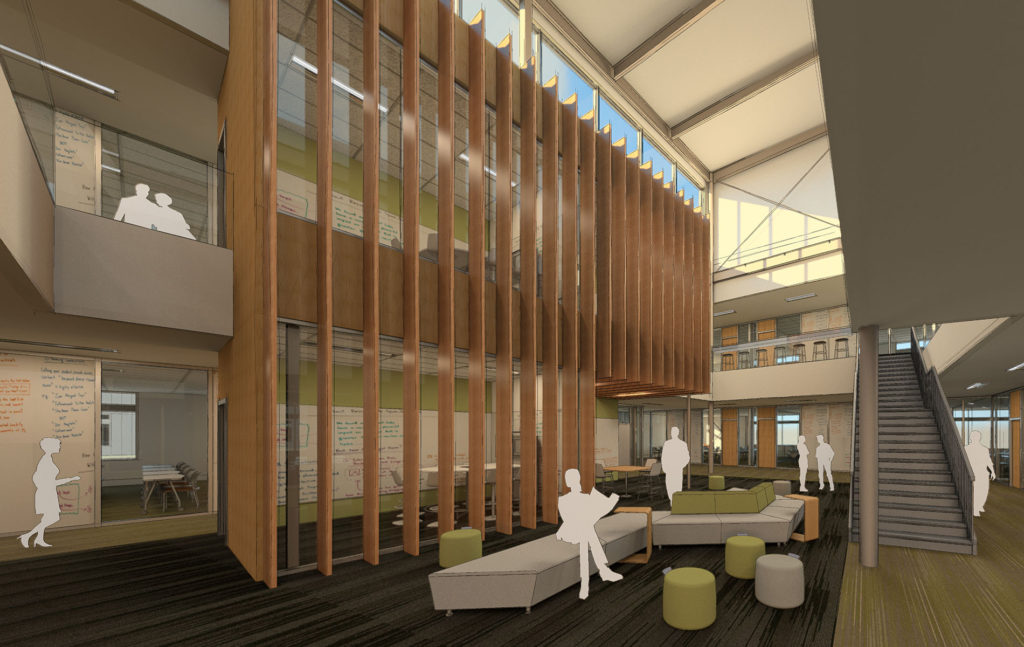 Career and technical education spaces will be integrated throughout the building. "The building was designed to allow for a diverse educational program," said Scott Krenner, senior associate and project designer at Cuningham Group. "Specialized and advanced learning spaces have been strategically distributed throughout the school diagram, providing exposure to kids throughout the day.   Holistically, the building has been designed to see and experience learning wherever you are in the school."
At the heart of the school is a two-story commons area that features walls of glass overlooking the landscape. In addition to school functions, the large space is intended to be used for community events.
Voters approved construction of the new school in November. "I've been working with the district regarding the future of Tech High School since 2005," said David Leapaldt, senior architect and project manager at IIW Minnesota. "It's gratifying to see all the planning coming together and to see the new high school start construction. It will be a phenomenal school for students and staff, and an asset to the community."