Livable City, Sustainable City, Green City, Smart City
Livable City, Sustainable City, Green City, Smart City
Let Portland and other cities pursue these trendy accolades. They will all be so 2012 in a few years. Our real aim should be to be the Most Loveable City.
Why, you ask?
Because if we love our city and our city loves us, we will thrive together. We will persevere not just through winter storms, but through prolonged recessions and drastic state cut backs [like a happy couple endures parenting a difficult child and holiday dinners with their great-aunt Phyllis.]
Too touchy feely?
Tell that to the Knight Foundation and Gallup Organization, which conducted a 26-city study that determined an emotional attachment to a place renders one more likely to invest, stay and commit. In fact, emotional attachment results in stronger local economic growth, greater entrepreneurship, more resilient economies, and greater social capital.
But how to create a loveable city?
The Knight/Gallup study concludes the top three things that help people feel connected to their community are the area's physical beauty, opportunities for socializing, and the city's openness to people.
What if all public investments used those criteria as a litmus test for funding, adequately proving that your project meets all three criteria would be required to be fully funded. One for three? Drop down the list. We need to support projects with a high emotional return on investment; projects that help create an unbreakable bond between us and our city.
How might a city show its love to its people?
Like a true friend, she connects with you at your most vulnerable times. Instead of focusing on alleviating traffic congestion for suburban commuters, enforcing petty building codes, or building another "destination entertainment center" for tourists, what if our city had day care centers at every park, health clinics in every neighborhood, and employment resource centers at every library? Who wouldn't feel embraced by that city?
How do we reciprocate? First, we commit to knowing our City. Not just the pretty parts, but the not so pretty, too. We would convert the underside of freeways into skate parks, and remnant forgotten properties into urban gardens.  Then, we need to commit to recognizing and celebrating everything about her - not just her fine chefs, but her music, artists, unique physical character, ideas, places, and the cornucopia of her people, too.
Learn more
"Got Love for Your Community? It May Create Economic Growth" (Knight Foundation)
"Knight Soul of the Community" (Gallup and Knight Foundation)
"Smaller U.S. Cities Generate More Loyalty and Passion" (Gallup)
---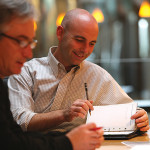 By: Andrew Dresdner, AICP
Andrew has 15 years of experience in urban design and urban planning for both private and public clients. His focus has been to use the design process in a public forum to collaboratively solve urban and neighborhood problems. Andrew is particularly skilled at managing diverse viewpoints to create solutions that add value to both public and private interests.