Making Cities More Human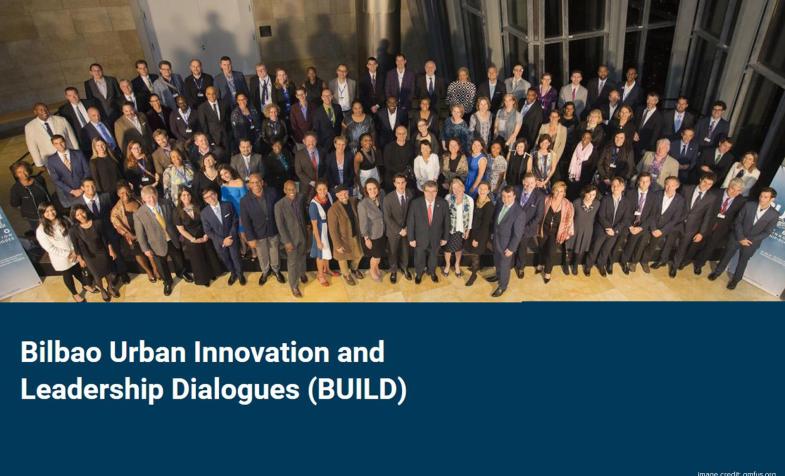 Making Cities More Human
BUILD Bilbao:
Bilbao Urban Innovation and Leadership Dialogues
October 25-28, 2016
BUILD Bilbao is graciously convened by The German-Marshall Fund of the United States (GMF). As an invitation-only event, BUILD 2016 brought together 140 participants from 60 cities and 13 countries to discuss and explore urban transformation in a digital age. During my week in Spain, I was able to see the transformation that occurred within Bilbao itself, as well discussing how to anchor "smart cities" within their communities, and lead change by building and exercising social capital.
Opening Plenary
The Opening Plenary kicked off with remarks from Juan Maria Aburto, the Mayor of Bilbao. He provided an insight that resonated with me and is in line with what is being said about equity and urban design by members of our global community, including Pope Francis, numerous U.S. cities, and now the Mayor of Bilbao.He said,
 "Cities must be more human. Social cohesion is
critical to economic development."
This thread continued to be present throughout the conference and I will return to it in discussion of plenary sessions. The panel continued with a video presentation about global forces that we need to pay attention to and the importance of how they will shape our world for decades to come. The video and link to the e-book are below.
No Ordinary Disruption: The Four Global Forces Breaking All Trends:
https://www.youtube.com/watch?v=upmVIx2tm7o – video
http://www.mckinsey.com/mgi/no-ordinary-disruption - e-book
How can we tackle these trends in ways that will set precedents? By adopting a prototyping mentality similar to Silicon Valley. Since cities are notoriously slow-moving, they need to become more agile and adaptable, testing-failing-testing-succeeding with ideas, and not being afraid.
Key takeaways:
Cities with a 19th Century basis in manufacturing may have an upcoming advantage for the trends moving towards material sciences and production.
What are all the retired boomers going to do with their time? Opportunities to think about building talent pools with established expertise that cities/companies/non-profit organizations can draw from to enhance their knowledge base.
Successful cities will know their DNA and build off that context.
Tier 2 cities will have opportunities to become Tier 1 as the current cost of living increases paired with how they predict and act on ideas.
Economic exclusivity is a major issue for retaining social cohesion, and technology exacerbates this.
Successful cities are those in which public and private agree on a focal "northstar" and pursue it together.
[caption id="attachment_16283" align="aligncenter" width="1200"]

Image Credit: gmfus.org[/caption]
Smart Cities – Pivot to Place
The Smart Cities session was an open conversation on what it means to be a "smart city in community" and how to ground this phenomenon in a people-based, place-based approach, leveraging place-based strategies to ensure more inclusive, equitable, and innovative growth. ARUP defined this as, "cities, businesses, governments who are well-connected and well-informed."  Another description – "the use of digital technology to solve timeless urban problems."
Immediately the question arose about the moniker itself – if there are "smart cities", are the rest of the cities "dumb"? Whatever the nomenclature, being smart means putting the people first. A similar sentiment followed – we really don't need a definition of "smart cities", we need to focus on context and enable the local populations to thrive.
If our cities are to be truly "smart", they need the ability to leapfrog over antiquated processes. Cities need to prioritize functional mobility and digitalized infrastructure to remain attractive to workers. Outdated environments are not attractive – don't wedge the youth of tomorrow into the jobs of yesterday. A digitalized infrastructure speaks to the central mode of communication in the 21st Century – if the internet doesn't work well, that affects all data-driven ideas.
Technology is exploding in cities:
3 Billion mobile subscribers by end of 2019
IBM, Cisco, and Siemens are moving from corporate to government uses
Annual "smart cities" technology keeps quadrupling – two to three percent of
global infrastructure spending.
Smart Cities have achieved the following to date:
Unleashed transparency – availability of government data
Reprogrammed mobility – Uber, Lyft, Smart Transit
Devolved sustainability – individual and small groups focus, rather than city-scale only
Rethinking of service systems – education/healthcare/crime
Digital Master Plans:

NYC Digital Roadmap
Smart London Ecosystem Stakeholder Map
Smart Chicago Collaborative
We also need a balance in "smart cities" – Digital Zombies vs. Human Connection. With Wi-Fi everywhere – even outside in parks and plazas – are we reinforcing our disconnection with the natural world while simultaneously staying constantly connected to the globe? Another place where balance is needed is within the expectation of instant gratification. With an internet infrastructure built on "likes" and other instantaneous responses, how do we help communities see that true city-building is a slow process that requires deeper involvement to be truly successful?
Street to C-Suite: Leading Change with Social Capital
Social Capital comprises the benefits that result from trust, reciprocity, information, and cooperation within social networks. The potential for collective action, mutual assistance, and knowledge sharing are exponentially increased for urban leaders who have the motivation and skills to expand their social capital beyond the usual suspects.
The key to utilizing this type of capital in a more effective manner is to stop going in just one direction. Many people tend to think that one must always build connections "up the ladder" with folks who are higher on the food chain. What is really needed to connect more effectively is to also connect horizontally, to learn from everyone.
The establishment of a deep network is critical for getting ideas to move forward; a superficial empty-shell network won't serve you well in this regard. Social capital is only meaningful when it is sustainable. When it is working well, it is magnetic and it attracts more. When you value establishing a human-centered network, you build deeper relationships, gain deeper insights, and have better experts at your disposal. These relationships help you achieve and understand the beliefs of the community and establish trust.
Ultimately, the power of social capital, as can be seen in this graphic, revolves around information sharing, mutual aid, and collective action.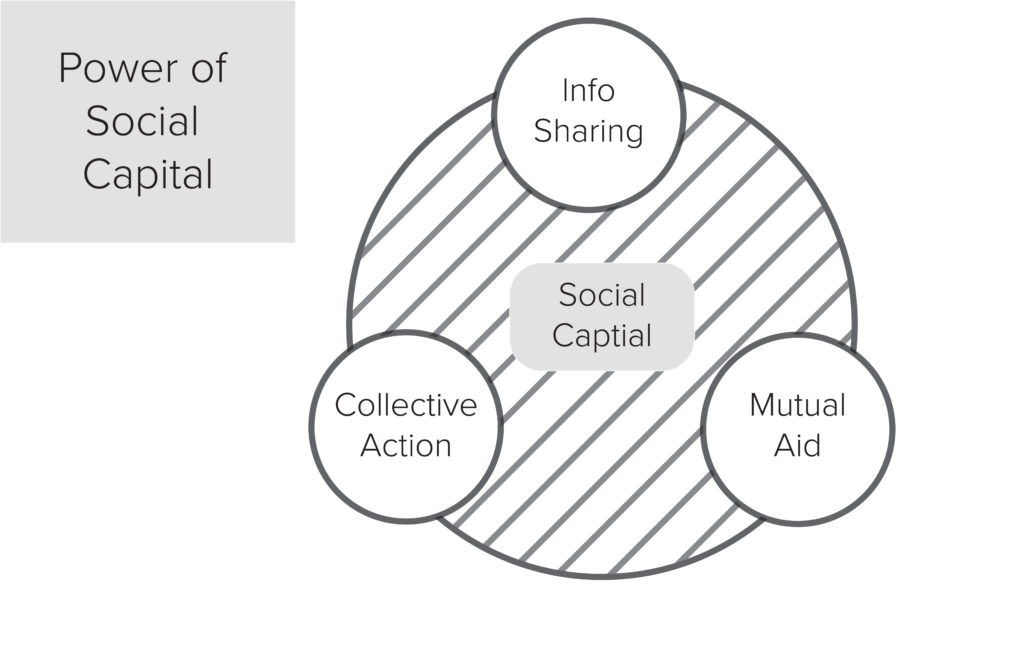 In closing, we can return back to the Mayor of Bilbao's statement that cities need to be more human and need to foster social cohesion to be successful. We've seen how that can be achieved by looking at some scenarios for creative disruption, Smart Cities, and Social Capital. Now it's your turn, get out there, and connect with your communities.
---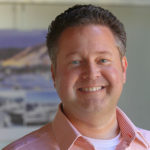 By: David Motzenbecker, Landscape Architect
David acted as President and Mayor's Representative for the Minneapolis City Planning Commission for 8 years (2005-13) and has 15 years of experience across varying project types and scales. David has worked extensively with a variety of constituencies in the City of Minneapolis. He clearly understands the bridge between policy and design and consistently uses that to build community.  creating solutions for the urban landscape; helping it to become the crucial centerpiece of a city's performance, value, and livability. His specialties are landscape urbanism, salutogenic + biophilic design, antifragility, and green infrastructure.