Public art as a laboratory for vibrant urban spaces
As a designer, I've always been interested in how the spaces we design can foster connection and vibrancy. We all know of successful, lively spaces; we also know plenty of spaces that are just the opposite - unwelcoming, drab, and even dangerous. Through a number of art projects, I have been able to explore some of the elements that activate space and connect community to the design process. I have come to see public art projects as a method of rapid prototyping for public spaces, much like 3D printing can be used to test new forms in architecture. Rather than focus on the form of a design, public art projects can test design impacts, showcasing how people interact with their environments and with each other.
Vibrant spaces are a public good, and we are fortunate to live in a city that backs that value with financial commitments. The Minneapolis/Saint Paul metro area has particularly strong support for the arts. Programs such as the Percent for Art program, which fund art as part of any significant public project and numerous fellowships for artists from both public and private sources are just some examples of how the Minneapolis/Saint Paul metro area advocates for art in our communities. This kind of support has allowed me to get involved with the following projects: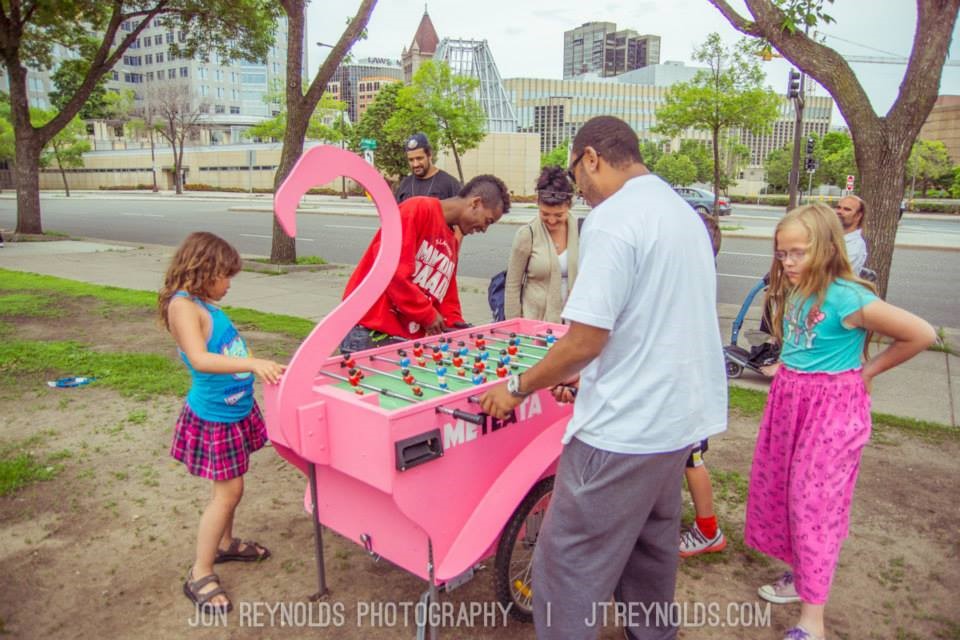 The flamingo-foosball-tea stand-bike cart
"How can street furniture foster social engagement?"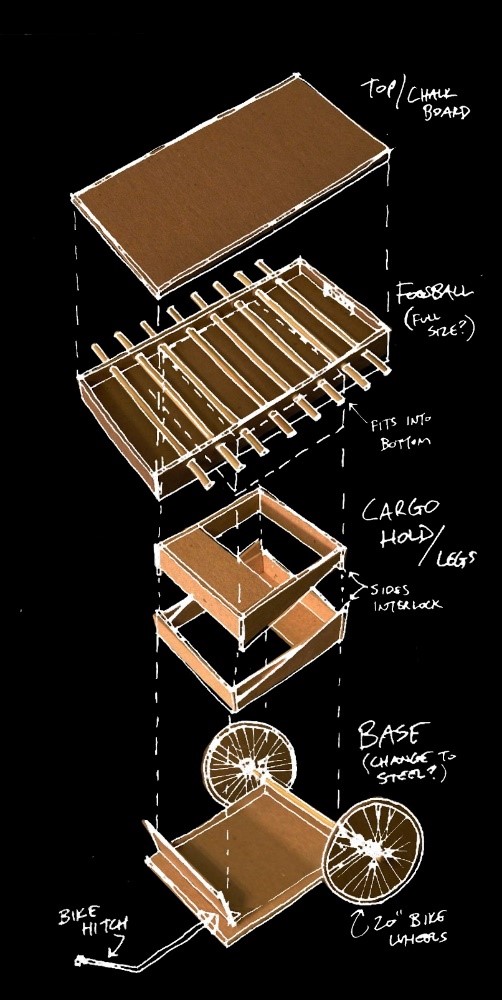 The Meteata ("drink" in Amharic) cart, a mobile piece of street furniture, was designed and built to test this very question. Rather than viewing this opportunity as an experiment to test one variable, we crammed as many different components onto the bike trailer that would fit. The primary use was as a mobile foosball table that could be set up anywhere. To supplement the active engagement of foosball, the undercarriage contained a compartment with all the implements for tea-making: a camp stove, tea kettle, water jug, and tea set. Equipped with two different activities and its mobility enabled our team to bike along the Green Line (Light Rail connecting downtown Minneapolis and downtown Saint Paul) and set up wherever groups of people could be found.
This project was supported by Irrigate, an artist-led placemaking initiative supporting businesses affected by the construction of the Green Line Light Rail Construction. We partnered with Flamingo Ethiopian Restaurant to help promote their local business and enliven the Light Rail corridor through its continued construction. After sitting down to have Ethiopian-style tea with the restaurant owners, we decided to try and replicate this hospitality experience in the public realm.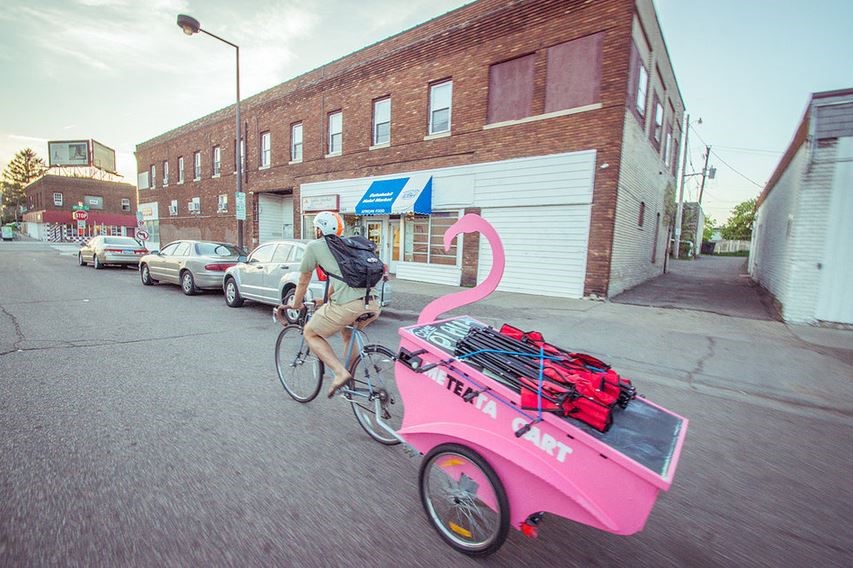 Our process was simple and opportunistic. We would bike along the Light Rail line, find places where people were already congregating, and set up shop. The large pink flamingo would often get attention from passers-by, and the unfolding process served as an invitation for onlookers to come over and inquire about the piece. If things were going well, the Meteata cart would draw one group interested in the foosball component of the table (players, watchers, hecklers, and even people waiting to play next) and another group nearby drinking tea (parents, significant others, very small children).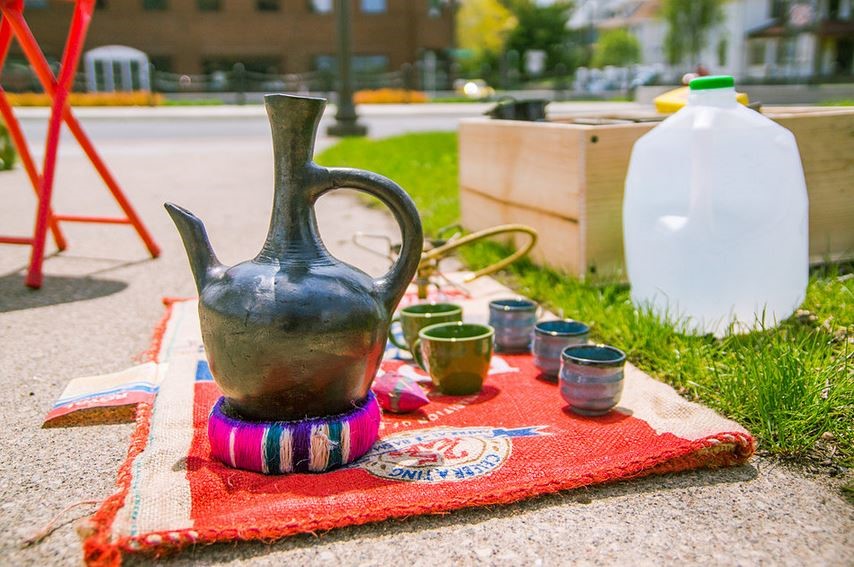 Bus stops, block parties, the farmers' market, and the Dorothy Day Homeless Center provided us the opportunity to engage with all kinds of people. The unfamiliarity of the setup often made people do a double take. Typically, upon communicating that everything was free, these chance encounters lead to all kinds of stories and experiences. With proper design and preparation, mobile engagement carts like this can offer the potential to reach much more diverse groups of people compared to the process of how community meetings currently take place in our city.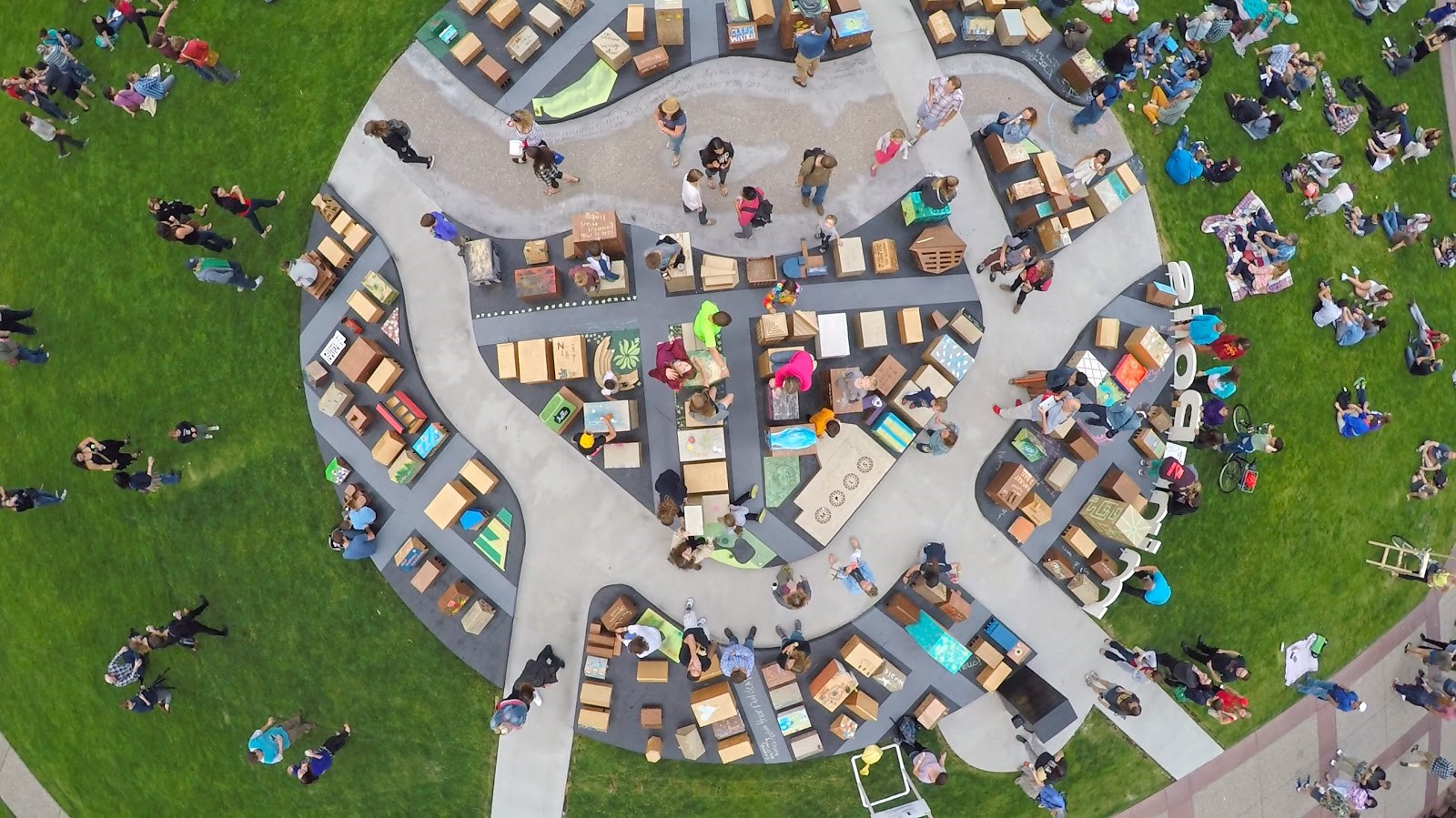 mini_polis was also an experiment in community engagement, but focused on the building process of a "community sculpture." Spanning just under 2,000 square feet, the miniature model of Minneapolis tells the story of its community members. The small-scale buildings, decorated by the community members, fill the space and reveal their dreams for the city. The primary goal the project addressed was,
"How can we attract people to an underused green space in front of the Minneapolis Convention Center?"
As a yearly installation, previous sculptures had created beautiful objects to inhabit the space and attract passers-by. The approach with mini_polis was to involve so many people that the project would, in essence, generate its own community.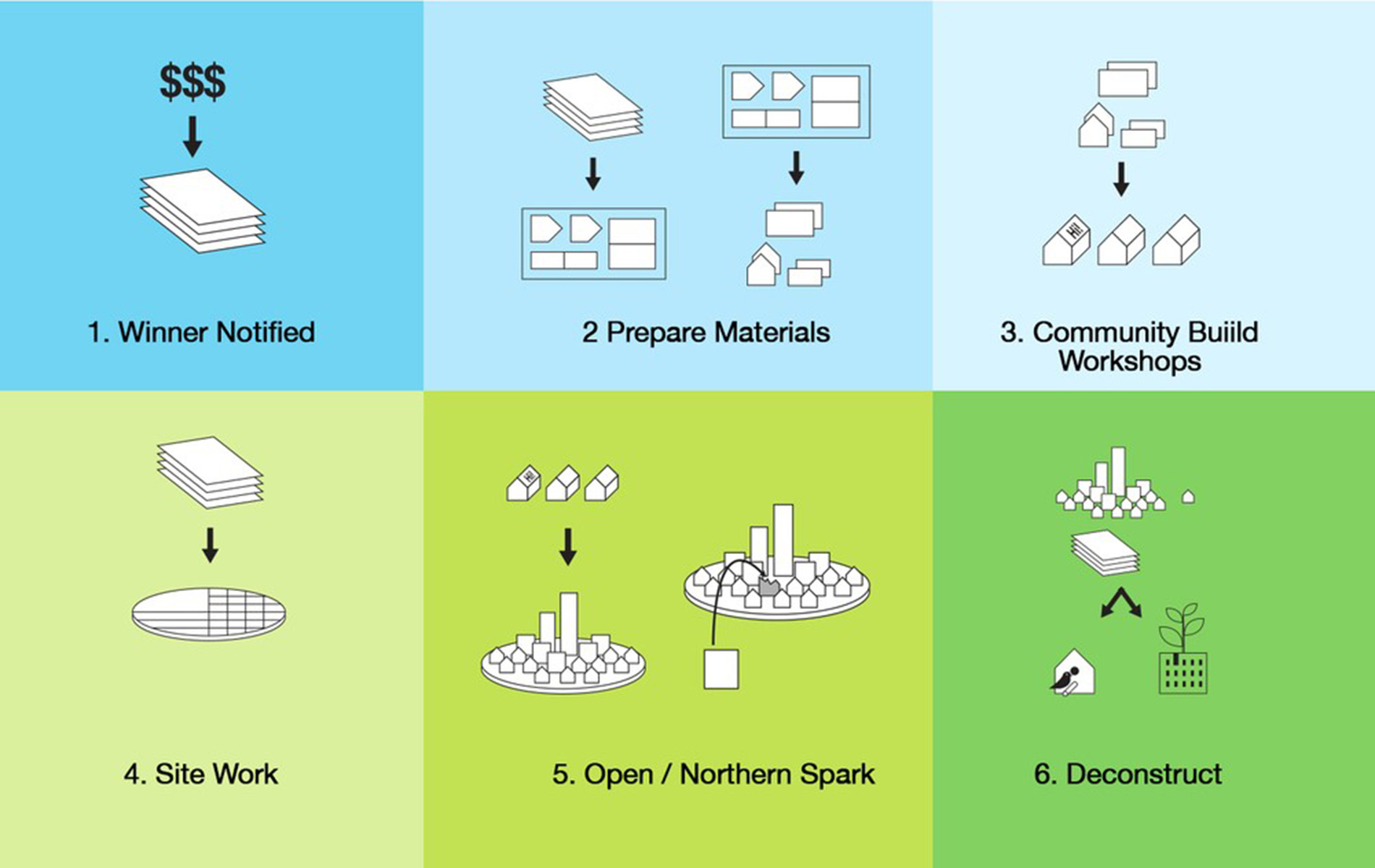 To assemble the 100+ buildings, we designed a community process to engage Minneapolis residents from all over the city. The process took place over the course of six building workshops, and involved partnerships with a range of communities and institutions from across Minneapolis, including; Leonardo's Basement, the Native American Community Development Institute, Cedar Riverside Community School, Juxtaposition Arts, and a variety of environmentally-focused nonprofits such as the Sierra Club, and the Minnesota Zoo.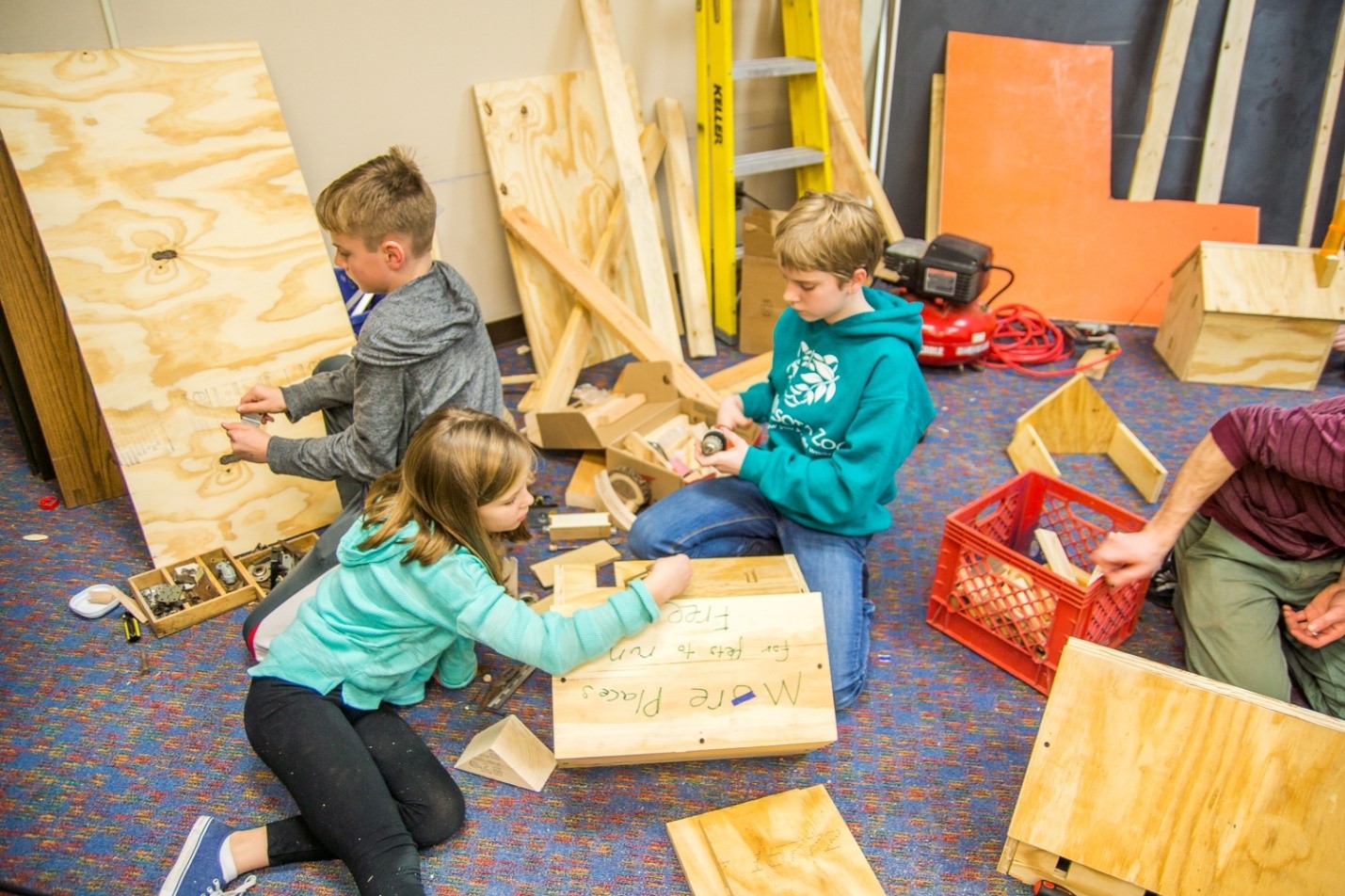 We provided participants kits of pre-cut plywood, hardware, and decorating supplies, and encouraged them to think about what they valued about the city, or what they would like to see improved. Discussions formed among the participants as they worked on their houses and many of these conversations were recorded and incorporated into the final constructed project and played back via an audio system.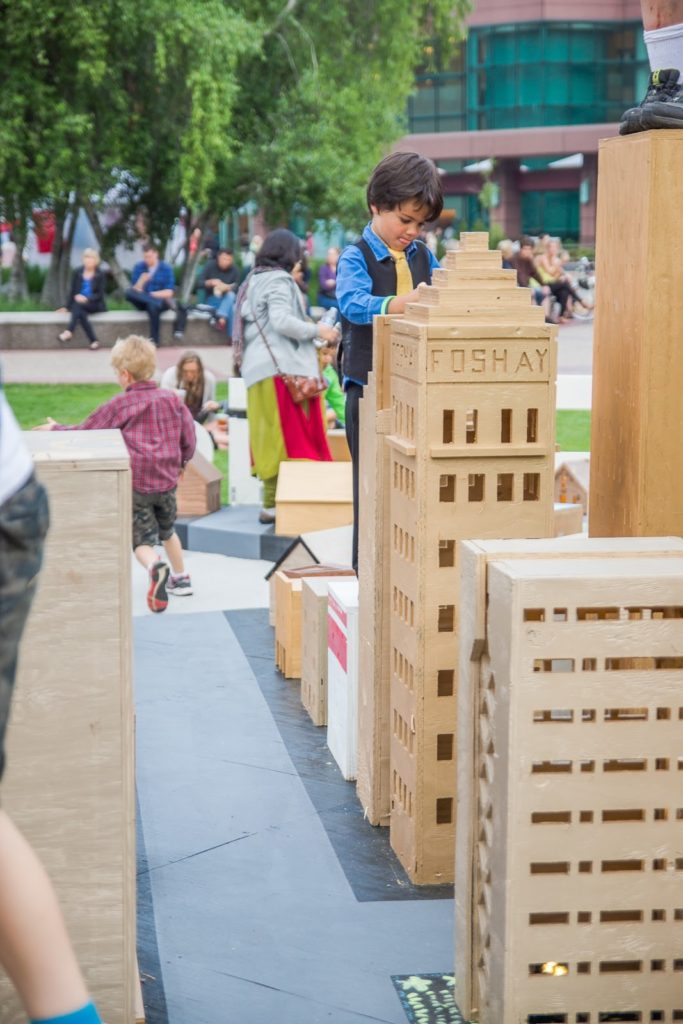 The completed project was a cityscape that visitors could walk through. As they traveled through the miniature versions of their neighborhoods, they saw the stories, experiences, and ideas of the community participants. At night, internal lights brightened the windows of many of the buildings, twinkling on and off on a programmed pattern. When a visitor pushed a region of the map on the multimedia station, one house would light up as the resident's audio recording played, linking the story to a place you could walk to and explore.
Mini_polis was an experiment fully committed to community-driven design and construction; we were able to successfully build a semi-permanent sculpture with the help of dozens of community members, many who had never used a power drill before in their lives. Together, we were able to create something no one person could have even envisioned - a miniature city that visitors could walk through and experience through seeing and hearing the thoughts of real people living in these neighborhoods.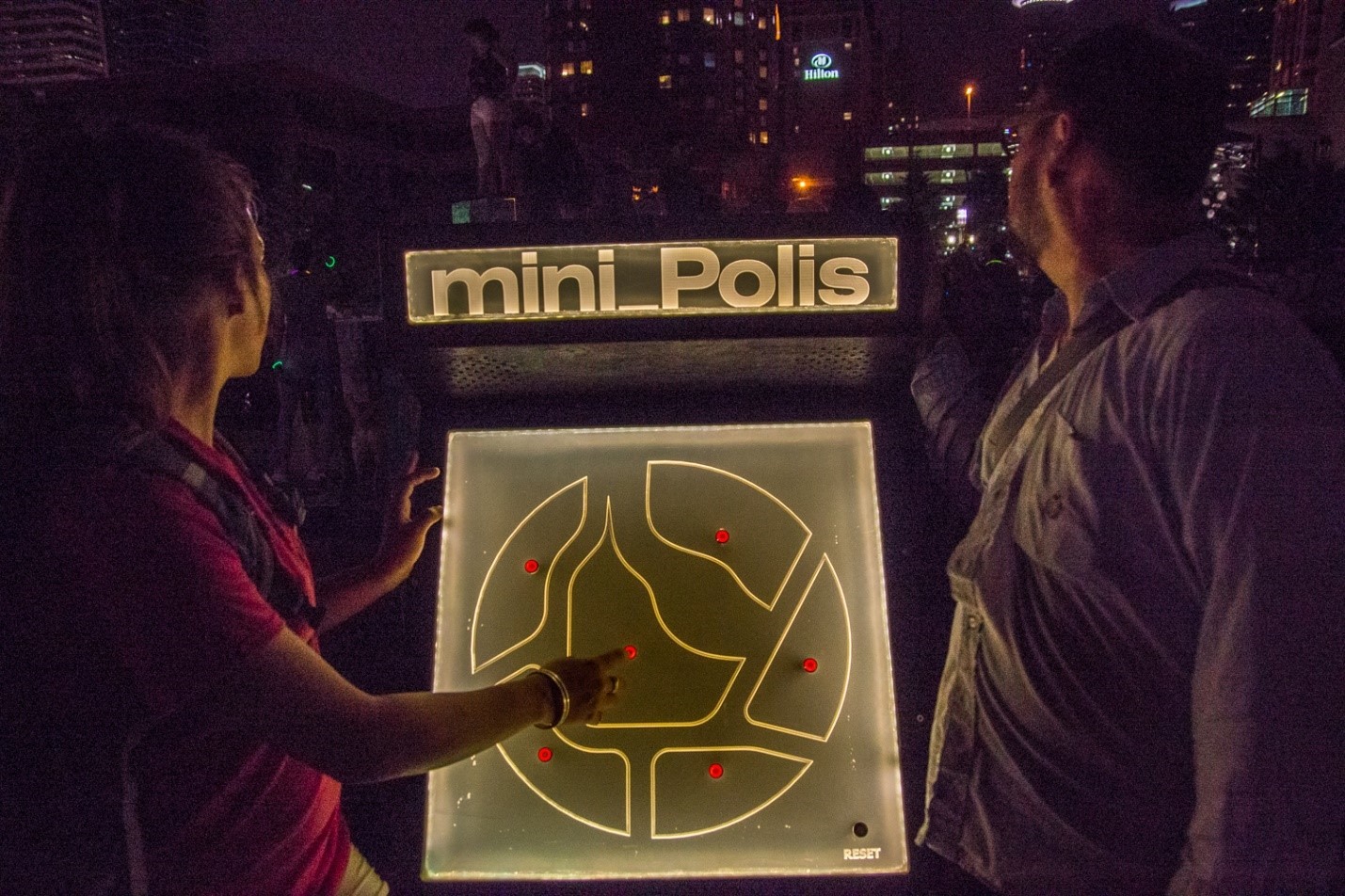 Whether it's a large public square or the common space of an apartment building; small-scale public art interventions offer an opportunity to enliven important social spaces in a manner that can benefit connectedness, safety, and delight in the environment. Creating opportunities for this kind of work within an architectural project can benefit both the project itself, and lead to new lessons that can be incorporated into future projects.

References:
www.minipolis.org
http://www.arts.state.mn.us/other/percent.htm
http://publicartstpaul.org/project/poetry/#about_the_project
---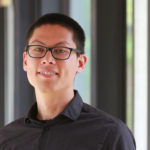 By: Niko Kubota-Armin, Designer in Cuningham Group's Urban Living Studio
Niko brings a strong passion for community into all aspects of his work and design. He has worked on a variety of urban engagement projects helping to connect people to their communities. In 2015, Niko was part of a team that was awarded the Creative City Challenge, an annual design competition sponsored by the City of Minneapolis, to build the mini_polis exhibition.