See you at the AIA-MN Convention!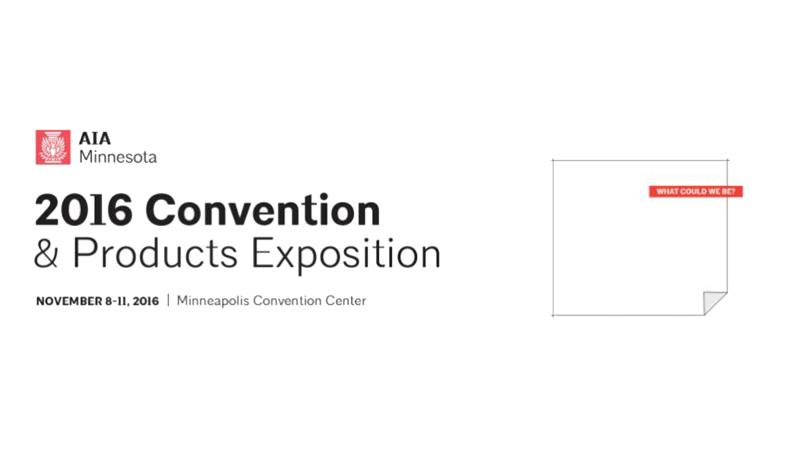 See you at the AIA-MN Convention!
Join us at the 82nd AIA - MN Convention this week being hosted at the Minneapolis Convention Center. Don't worry, there is still time to register. Read more about the convention here and find the full list of presentations here. Below are the presentations where our Cuningham Group team members are panelists.
Wednesday, November 9, 2:30 p.m.–4:00 p.m.
Ethics of Influence: How To Ethically Impact Public Policy
Co-sponsored by the AIA Minnesota Government Affairs Committee
ETHICS Our recent member survey shows that many members are currently involved in their local communities and there is also strong interest in growing connections among architects and decision-makers. When it comes to engaging with local, regional, state and federal officials—either on their own or on behalf of clients—architects need to make sure their efforts are well within the laws that govern these interactions, as well as adherent to the AIA Code of Ethics. This program provides an overview of relevant provisions of the AIA Code of Ethics, a summary of state and federal lobbying and campaign finance laws, application to locallevel interactions, and suggestions of how members can ethically influence public policy, including through AIA Minnesota and the local chapters.
William Beyer, FAIA, is a long-time member of the AIA Minnesota Government Affairs Committee and is chair and treasurer of MAPAC (the Minnesota Architects Political Action Committee). He has testified at the state legislature many times on behalf of Minnesota's architects, and believes that engaging the world as a citizen-architect is at the core of being a professional.
Nancy Hylden is an attorney based in Minneapolis and Alexandria, MN. Her practice focuses on government relations: legislative lobbying and regulatory advocacy, campaign finance, tax law, and lobbying and ethics law.
Mark Kalar, AIA, is co-chair of the AIA Minnesota Government Affairs Committee and chief corporate counsel at Cuningham Group Architecture. He has a long-time interest in the impact public policy plays on the built environment.
Thursday, November 10, 2:00 p.m.– 3:30 p.m.
Navigating the ARE
Co-sponsored by the AIA Minnesota Architect Licensing Advisory Committee.
With the November 1 launch of ARE 5.0, and ARE 4.0 continuing into 2018, what is the best way to navigate through this opportune—but potentially confusing—time? NCARB will review the new ARE 5.0 test and a panel will discuss the testing transition options. Hear the real facts, share your concerns, ask questions, and walk away better prepared to succeed in testing. Licensure candidates, as well as AXP supervisors, are encouraged to attend and be a part of this informative discussion.
Kyle Burr is the University of Minnesota Student Licensing Advisor. Kyle plans to begin and complete his test-taking in ARE 5.0. Michelle Cohn, AIA, NCARB, LEED AP BD+C, joined NCARB in 2014 as a manager in examination development. Her work focuses on the development of ARE 5.0 and continued support of ARE 4.0, as well as outreach events on the importance of licensure.
Doreen Frost, executive director, Minnesota Board of AELSLAGID, will be available to answer questions pertinent to licensure in Minnesota. DJ Heinle, AIA, Education/Government market manager, TKDA, is the Minnesota State Licensing Advisor, co-chair of the AIA Minnesota Architect Licensing Advisory Committee, and a licensing advisor for his firm.
Kyle Palzer, Assoc. AIA, Kodet Architectural Group, is a co-chair of the AIA Minnesota Architect Licensing Advisory Committee and licensing advisor for his firm. Kyle is strategically using both the ARE 4.0 and the ARE 5.0 formats for his test-taking.
Meg Parsons, AIA, Cuningham Group Architecture, Inc., is the licensing advisor for her firm, and a Governor-appointed, architect member of the AELSLAGID board. Meg is a past-chair of the AIA Minnesota Architect Licensing Advisory Committee.
THURSDAY, NOVEMBER 10, 2:00 P.M.– 3:30 P.M.
21st-Century Regional Development: Opportunity, Barriers, and Value
Co-sponsored by the AIA Minnesota Sustainable Regional Development Task Force.
21st Century Development is that which provides a healthy environment for all people and living systems, now and in a dynamic future. AIA Minnesota and a variety of partners, including the University of Minnesota Center for Sustainable Building Research (CSBR), are working with the McKnight Foundation to research the use of 21st Century Development strategies—ranging from green to sustainable to restorative and regenerative—and the barriers that keep these strategies from being implemented on a regional scale. Research findings, including models and examples and potentially key learnings from original survey research, will be shared. This program will be a facilitated discussion, with the audience engaged in exploring models of development and how barriers might be overcome.
Richard Graves, AIA, is the director of the Center for Sustainable Building Research and an associate professor in the University of Minnesota College of Design. He has a long history of working on ecologically sustainable building and planning. From 2012 to 2014, he was the executive director of the International Living Future Institute, leading the operations and strategic efforts around all of the institute's signature programs. Before joining the institute, he was the senior vice president for Community and Education with the U.S. Green Building Council.
Jeffrey Mandyck, AIA, is a design principal at Cuningham Group Architecture. In his 21 years of practice he has served as the design lead on several award-winning projects. As an adjunct professor at the University of Minnesota School of Architecture, Jeff teaches design studios emphasizing integration of architecture, infrastructure, and the environment. Currently, he serves as the co-chair of the AIA Minnesota's Committee on Design and co-chair of the AIA Minnesota/McKnight Foundation Sustainable Regional Development taskforce.
Jesse Turck, AIA, is an architect and project manager at BWBR working primarily on healthcare and higher education projects. He is the longest running member of BWBR's Performance Design Group and tracks and reports project energy data for the AIA 2030 Commitment. He currently serves as co-chair of the AIA Minnesota Committee on the Environment and is a graduate of AIA Minnesota's Leadership Forum. Jesse received climate training from former vice president Al Gore through the Climate Reality Project.