Reflections from the Construction Specifications Institute, Denver Chapter President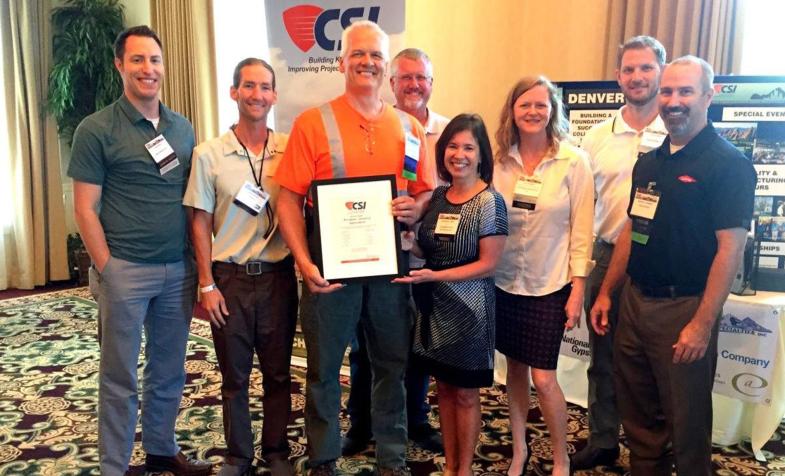 Reflections from the Construction Specifications Institute, Denver Chapter President
Professionals have so many choices when it comes to the type of organizations they can join throughout their careers. In my case, I was driven by the desire to learn more about the Construction Specifications Institute (CSI) and what was going on behind the scenes. Who runs this organization, and do they believe in CSI the same way I do? I soon found that the answer is a resounding: Yes. The group is also diverse in specialty and background, which made me feel that this organization was particularly unique in appealing to a broad spectrum of talented individuals.
CSI is a remarkable national organization which brings many diverse, primary actors in the design space under one umbrella, including: specifiers, architects, engineers, contractors, facility managers, product representatives, manufacturers, owners and others who promote CSI's Mission. CSI's formal mission is to advance building information management and education of project teams to improve overall facility performance. Therefore, planning for quality educational programs as a central focus of the organization highlights and reinforces the CSI Mission. By focusing on different topics for discussion, our group was effectively able to cover several areas of interest. One particularly memorable program was an overview of changes to the 2015 International Building Code. Another was a program tailored for product representatives, entitled "When to Say "No": Product Representative Dilemma of Free Assistance."
I constantly hear the popular myth that people only go to CSI meetings to learn how to write specifications. Well, not really.
Many offerings and services are available through CSI, whether or not you are a registered member. The CSI certification training program is just one aspect of CSI's mission. In this program, you can complete the proper training to become a Certified Construction Specifier, but don't necessarily learn to write specifications.  As a member, you soon realize that your peer's within the group become your trusted advisors in life and career, which to me added the greatest value. Reflecting on my time serving as CSI Denver Chapter President, I can truly say that taking on this responsibility was certainly a personal challenge – but one that I happily welcomed. In its 57 -year history, I was the fifth woman to serve as President of the CSI Denver Chapter and the first Latin American woman. Taking on this opportunity allowed me to put my developing leadership and communication skills to practice. It was also a great joy to be able to give back to an organization which I fully support and feel has benefited me greatly over the years.
I first joined CSI in 1995, when I was a student at Pima Community College in Tucson, Arizona. Throughout my career, I gained two employment opportunities as a direct result of networking within the group and among CSI members. My first boss was a CSI Tucson Chapter President, Susan Leader. She believed in me when I did not even know the English word for "wood stud;" a serious detriment in the construction industry!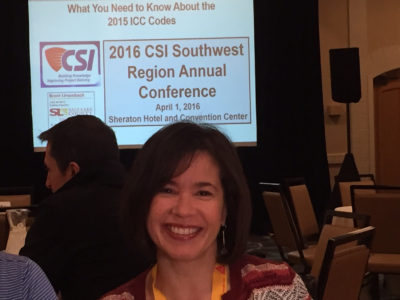 I truly believe in CSI and its mission to offer professional support and services to benefit the individuals who dedicate their time. It would be terribly unfair to take credit alone for all that we accomplished over my year serving as president (2015-2016). It was definitely a team effort with board members who I continually thank for their unconditional support. Together, we had a tremendously successful fiscal year 2016.
Of course, volunteering in any organization means representing Cuningham Group while simultaneously providing support and leadership outside of the office. Representing the Denver Chapter was such an honor, and being able to set goals and bring them to completion was extremely rewarding. We had a successful event with CONTRUCT 2016 highlighting the new WELL® Building Standard as the central theme. Concurrently, the Denver Chapter was able to grant a CSI Scholarship to Adam Buehler, a student at Colorado University Denver who is pursuing a degree in Architecture and Planning. I also enjoyed personally mentoring Adam in coordination with the AIA Portfolio Review Committee, which allowed me to expose him to the essence of CSI's Mission and Vision, as well as engaging the mind of a young professional.
For the sixth time in a row, this year the Denver Chapter received the Outstanding Chapter Commendation Award. In addition, two manufacturing representatives received the Trusted Advisor Award of Honor, a great achievement for the Chapter given its encouragement of Manufacturer Representatives as valuable contributors to design and construction teams.
I now look forward to expanding my contribution to the CSI, continually embracing new opportunities and challenges at the CSI Southwest Region level by spreading the CSI mission, planning educational programs, and engaging coworkers to participate at CSI; all while proudly representing Cunningham Group through proactive leadership and educational development.
Learn more about CSI and how to get involved here.
---
By: Morayma Salas, former CSI Denver Chapter President and valued project associate at Cuningham Group.
Morayma has over 18 years of experience in architecture, with over 10 years specializing in educational projects with Cuningham Group. She is detail-oriented and brings relevant experience from many K-12 school projects, including her recent work on the Facility Master Plan for Roaring Fork School District and BEST Grant Support for Glenwood Springs Elementary School; the complex renovation of the 133-year old Central Elementary School in Longmont, and the new PK-8 American Academy facility in Parker. Her accuracy with field verification and thorough construction documentation and administration consistently lead to projects coming in on time and on budget.